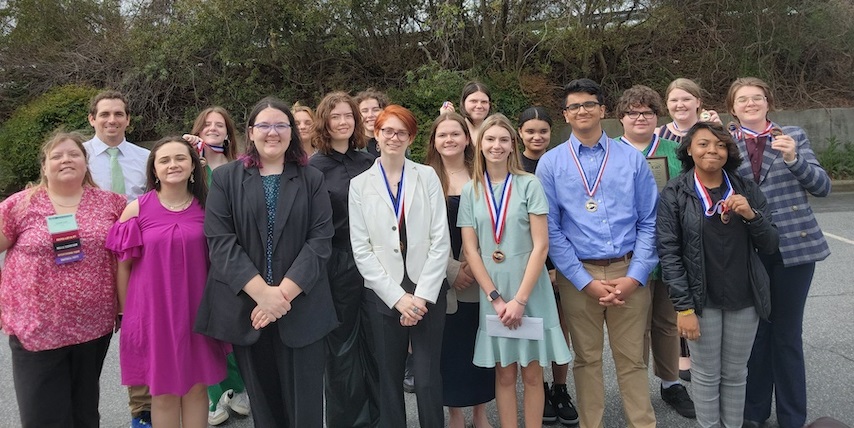 BY KARISSA MILLER
Three Crossroads Arts and Science Early College students will be heading to the Future Business Leaders of America's national competition this summer after they earned a second-place finish during the organization's state convention.
Natalie McLean, Haley Murdock, and Alexandra Stansberry have qualified to attend the National conference in Atlanta, Ga., this summer after placing second in the Local Chapter Annual Business Report competitive event.
It wasn't an easy task. First, the team had to write an initial business report. Second, they had to give a seven-minute presentation to a panel of judges. They put together a slideshow and then had to summarize it the best they could.
"I've never given a pre-written presentation at state. I have always done the impromptu events. So that was a new challenge to work through. We also had to coordinate who was saying what," McLean explained.
At the state competition, the students had five minutes to prepare for their presentation.
"We had some technical difficulties when the projector wouldn't turn on until the very last second," McLean said.
Murdock said it was her first time giving a presentation in a group setting.
"It was a lot of fun to work as a team and go in there and present with each other," she said.
A senior, Murdiock serves as chapter president. She has elected not to attend state. Student Quincy Sherill will attend her in place.
Crossroads Performances
• Emmie Beck – Top 10 in Introduction to Public Speaking
• Ashley Carroll – Top 10 in Business Calculations
• Raoul Eno – Top 10 in Networking Infrastructures
• Reagan Flowler – Top 10 in Introduction to Business Procedures
• Yajat Govardhan – Top 10 in Business Calculations
• Kaylee Greer – Top 10 in Future Business Leader
• Deniyah Hardy – Top 10 Introduction to Business Concepts
• Natalie McLean – 3rd place in Spirit Event – Web Banner and Theme
• Jocelyn Mills – Elected to state office – Northwest Region Vice President
• Haley Murdock – Winner James L. White Scholarship
• Alexandra Stansberry – Top 10 in Introduction to Parliamentary Procedure
• Annalise Walker – Top 10 in Journalism
Students met peers from across the state and learned a lot from competing in different events.
Sherrill said that she competed in Introduction to Social Media strategies, which was a new category for the school.
"I did not place Top 10, but I feel like I put myself out there," Sherrill said. "I'm not a big person on public speaking. I'm still working on that. Hearing the judges' feedback and comments made me more confident in what I was doing."
Deniyah Hardy said it was a good experience. She also got to try yoga and participate in other social activities.
"We definitely bonded as a group, and it was fun to have one-on-one individual time to do things," she said.
Advisor Tracy Skeens said that she's proud of her students and hopes that they will return next year.
For some students this was their first time taking an overnight trip away from their parents.
Photos