Special to Iredell Free News
Dr. Bill Leonard, founding Dean and Professor Divinity Emeritus at Wake Forest University's School of Divinity, will lecture on the future of American Religion on October 8-9 at Grace Baptist Church in Statesville as the guest lecturer for the 2023 Davis Lectures Series.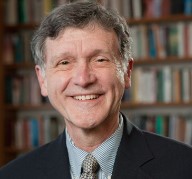 An expert on church history and observer of religious trends and issues, Leonard will talk Sunday, October 8, at 7 p.m. on the topic "The American Religious Future: Is There One?" and Monday, October 9, at 7 p.m. on "Permanent Transition: Seeking Spiritual Stability Amid Changing Culture." The title of Leonard's sermon for the 11 a.m. service on October 8 is "Audacity and Humility: The Paradox of Grace."
These events are free and open to the public.
"Bill Leonard is one of our best teachers of American Religious History and astute theological observers of religion in America today," said Dr. Steve Shoemaker, pastor of Grace Baptist Church. "His two lectures will be a stimulating and provocative survey of where we are today as American Christians, and his Sunday morning sermon will be a fascinating introduction to the lectures."
Leonard is the author of 25 books and a regular columnist and speaker on church history and the changing shape of religion in America. He holds a B.A. from Texas Wesleyan College, a Master of Divinity from Southwestern Baptist Theological Seminary, and a PhD from Boston University. He previously served on the faculty of Southern Baptist Theological Seminary and Samford University.
In addition, Leonard is an ordained Baptist minister, serving as interim pastor of over 25 congregations. His specialization in American and Southern studies makes him a frequent commentator on popular religion in the U.S., with numerous interviews in newspapers, magazines, radio and television.
His books include "Christianity in Appalachia"; "Baptist Ways: A History"; "The Challenge of Being Baptist"; "A Sense of the Heart: Christian Religious Experience in the U.S."; and "The Homebrewed Christianity Guide to Church History: Flaming Heretics and Heavy Drinkers". His newest book, "Appalachian Mountain Christianity: The Spirituality of Otherness," will be published by University of Georgia Press in 2024.
He has given lectures at a variety of universities including the William James Lecture at Harvard University Divinity School (2015); the William Self Lectures at McAfee School of Theology, Mercer
University (2017); the Whitten Lecture at Baylor University (2023); and the Shriver Lectures at Stetson University (2023).
Leonard and his family have been members of First Baptist Church, Highland Avenue, Winston-Salem's oldest African American Baptist congregation since 1997. He is married to Candyce Crew Leonard, PhD, Professor Emerita at Wake Forest, and a nationally known author and authority on the contemporary theatre of Spain. They have one daughter, Stephanie Erin Leonard.
Davis Lecture Series
Grace Baptist Church started the lecture series in the spring of 2002 to offer the community a concentrated study of scripture that includes current topics, serious inquiry and honest dialogue. Dr. Richard T. Davis, a retired minister and chaplain from Durham, led the first series. In honor of his efforts and commitment to the endeavor, the congregation named the series for him and his wife – the Richard and Barbara Davis Lectures. The series has featured a number of respected religious scholars and authors, including John Dominic Crossan, Phyllis Trible, Diana Butler Bass, Brian McLaren, Lauren Winner and Gary West.
Thanks to the continued support of the church and community, the Davis Lectures are open to the community at no cost.
About Grace Baptist
Grace Baptist was organized in 1971 as an alternative Southern Baptist congregation. It withdrew from the SBC and is now aligned with the Alliance of Baptists, the Baptist Peace Fellowship of North America and the Association of Welcoming and Affirming Baptists. The congregation reflects a variety of regional religious backgrounds with a common faith that is committed to being a servant church where every member is a minister.