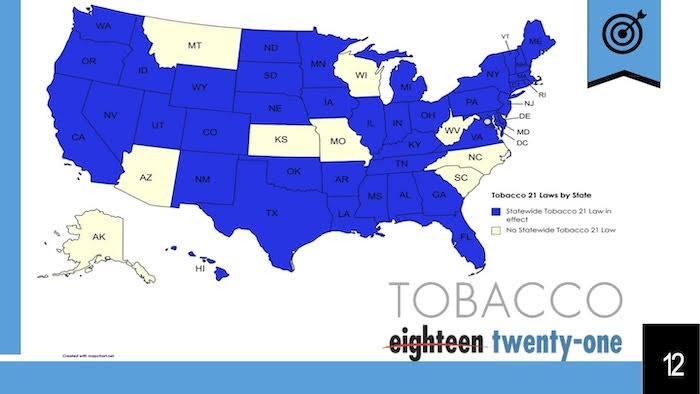 BY DEBBIE PAGE
The Drug-Alcohol Coalition of Iredell (DACI), along with the Cabarrus Health Alliance, Cleveland County Public Health, Mecklenburg Office of Chronic Disease Policy & Prevention, Wingate University Public Health Program, and Union County Human Services, helped conduct an 11-county Point of Sale Project Environmental Scan of tobacco products, advertising, placement and pricing in April as part of its support for tobacco use prevention efforts.
Teams saw examples of marketing toward youth and children, including signage and product placed at eye level, flavorings, price promotions for products a dollar or less, and attractive and colorful products appealing to children in front of electronic vapes.
In addition to participating in the tobacco point of sale scans, DACI, which includes representatives from public health, mental health, medical, law enforcement, education, nonprofit, and governmental entities, agreed to send an NC Tobacco-Free Alliance resolution and letter of support to legislators to support licensing of tobacco retailers and raising tobacco product purchasing age to 21.
Carleen Crawford, regional tobacco control manager for NC Tobacco-Free Alliance (Region 4), reported to DACI members that significant conversations are occurring among state agencies, tobacco use prevention organizations, and legislative committees about the importance of implementing a comprehensive and evidence-based tobacco retail licensing system, which would also include policy changes to raise the sale age of tobacco products to 21 years old to align with federal law. North Carolina is one of only 10 states that have not to done so.
Passing local restrictions of tobacco sales to those under 21 is not an option. Current state law G.S. 14-313 forbids local authorities to adopt evidence-based regulations regarding the sale, distribution, display and promotion of tobacco products.
The 2019 federal law requiring purchasers of tobacco products to be at least 21 does not mandate that states adopt the restriction, but the state could forfeit significant money for drug addiction programs as a result.
North Carolina could lose over $4 million in annual funding from federal Substance Abuse Prevention and Treatment Block Grant money, which is used to pay for drug treatment, through penalties under the federal Synar amendment if tobacco sales to underage youth exceed 20 percent in required annual inspections.
"Recent high violation rates in North Carolina have sounded the alarm to focus on reducing sales to youth" to avoid losing those funds, said Crawford, who noted in a recent East Carolina University study that over 40 percent of tobacco product purchase attempts by federal law underage buyers (ages 19-20) resulted in sales during the months of January through February of 2022.
This is an ongoing data collection by East Carolina University, led by Rutgers University, in an eastern NC site, and part of a multi-site National Institutes of Health study.
TOBACCO USE
Crawford said that the U.S. Department of Health and Human Services reports 95 percent of tobacco users start consuming these products before the age of 21. According to the 2019 North Carolina Department of Health and Human Services tobacco survey, 27.3 percent of high school students in North Carolina report tobacco use, with E-cigarette use significantly increasing among youth since 2011.
A 2020 study among N.C. schools indicated a large proportion of school administrators and teachers responding to the survey believe that e-cigarette use among students is somewhat or very problematic (91 percent), and report that student e-cigarette use is a priority issue for their school administration (90 percent).
Since 2011, e-cigerette use has increased from 1.7 percent of high school students to 20.9 percent in 2019, according to the latest NC Tobacco Youth Survey data.
Most North Carolina young people obtain tobacco products, including e-cigarettes, from retailers, purchased by friends primarily under 21.
The overall high school tobacco use percentage includes a variety of products, including cigarettes, cigars, smokeless tobacco, and electronic vapor products, as well as pipe, bidis, roll-your-own cigarettes, hookah, snus, dissolvable tobacco products, and clove cigars.
Because nicotine is harmful to developing brains, adolescent use can disrupt the formation of brain circuits that control attention, learning, and susceptibility to addiction, thus causing lasting health and brain function consequences.
According to the American Lung Association's North Carolina highlights, the cigarette smoking rate for adults in 2021 was 14.40 percent of residents, with the high school rate at 5.7 percent and middle school at 2.4 percent, according to 2019 data.
One of every five deaths in North Carolina is associated with cigarette smoking or tobacco use, and for each death, 30 more people are sick or live with a disability, leading to increased and unnecessary healthcare costs for all citizens.
RAISE THE AGE PUSH
A Tobacco 21 committee work group, composed of N.C. Department of Health and Human Services, N.C. Division of Public Health, N.C. Division of Mental Health, Developmental Disabilities and Substance Abuse Services, N.C. Department of Public Safety, Alcohol Law Enforcement, N.C. Alcohol Beverage Control Commission, N.C. Department of Revenue and N.C. Department of Justice, wants to not only raise the age but also require retail outlets to obtain a permit to sell tobacco and vaping products, similar to what is in place for alcohol sales, with compliance checks and fines for sales to underage buyers and the potential to lose the sales permit for habitual violations.
Current N.C. law instead penalizes underage tobacco buyers, but the best practice is to hold retailers responsible and not punish youth, according to Crawford. Purchasing or attempting to purchase tobacco products in North Carolina is a Class 2 misdemeanor for a person under age 18.
A new bill proposes, not yet approved, reducing the charge for purchase by any person under 21 to a non-criminal infraction and not requiring payment of fines or court costs, but a tobacco cessation or tobacco use prevention program approved by the N.C. Department of Health and Human Services may be required.
Crawford said the N.C. Alcoholic Beverage Control (ABC) Commission is well situated to oversee permitting of tobacco retailers because it already issues permits to all businesses that sell alcoholic beverages and can help permit holders comply with relevant laws and rules. The organization could also levy fines or suspend or revoke permits.
The ABC Commission has the technical knowledge and much of the necessary infrastructure already in place to significantly streamline the tobacco retailer permit application process for alcohol sales permit holders and can work with Alcohol Law Enforcement agency to enforce laws against underage sales of tobacco products, just as it does for alcohol.
N.C. needs a level playing field among tobacco retailers, making it easier to educate and inspect all retailers to reduce illegal sales to underage youth, according to Crawford.
Proponents also argue having the same legal sales age at 21 for alcohol and tobacco products would reduce the burden on retailers.
An effectively crafted law would also provide enough time for the state to implementt and to educate retailers before implementing the new law, allow local government authority over tobacco sales, require employee training/ signage, and mandate ID checks for tobacco sales.
Proponents of raise the age/retail permitting legislation say passing such laws would allow the state to know where tobacco products are being sold, improve merchant education efforts, allow the state to inspect for responsible retail practices, and protect law-abiding retailers by holding non-compliant retailers accountable.
Raising the age to purchase tobacco products to 21 will also help prevent and reduce youth use of highly addictive nicotine products and assist in eliminating the use of e-cigarettes and other emerging nicotine products in schools.
The Tobacco 21 resolution being sent to counties and municipalities to spark legislative attention and action states that "North Carolina must protect our kids from vaping and nicotine addiction by establishing a tobacco retailer permitting system, raising the minimum age of sales from 18 to 21, restoring local authority, and adopting other needed provisions of legal sales of tobacco products to match federal law."
Crawford said numerous groups have also thrown their support to the Tobacco 21 effort. The Justus-Warren Heart Disease and Stroke Prevention Task Force, chaired by N.C. Sen. Jim Burgin, unanimously voted to add recommendations for implementing comprehensive Tobacco 21 legislation to their 2022 Policy Action Agenda.
Last year, the N.C. Association of Local Health Directors unanimously voted to protect NC's young people from vaping and nicotine addiction by supporting the proposed comprehensive Tobacco 21 and retailer permitting proposal, as did the Northeast North Carolina Partnership for Public Health Board and the NC Alliance for Health.
Others supporting Tobacco 21 efforts are the Appalachian Health District, Dare County Health & Human Services Board of Health and the Wilkes, Durham, Northampton County- and Martin-Tyrrell-Washington District Boards of Health.
"We are soliciting support across the state from not only Boards of Health but school boards, coalitions, clubs, organizations and others to help ensure this legislation includes key components that will protect our youth," said Crawford.
PREVENTION EFFORTS
QuitlineNC provides free cessation services to any North Carolina resident who needs help quitting commercial tobacco use, which includes all tobacco products offered for sale. Quit Coaching is available in different forms, which can be used separately or together, to help any tobacco user give up tobacco.
LEARN MORE
♦ For more information on tobacco cessation help, call the Quitline at 1-800-784-8669 or visit https://quitlinenc.dph.ncdhhs.gov/.
♦ A quit vaping program is also available for for NC teens ages 13-17. To get started, text VAPEFREENC to 873373
♦ An adult concerned about your teen? Visit Live Vape Free at https://myquitforlife.com/mve/?client=LVFNC&clientId=11501525.