BY DEBBIE PAGE
Drug-Alcohol Coalition of Iredell Director Shane Nixon has been traveling the county in January, sharing information about substance misuse with 10 civic, youth, and faith-based groups. He's also spreading the word about the first "In The Know" Community Conversation About Substance Misuse at the Charles Mack Citizen Center on February 7.
"Most in Iredell County do not know how big and widespread the problem is," said Nixon, pointing to DACI research that alcohol use is prevalent among high school students and vaping is concern at the middle school level.
DACI's goal is to put everyone — teachers, coaches, youth leaders, pastors, parents, leaders — "in the know" about dangerous alcohol bingeing as well as illegal and prescription drug misuse.
"We need a wake-up call. This problem is worse than we thought it was. We're not trying to scare people, but we want people to see the existing problem as well as the resources being put in place to solve it," said Nixon. "We're working to flatten that rising (graph) line of substance misuse."
The coalition has received a $500,000 Drug Free Communities grant (over five years) as well as a $40,000-plus State Opioid Response grant to help fund efforts to get resources and information out to the community.
DACI is gathering data on substance misuse among all Iredell County citizens through surveys, focus groups, and other community data resources. After conducting two small focus groups with middle school students, Project Coordinator Kristen Blumenstein found that one in three participants had vaped in the last 30 days.
Nixon and Blumenstein are also working with Mooresville High School to hold an awareness assembly at the school and are continuing to speak to any group that invites them, hoping to create an army of community advocates to make a stand against substance misuse, especially among youth.
In addition to events and continuing speaking engagements, DACI is also saturating social media venues with information. They are also starting to engage with area recovery groups to offer resources and to enlist them in coalition work.
As DACI builds relationships with faith-based groups, Nixon hopes to partner with them to start church-based prevention groups for youth as well as support groups for parents of teens with substance use disorder and for teens with substance use disorder.
Nixon also shared that he and Blumenstein are off to Washington, D.C., this week to receive recognition for the DACI staff graduating from the National Coalition Academy, part of the CDC's Drug Free Communities efforts.
The National Coalition Academy is a comprehensive training program, developed by the Community Anti-Drug Coalitions of America's National Coalition Institute, that teaches leaders "what they need to know" (core competencies) and "what their team needs to do" (essential processes) to establish and maintain a highly effective anti-drug coalition.
Nixon and Blumenstein are also receiving an award for their work creating a sustainability plan for DACI.
WHAT IS SUBSTANCE MISUSE?
According to the American Public Health Association, substance misuse includes "the use of illegal drugs and the inappropriate use of legal substances, such as alcohol and tobacco." Whether through overindulgence in alcohol, misuse of prescription medication, or use of illegal drugs, such misuse is harmful to community members' health and the local economy.
The Centers for Disease Control's National Center for Health Statistics indicate that there were an estimated 100,306 drug overdose deaths in the United States during the 12-month period ending in April 2021, an increase of 28.5 percent from the 78,056 deaths during the same period the year before.
Alcohol-related injuries result in the deaths of 88,000 people annually from alcohol-related injuries, the third most common preventable cause of death in the U.S.
Substance misuse also affects the economy. The National Institute on Drug Abuse estimates the United States loses $232 billion in health care costs and $740 billion overall related to misuse of legal and illegal substances.
"IN THE KNOW" COMMUNITY CONVERSATION SERIES STARTS FEBRUARY 7
Throughout 2023, the Drug-Alcohol Coalition of Iredell is presenting a series of community conversation sessions on substance misuse topics in an effort to inform and educate the community and create advocates for reducing substance misuse in Iredell County to get everyone "In The Know."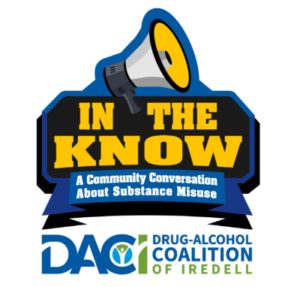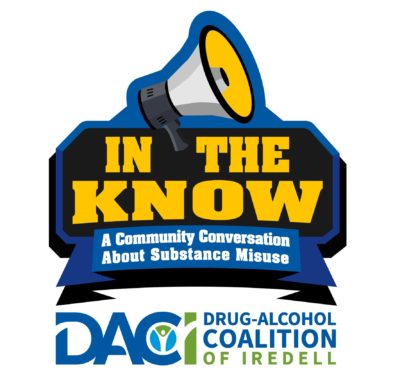 The kickoff will be on February 7 with the "In The Know: A DACI Community Conversation on Substance Misuse" event from 10 a.m. to 3 p.m. at the Charles Mack Citizen Center in Mooresville. Lunch will be provided.
Registration on Eventbrite (https://www.eventbrite.com/e/in-the-know-a-daci-community-conversation-on-substance-misuse-tickets-483383572277) is appreciated to help with event lunch planning but is not required. Registrants will receive priority seating.
This conversation is for everyone — the faith community, school employees, business leaders, government leaders, elected officials, law enforcement, first responders, parents, and interested community members.
Nixon said those attending will get a wide range of information and statistics about local substance misuse from an array of resources and experts from right here in Iredell County and get to hear a nationally renowned motivational speaker, Dr. Lonise Bias, who will bring encouragement to attendees through her message that "Hope is Not Extinct."
Dr. Bias's personal journey with substance misuse emerged from a tragedy in June of 1986 after the death of her oldest son, Len Bias, a University of Maryland basketball player. He died of cocaine intoxication while celebrating with friends just two days after being selected as the first pick in the 1986 NBA Draft.
Forty-two months later, in December of 1990, the Bias family's second son, Jay, was the victim of a drive-by shooting.
In addition to the keynote, the conversation will include Mooresville Mayor Miles Atkins, an "Iredell State of the County" session featuring DACI Executive Director Shane Nixon, Vice President of Iredell Physician Network Harold Brown, Iredell County EMS Director Blair Richey, MGSD Chief Communications Officer Tanae McLean, I-SS Chief of Strategic Planning and Student Services Boen Nutting, and other county, community, and agency partners.
District Attorney Sarah Kirkman is also confirmed for the program. An Iredell County Sheriff's Office representative will speak on their perspective on substance misuse, and agency partners will discuss the relationship of substance misuse to the social determinants of health.
PLANNING AND GOALS
By the end of 2023, Nixon hopes to accomplish two goals: first, to put more people "in the know," measured by event attendance and ongoing data collection to establish a community baseline, and secondly, to use all the information gathered to create an action plan of what to do and what to solve in 2024
Nixon said the strength of the DACI coalition is its diverse makeup, viewpoints and experiences, which span the spectrum of society in Iredell County, including law enforcement, EMS, school systems, nonprofits, agencies, healthcare, business people, politicians, retired individuals, lawyers and judges, and all socio-economic levels.
"Getting together and talking about these issues empowers people. The broad base of the people brings a broad spectrum of ideas, and we're able to do more things to help the community because we know exactly what the community wants," said Nixon.
2023 RESOURCE GUIDES
Nixon said the 2023 DACI Community Resource Guide is now available in print form and will be on the DACI website on January 30 as a PDF. Contact Nixon at shane@daciredell.org to arrange to pick up of guides and make them available at healthcare offices, helping agencies, schools, churches, youth and parent organizations, government agencies, or anywhere that community members can access them.
The guide includes information on local crisis services, outpatient treatment, medication assisted treatment, inpatient treatment, sober living facilities, recovery and support groups, tobacco and vaping resources, Narcan instructions, and help hotlines.
Free medication lockboxes, Deterra medication deactivation kits, Narcan, and others materials are also available through DACI.
WANT A SPEAKER OR TO GET INVOLVED IN DACI?
Nixon welcomes anyone interested in joining the work of the coalition to visit the group's revamped website at https://www.daciredell.com/ and sign up.
PTO groups, youth-oriented groups, church groups, and civic organizations who would like Shane or Kristin to speak can also make a request on the website.
DACI meetings are the third Monday of each month at noon at the Iredell Cooperative Extension Center at 444 Bristol Drive in Statesville. Lunch is provided.