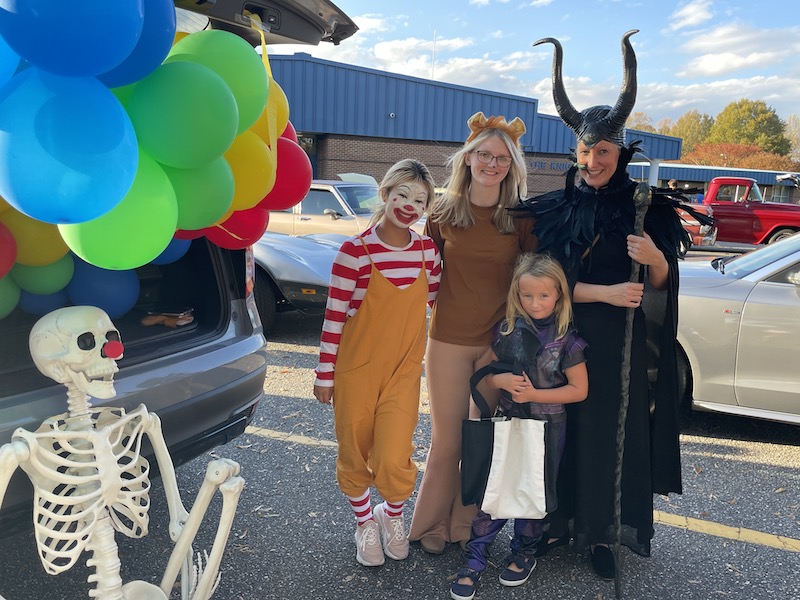 BY KARISSA MILLER
Kids crowded the East Iredell Middle School parking lot for the school's inaugural Trunk or Treat event Monday night.
The Halloween affair was a collaboration between East Iredell Middle's Student Support Services and administrative staff along with community groups.
Speak Life and Live, a local organization that provides free tutoring, mentoring and other services at N.B. Mills Elementary, Statesville High School and East Middle School provided hot dogs and drinks for students and their families.
According to Speak Life Executive Director Leslie Morrison, 98 percent of their mentor-tutors are retired teachers. They offer services in English and Spanish.
"We wanted to do something to help bring community engagement and families together," said EIMS Principal Lisa Brooks.
Brooks said that students from feeder schools were also invited to come to the event.
Trunks were decorated with everything from a circus to Halloween-themed scary scenes. One was decorated to look like Cookie Monster.
Brotherhood Auto Club provided vintage cars and also handed out candy. The other community partners that participated were:
• Crossroads Arts and Science Early College students;
• Collaborative College of Technology and Leadership Interact Club students;
• Crosby Scholars; and
• SAVE Promise Club
Photos