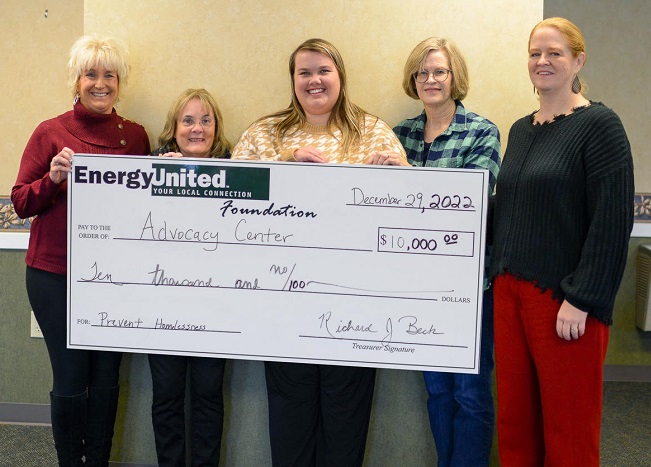 Special to Iredell Free News
The EnergyUnited Foundation recently donated $10,000 to the Advocacy Center of Davie County, a faith-based nonprofit organization focused on providing temporary assistance to qualifying Davie County residents in times of crisis.
The Advocacy Center of Davie County will use this grant to assist qualified individuals and households in their efforts to maintain stable housing while achieving their mission of preventing homelessness in the community. The organization provides assistance for rent, utility bills and essential repairs.
"The Advocacy Center is grateful to receive this grant from the EnergyUnited Foundation," said Allie Fruits, executive director of the Advocacy Center of Davie County. "There is a significant housing shortage in the county and this grant will help our clients maintain stable housing in the aftermath of any crisis they have faced."
"The availability and accessibility of stable housing within a community is not just a personal issue for those who are impacted by such challenges," said Debra Citta, administrator of the EnergyUnited Foundation. "It's a reflection of the stability of the community as well. However, the Advocacy Center has demonstrated incredible leadership in addressing this challenge. We are proud to support their efforts with this grant."
The EnergyUnited Foundation is a voluntary, member-funded non-profit organization supported by EnergyUnited's Operation Round-Up program. Nearly 90,000 EnergyUnited members choose to participate in the program by 'rounding up' their electric bills each month. The maximum monthly contribution for an individual member with one account is 99 cents. Each of these small contributions are pooled together in a single fund managed by the EnergyUnited Foundation to support needy individuals, families, and essential nonprofit organizations that complete an application explaining the reason and purpose for their requested grant.