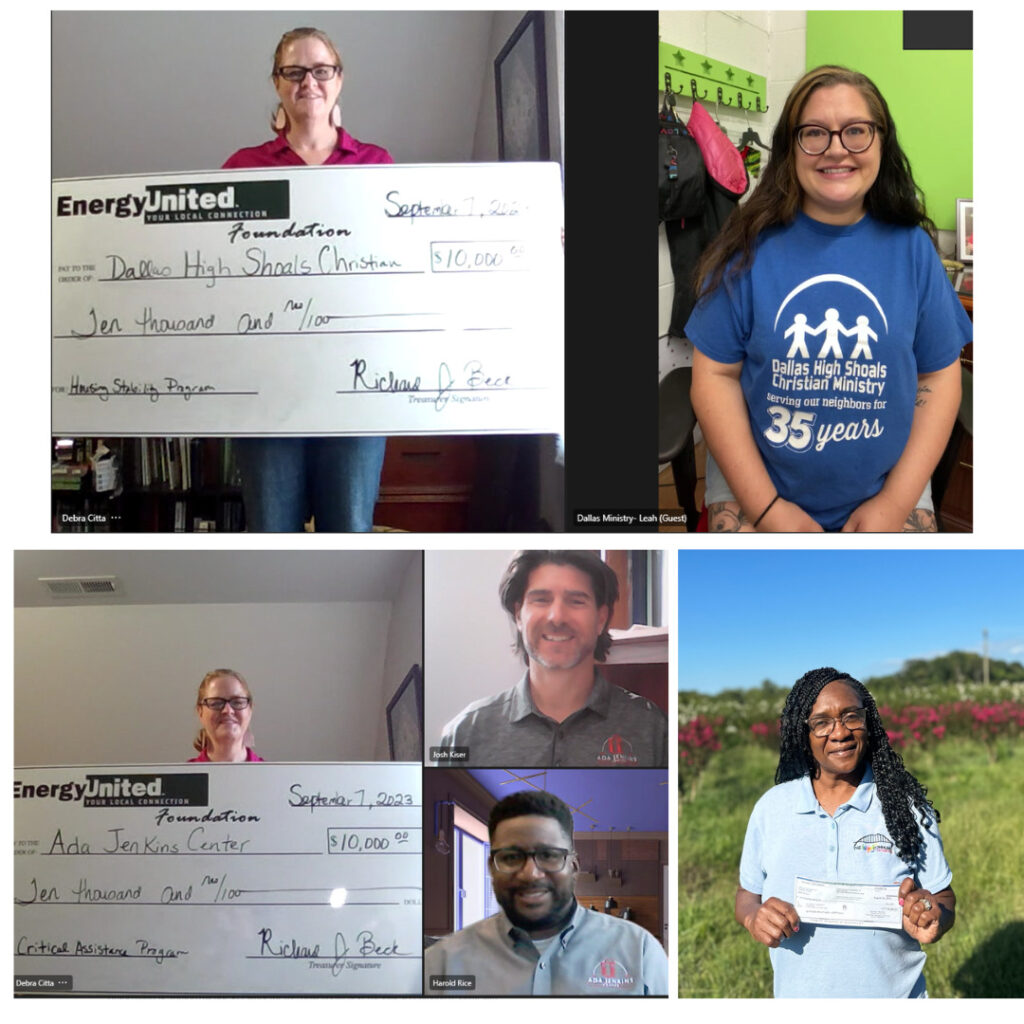 Special to Iredell Free News
The EnergyUnited Foundation awarded more than $80,000 in August to nonprofit organizations, individuals, households and families. As the philanthropic arm of EnergyUnited, the EnergyUnited Foundation has now donated approximately $400,000 to support community needs across the cooperative's service area in 2023.
EnergyUnited officials recently hosted check presentations in recognition of the foundation's three nonprofit donations in August, which totaled $30,000. Recipients included The Bridge Community, Ada Jenkins Center and Dallas High Shoals Christian Ministry.
"The EnergyUnited Foundation is proud to support these three nonprofit organizations," said Debra Citta, program coordinator for the EnergyUnited Foundation. "We are thankful for the continued work of each organization to meet the needs of the communities we serve."
The EnergyUnited Foundation is a voluntary, member-funded non-profit organization supported by EnergyUnited's Operation Round-Up program. Nearly 85,000 EnergyUnited members choose to participate in the program by 'rounding up' their electric bills each month. The maximum monthly contribution for an individual member with one account is 99 cents. Each of these contributions are pooled together in a single fund managed by the EnergyUnited Foundation to support needy individuals, families, and essential nonprofit organizations that complete an application explaining the reason and purpose for their requested grant.
About EnergyUnited
EnergyUnited Electric Membership Corporation (EMC) is the largest electric cooperative in North Carolina with 139,158 member connections. Headquartered in Statesville, EnergyUnited provides electric service in portions of nineteen counties in west central North Carolina, which include Alexander, Cabarrus, Caldwell, Catawba, Davidson, Davie, Forsyth, Gaston, Guilford, Iredell, Lincoln, Mecklenburg, Montgomery, Randolph, Rockingham, Rowan, Stokes, Wilkes and Yadkin. Visit energyunited.com to learn more about the cooperative's energy services and community programs.