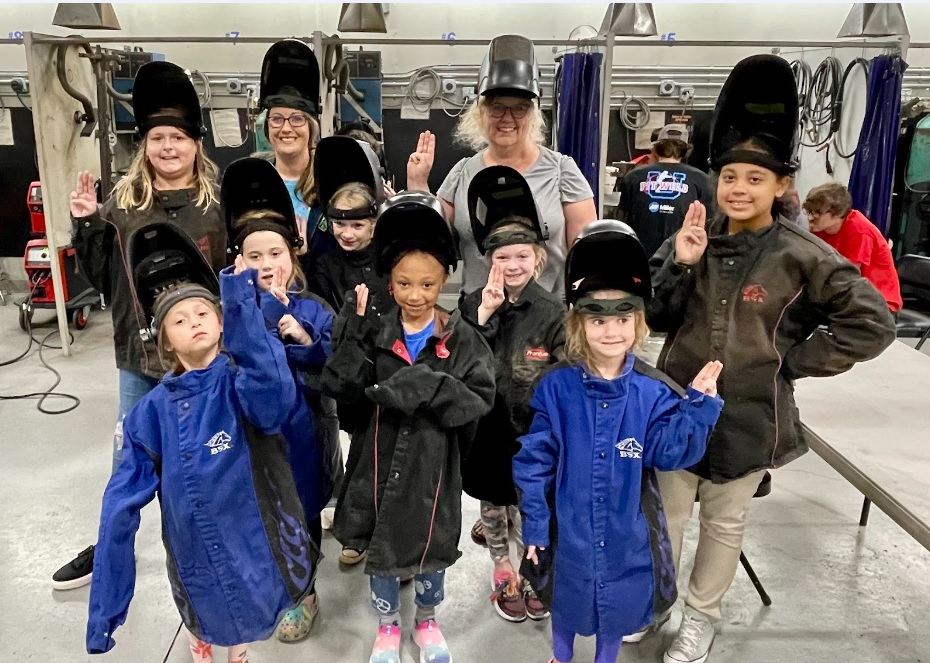 BY ERICA CRANE
Girl Scout Troop 13179 is on a mission to expand their knowledge in automotive engineering, manufacturing, and design. In a series of educational outings, these young scouts are actively working toward earning badges in these exciting fields.
Pit Weld U Adventure
On August 31, Troop 13179 kicked off their automotive journey with a visit to Pit Weld U, sponsored by the American Welding Society – Charlotte section 140. The Scouts delved into the world of welding, learning essential skills in automotive manufacturing such as MIG, TIG and stick welding. They were guided by expert instructors who shared their expertise and hands-on experiences.
Troop Leader Marie Roberts expressed her pride in the girls' enthusiasm.
"It's incredible to see these young girls so passionate about learning. They were truly engaged during our visit to Pit Weld U, and their excitement was contagious," she said
NASCAR Technical Institute Exploration
Building on their newfound knowledge, the Troop set their sights on another thrilling adventure to the NASCAR Technical Institute on September 5. This educational institution, renowned for its association with NASCAR, offered the Scouts an immersive experience in automotive technology and motorsports.
At the NASCAR Technical Institute, you train in hands-on labs while learning from instructors who have years of industry experience. Students can train for a career as an automotive technician, CNC machinist, HVAC technician, robotics & automation technician, or welder. The Troop got a firsthand look at this unique blend of automotive expertise.
Troop Leader Jackie Whitman said it was a great experience.
"As a Girl Scout leader, I couldn't be more thrilled to see our Troop's enthusiasm while exploring the NASCAR Technical Institute. It's a reminder of the incredible impact hands-on learning can have on our young Scouts," she said.
Badge Pursuit Underway
The Scouts' pursuit of badges in Automotive Engineering, Manufacturing and Design is in full swing, and they are expected to complete their requirements after they design, build and test their own cars on September 19.
Troop Leader Marie Roberts commended their dedication.
"These girls are dedicated to earning these badges, and they're doing it with curiosity, teamwork, and determination. I couldn't be more proud," she said.
As Troop 13179 continues their journey into the world of automotive engineering, manufacturing, and design, their story serves as an inspiration to young girls everywhere, encouraging them to explore STEM fields and pursue their passions. Their commitment to learning and adventure is a testament to the power of education and hands-on experiences in shaping a bright future.
Photo Gallery