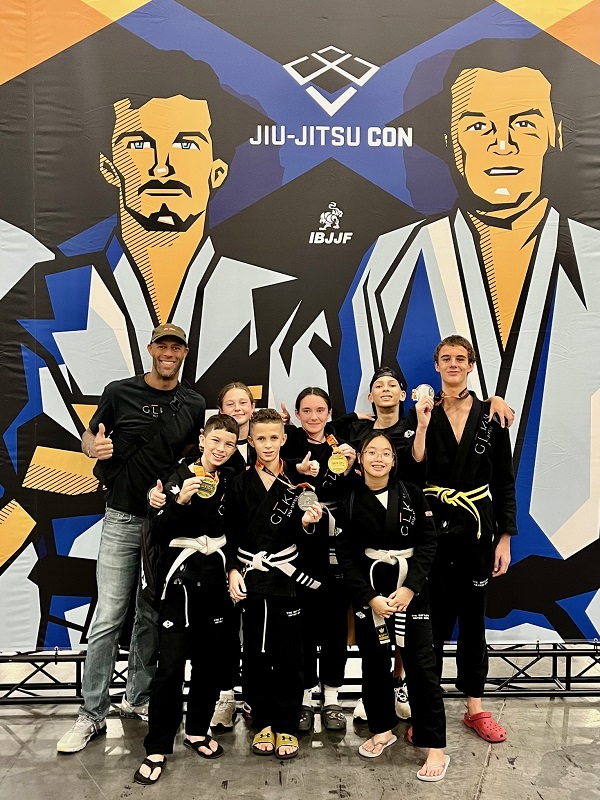 Special to Iredell Free News
Competition was fierce with a record-setting 10,000 athletes from across the globe, including more than 2,000 black belts, all competing to win in their bracket at the recent IBJJF Master Worlds & Jiu-Jitsu Con Annual Tournament in Las Vegas.
Six students from the Gracie Lake Norman Jiu-Jitsu & Self Offense Youth Team competed in the Jiu-Jitsu Con Kids International Competition, finishing at the podium with an impressive Gold (Braelyn Garber), two Silver (Blake Brown and Jack Junkins), and Bronze (Ricky Ruhland) medals.
"I'm beyond proud of my students," said Ranard Brown, head instructor and founder of Gracie Lake Norman Jiu-Jitsu & Self Offense. "We were considered the underdog and the last-place seed coming into this tournament, and we came home with four medals!"
Gracie Lake Norman Jiu-Jitsu & Self-Offense operates one of the most successful youth martial arts programs and competition teams in the United States. The school serves students as young as four years of age through adults. Classes incorporate diverse disciplines, ranging from Judo and Wrestling to Jiu-Jitsu.
Students train under elite black belts committed to helping them achieve their fitness goals while learning functional self-defense, in a supportive community. With more than 4,700 square feet of mat space, parents are able to train in one gym while their children train in another.
Brown is a third generation Gracie Jiu-Jitsu 3rd degree Black Belt under Luiz Palhares and Rickson Gracie. With 23 years of training experience, he spent nearly 14 years directly under the tutelage of UFC Champion and Hall-of-Famer, Royce Gracie, from White to Brown Belt. He is also known for his skill in developing and coaching high performing BJJ kids and competitors who complete on a national level, in addition to coaching and training former UFC and Bellator fighters.
LEARN MORE
Visit www.GracieLakeNorman.com.