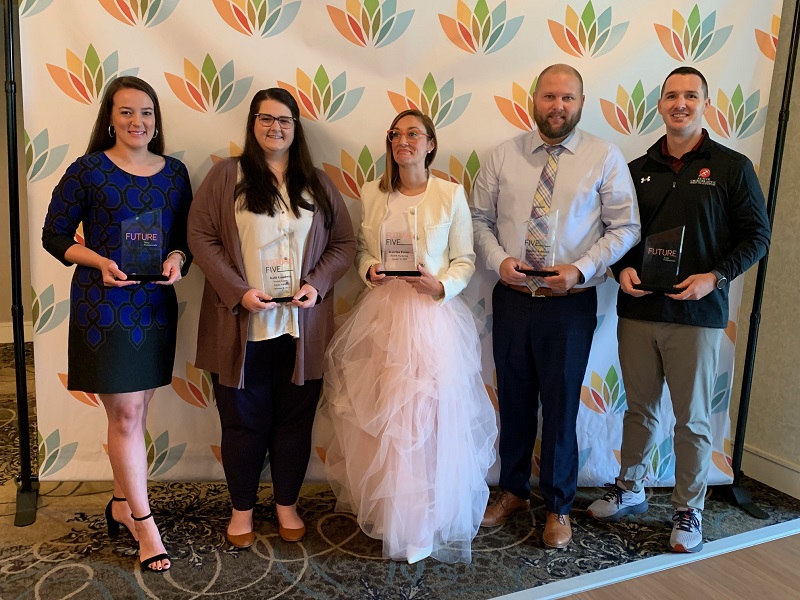 BY BRANDY TEMPLETON
The Greater Statesville Chamber of Commerce recognized the future5 young professionals award recipients on Friday morning at the Statesville Country Club.
The award recipients were honored for many reasons, including activism, volunteerism, and a general concern for the city.
Sponsored by Iredell Health System, the awards were presented to Katrina Foster, chief difference maker/owner of KKPR Marketing & Public Relations; Kelli Goodwin, youth services manager at the Iredell County Public Library; Dr. Benjamin Haynes, owner of Active Chiropractic Rehab and Acupuncture; Bradley Johnson, transit director for Iredell County Area Transit System; and Mallory Renegar, child care resource & referral specialist for the Iredell County Partnership for Young Children.
When asked "What is the one thing keeping Statesville from reaching its potential," each recipient provided his or her ideas.
Goodwin said her concern is that people aren't always able to find the resources they need.
"I think we need to do a better job about getting them out into the community," she said.
Johnson said he thinks some people are scared of change.
"They need to stand up for what they believe in and what they want," he said.
Haynes said that "Statesville is stagnant in multiple areas, and there's a lack of communication between the bigger branches."
"We need to look at the successes of other small cities and copy them," Haynes said, referencing Morganton, Wilkes County, and Davidson.
Renegar said there's "not enough parking."
"Parking hinders our chances to have larger concert series and other things that bring people in," she said.
Foster was not immediately available.