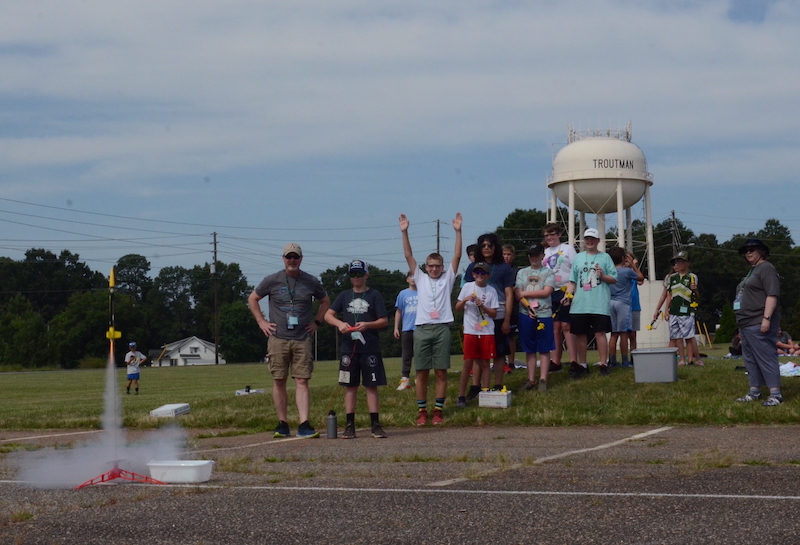 BY KARISSA MILLER
Around 50 rising sixth- through ninth-grade students are spending part of their summer challenging themselves at Iredell-Statesville Schools' Rockets, Rovers and Robots camp.
In its third year, the three-week camp is being held at the Career Academy and Technical School in Troutman. The goal is to encourage students to increase their understanding of Science, Technology, Engineering and Mathematics (STEM).
Camp Coordinator Debra Lester explained that the camp gives students an opportunity to immerse themselves in career exploration and critical thinking in ways that they may not always have the time to do in the classroom.
"They have to problem solve and create all on their own. When they struggle, we don't tell them the answer. We just encourage them through the hard parts. They always figure it out," Lester said.
Students rotate through three main stations, which includes robots, rockets/rovers and STEM.
At the STEM station, students participate in some high-energy hands-on activities like building a rideable hovercraft that even the teachers take for a spin.
Several of the camp's projects feature career exploration simulation missions like engineering bridges, flying drones, and constructing objects using aircraft-grade parts.
If students finish early, Lester said, there are overflow activities. They can explore careers through Virtual Reality or use the "ZSpace" devices that feature STEM, careers and exploration.
One feature that makes this camp unique is the deep pit or robot drive area — built with the help from the Buzz Aldrin Foundation three years ago — that resembles the landscape of Mars.
Robots are put to the test by driving across high and low parts, which simulate boulders and craters and other uneven terrain on Mars. Right behind the pit is an oversized poster of Mars, which provides a visual of what it looks like up closely.
"It's a good quality camp. It's a lot of time and energy put it into it. It's real-world problem solving and job-related activities," Lester said.
The robots used in the Mars missions are what Lester calls "fan favorite" LEGO Spike kits. Lester said that students were excited when they learned that they would be working in teams of two, which gives each pair a good amount of time driving the robot.
Rockets
Each week, students assemble and launch three different solid fuel rockets that are smaller scale versions of the ones NASA uses.
"Most of our students and teachers have never built a rocket. So the rocket launch was a good learning experience last week and fun because we were all learning together," Lester said.
Students will get to take their rockets home, with the fuel packet removed, at the end of the camp session.
The camo also gives students the opportunity to meet and interact with peers from other schools within the district and work together as a team.
"I think the one thing we all have learned from this is working together is better than working alone," said Zoey Heuser, a rising seventh-grader.
"You get to meet new people. You get to explore new things with new people. It's a very cool camp," she added.
Heuser said the instructors are supportive of the students.
"The teachers are kind, helpful and know how kids feel. It's not like some teachers who just re-read you the question. They help you understand the problem," she explained.
Heuser said that her sister Avaa Heuser, a rising sixth-grader, who is also attending the camp, got her interested in robotics.
Each day as the camp day comes to a close, the students share something that they are proud they accomplished. Lester said it's one of her favorite activities and also likes how the students don't want to leave when the day ends.
Photos