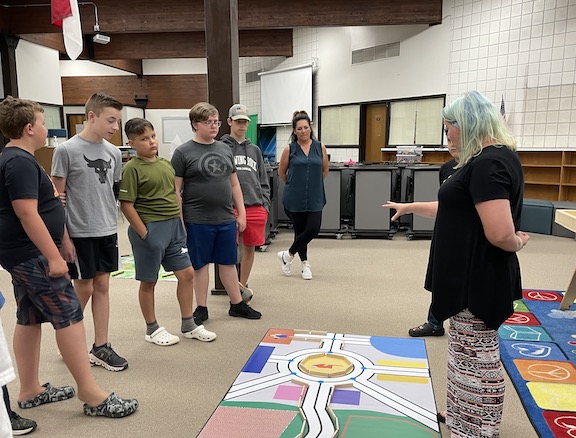 BY KARISSA MILLER
You are living on the coast of North Carolina. Your whole town has just experienced a major hurricane. Now, you have to deal with the aftermath.
Iredell-Statesville Schools students who participated in the district's STEM in Ag Camp were faced with that scenario in a mock disaster simulation last week at West Iredell Middle School.
Teams of students dealt with the scenario by using robots to complete different missions. They worked together to restore power, help restore water resources, gather livestock and meet other needs.
"You cannot drive over trees or on houses," teacher Stephanie Anderson told the students. "In some places, there will be debris scattered around. You will only be able to enter and exit in the same spot."
In the event of a real disaster, responders and emergency management personnel have to able to think of solutions and get creative, she added.
The four-day STEM in Ag camp was co-taught by Anderson, who teaches agriculture, and STEM teacher Olivia Atchley, who is also the robotics coach for West Iredell Middle School. The camp included several guest speakers and hands-on activities like building solar ovens and catapults and making ice cream.
"STEM is used in all industries. My main goal is to show the children how they can use science, technology, engineering and mathematics in the real world, show them jobs in STEM and how it can be used to help society," Atchley explained.
"I also teach them that they have to be accountable for the technology that they create. It can have negative impacts on people and the environment," she added.
The robots are ball Sphero and Dash Spheres, which was a first for Atchley and gave students exposure to different types of robots.
"They have to use their imagination to create something that will go around the robot. The robot is their propulsion. The engineering aspect comes in as they create the design to push and pick things up," Atchley said.
Juli Tipton, I-SS Career Development Coordinator for middle school programs, said district teachers had the opportunity to submit proposals for their CTE Accelerator camp program.
Atchley and Anderson, she said, are a strong teaching team. Their camp was a good fit because the CTE Department had robots that they could use.
The district has some other camps planned for this summer, including nail art and a drone camp, but they are already at capacity and even have a waiting list.
"All of these camps have a primary middle school focus. Our thought is the earlier we can get kids exploring careers, the more prepared they will be to choose elective classes in high school that will provide an opportunity for a career pathway they are interested in," Tipton said.
Photos