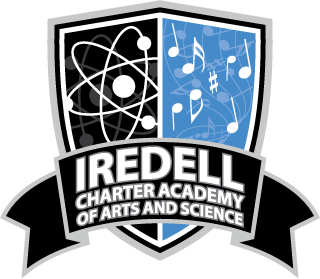 Special to Iredell Free News
Iredell Charter Academy has a new name to reflect the evolution of its focus and offerings.
Iredell Charter Academy of Arts and Science will officially reveal its new name and logo at "An Evening at the Academy Event", which will be held from 4 to 8 p.m. on July 26 at the school located at 251 Home Improvement Street in Troutman.
Principal Andrea Lopresti said the school is determined to meet the needs of students and the community.
"While our foundation in the sciences has always been strong, we listened to the voices of our school parents and community members who highlighted a crucial unmet need for arts education at the lower grade levels," Lopresti said. "In response, we have undertaken a transformative journey to enhance our arts program and expand our science offerings, ensuring our students are well-prepared for success in high school, college and beyond.
"Our new name, Iredell Charter Academy of Arts and Science, aptly captures our renewed direction and purpose."
This fall, Iredell Charter Academy of Arts and Science will introduce an array of artistic programs, including theater, dance, concerts and talent shows, into the school's curriculum. Plans are also underway to establish an orchestra. Complementing these artistic endeavors, the educational model will integrate the STEAM framework, emphasizing science, technology, engineering, arts, and math.
Lopresti further emphasized the significance of these advancements, particularly for students planning to attend Langtree Charter Academy Upper School, Iredell Charter Academy's sister high school.
"By bolstering our arts and science offerings, we are ensuring a seamless transition for students entering high school, enabling them to make the most of the IB arts and science opportunities available at Langtree Charter Academy Upper School," she said.
Enhancements in the realm of science education are also underway at Iredell Charter Academy of Arts and Science. The introduction of the Genius Lab encourages students to explore their own interests by allowing them to select topics to research and study, fostering a sense of ownership over their learning journey.
The school is also expanding its outdoor learning spaces, including an enlarged vegetable garden, and forging partnerships with local environmental science groups. These initiatives will create immersive experiences that connect students with the natural world while deepening their understanding of science.
Iredell Charter Academy of Arts and Science is part of the Charter Schools USA Inc. (CSUSA) family of schools serving students in kindergarten through eighth grade. The school is governed by the North Carolina Charter Educational Foundation, which consists of local community leaders: Beth Compton, Chad Metzler, Dave Edwards, James Fonseca, Jessica Rainstein, Kelly Milligan, Martin Conway, and Michael Drury. Learn more at www.IredellCharter.org.