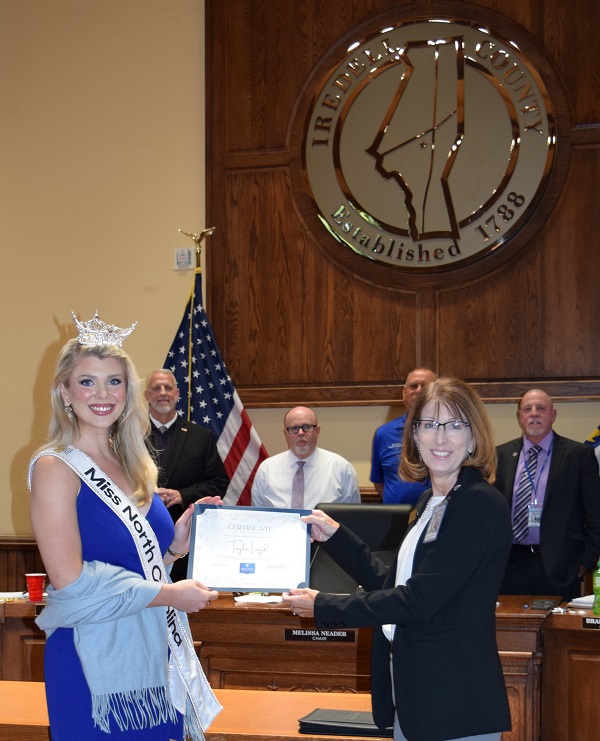 Special to Iredell Free News
Miss North Carolina Taylor Loyd was honored at the Iredell County Board of Commissioners meeting earlier this month.
A lifelong resident of Mooresville, Loyd was recognized by the board on September 19 for her commitment to community service. She shared information about her Community Service Initiative: The Arts Connection, and the nonprofit she created, Healing Hearts Through the Arts.
Loyd explained to the group that her motivation to serve her community came after the three-month hospitalization of her brother, Preston. She recalled how her brother benefited from music and the arts after suffering a traumatic brain injury in 2009. What started as a Girl Scout project grew into a personal crusade to promote arts advocacy and accessibility, and to elevate the arts in our communities.
She has served as an arts advocate on the local, state, national, and international levels.
Loyd's efforts have enabled her to donate music and art supplies to hospitals, retirement communities, veterans hospitals, and other organizations such as The Ronald McDonald House and Davis Regional Psychiatric Hospital. She has served as an arts advocate on Capitol Hill, meeting with U.S. senators to promote federal funding for arts initiatives. As a featured speaker for the N.C. House of Representatives, she discussed the impact of arts in education. She has traveled to Nicaragua to donate music and art supplies to schoolchildren and volunteered with the USO to support the military. Throughout schools and civic groups in Iredell County and the state, she has presented programs on using music and the arts as a tool for mental wellness and well-being.
Loyd, 22, is a senior at the University of North Carolina at Chapel Hill, where she is double-majoring in Psychology and Music with a concentration in vocal performance.
The daughter of Ashton and Cinamon Loyd, she is a seventh-generation Iredell County resident and the first Miss Statesville to win the Miss North Carolina crown.