BY KARISSA MILLER
The Iredell County Board of Commissioners has declared May 21-27 as Emergency Medical Services Week.
EMS is a vital public service, and Iredell County EMS personnel provide lifesaving care to those in need 24 hours a day, seven days a week.
"The theme this year is 'Where Emergency Care Begins' and this could not be a truer statement," said EMS Director Blair Richey.
In addition to the lifesaving care they provide the community, EMS personnel engage in thousands of hours of specialized training and continuing education to enhance their lifesaving skills.
Iredell County EMS is one of many agencies across North Carolina that is participating in a registry-based study of cardiac arrest patients.
EMS Paramedic Competition team recognized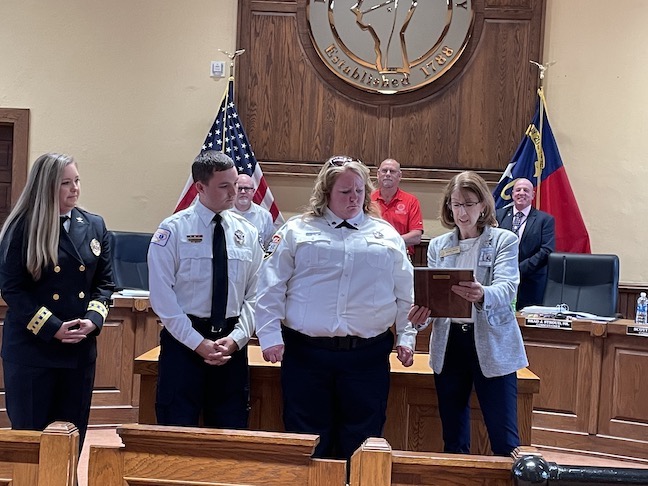 In a separate presentation, EMS Director Blair Richey recognized the Iredell County EMS paramedic competition team, which was represented well by Field Training Officer Brandy Mitchell and Paramedic Austin Huntington.
Iredell County EMS participated in the 2023 State Paramedic Competition. This event is hosted by the Office of Emergency Medical Services, North Carolina College of Emergency Physicians, and North Carolina Association of EMS Curriculum Educators.
Iredell EMS won first place in the regional competition and competed at the state level on April 30.
The North Carolina Paramedic Competition has been challenging participants since 1991.
Teams are graded on professionalism, didactic knowledge and their clinical management as they face realistic scenarios, environments and simulations within a set time limit. The competition gives teams the opportunity to represent their agency on a statewide platform, and their hours of training improve the quality of patient care provided in their communities, benefiting the citizens and guests of North Carolina.