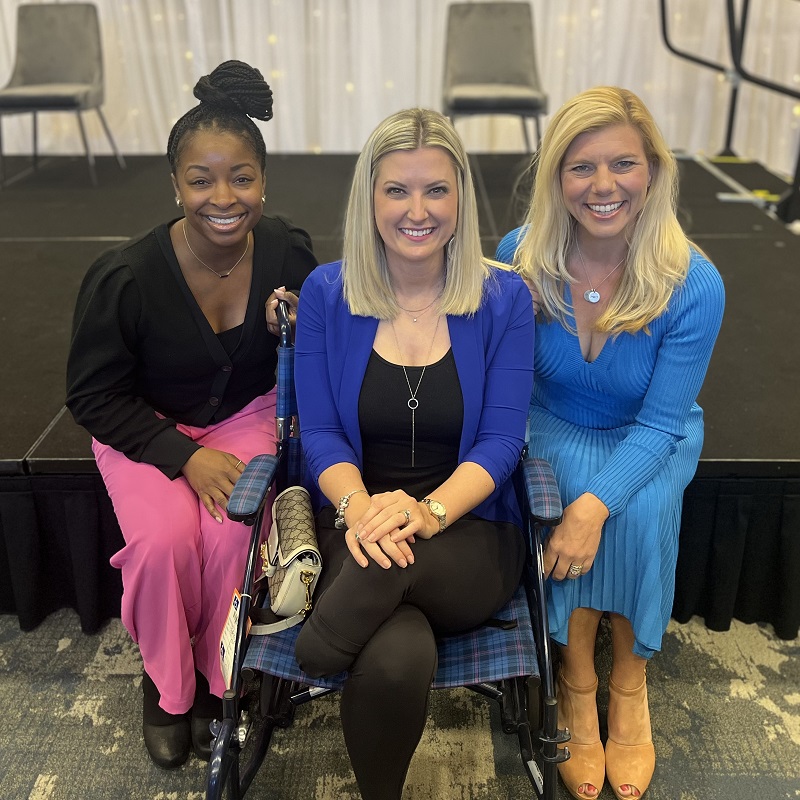 Special to Iredell Free News
The Iredell Health Foundation, the philanthropic arm of Iredell Health System, held its inaugural International Women's Day Breakfast in Mooresville on Wednesday. The funds raised from the event will support over 75 women in the community who are struggling with the cost of breast screenings.
More than 200 attendees were treated to breakfast at the Charles Mack Citizen Center before the program began. Susan Tolle, secretary of the Iredell Health Foundation, welcome all attendees. Miles Atkins, Mooresville mayor and director of Corporate Affairs & Government Relations for Iredell Health System, officially proclaimed March 8 as International Women's Day for the Town of Mooresville.
Four-time Emmy award winner, WBTV News anchor and author Molly Grantham emceed the event. Grantham spoke about empowering women and shared some of her own stories of balancing the responsibilities of being a career-driven woman and a mother of three.
The Women in Medicine speaker for the breakfast event was Dr. Princess Williams, who spoke about her role supporting women as a breast surgeon and oncologist.
The keynote speaker for the International Women's Day Breakfast was Boston Marathon Bombing survivor Rebekah Gregory. An author and motivational speaker, Gregory shared details about her personal experiences the day of the bombing, her extensive recovery following her left leg amputation, her inspiring story of training and running for a portion of the marathon, and her emotional experience in court addressing the bomber who nearly took her and her son's life.
"As long as you are breathing, you have purpose. And, you may not know what exactly you're supposed to do, or where you're supposed to go, or the challenges that lay ahead, but I promise you, our blessings will always outweigh our problems," said Gregory.
After the program, attendees stayed for photos and book signings. Many attendees left with signed copies of Gregory's, "Taking My Life Back," and Grantham's, "Small Victories" and "The Juggle is Real."
The International Women's Day Breakfast benefitted the Foundation's Women's Health Fund for Iredell Health System. Proceeds will support qualifying women who cannot meet the financial obligation for health and preventive services, such as mammograms, ultrasounds, and other diagnostic screenings.
"It was a wonderful morning in celebration of women, not only for this day but every day. The event will help break down the financial barriers for women seeking preventive services at Iredell," said Jen Balog, executive director of the Iredell Health Foundation.
LEARN MORE
To learn more about the Iredell Health Foundation, or to make a donation, visit IredellHealthFoundation.org, or call 704-878-7669. The next International Women's Day Breakfast is March 6, 2024.
About Iredell Health System
Iredell Health System includes Iredell Memorial Hospital; Iredell Mooresville; Iredell Home Health; Iredell Wound Care & Hyperbaric Center; Community and Corporate Wellness; Occupational Medicine; the Iredell Physician Network and more. Iredell Memorial Hospital is the largest and only nonprofit hospital in Iredell County. The comprehensive healthcare facility has 247 beds; more than 1,800 employees; and has 260 physicians representing various specialties. Centers of excellence include Women's and Children's; Cardiovascular; Cancer; Surgical Services and Wellness & Prevention. The Health System's newest campus, Iredell Mooresville, is home to the area's only 24-hour urgent care facility, as well as an ambulatory surgery center, imaging center, rehabilitation services, and physician practices. The mission of Iredell Health System is to inspire wellbeing. For a comprehensive list of services and programs, visit www.iredellhealth.org