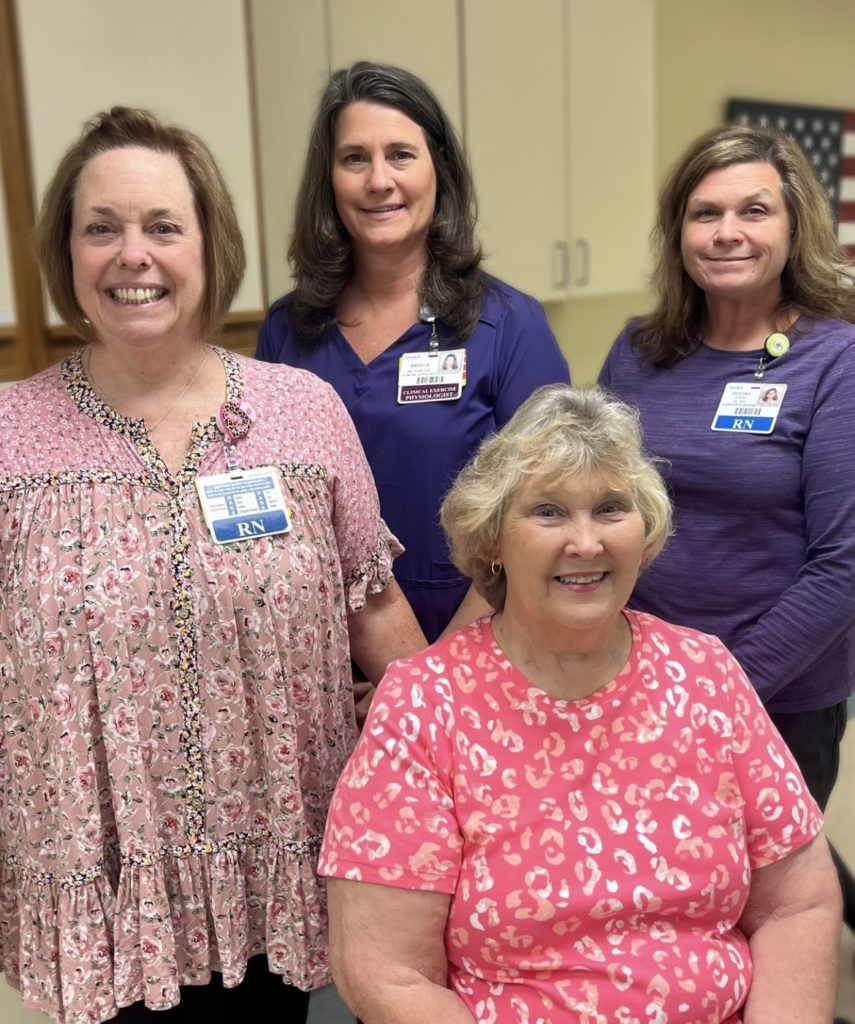 Special to Iredell Free News
Adjusting to the physical demands of life and finding your "new normal" after a cancer diagnosis can feel overwhelming. Battling cancer itself is a challenging journey, and managing your wellbeing as a cancer survivor brings its own stress and uncertainty.
That's why help, guidance, and support is so important.
Carol Poole, a 69-year-old Statesville resident, found this to be true after her journey with breast cancer.
In November of 2021, Poole was diagnosed with triple-negative breast cancer, a type of cancer that runs in her family.
"After my diagnosis, I felt like everything happened so fast," she said.
In January of 2022, Poole started chemotherapy and had surgery shortly after. She then completed 20 rounds of radiation in April of that year at the J. Allen Knox Radiation Therapy Center, a part of Iredell Health System.
During the entire month of May 2022, Poole was an inpatient at Iredell Memorial Hospital. They found her cortisol had dropped to dangerously low levels. She was unable to eat, drink, take her medicine, and could barely move or walk.
"I was going from the hospital, to the skilled nursing unit, back into the hospital. It was back and forth," she said. "In June, when I started to get a little bit better, I told them I missed my family and grandkids and just really wanted to go home. So they said I could go home, and they would send Iredell Home Health out to my house."
However, in November of 2022, Poole stopped progressing and started to become sick again.
"I started to get worse again and kept falling. I don't know how many times EMS had to come to my house. So that's when I got sick again, and I was in the hospital the entire month of November," said Poole.
This time, she was having issues with her heart. After being treated at Iredell Memorial Hospital for a month, Poole started to feel better and was sent back home with Iredell Home Health in December.
At this time, Poole was in remission from breast cancer, and after spending so much of the past year in the hospital, was eager to get back to the things she was doing before her diagnosis. But she did not know how to regain her strength and get started on that path toward recovery.
However, that changed when she learned Iredell Health System has launched an outpatient cancer rehabilitation program.
"In February of 2023, my niece, who is a nurse in Raleigh, called me and said, 'Did you know they had a cancer rehab program at the hospital?" she said.
Iredell Health System's Cancer Rehabilitation Program
"Right after my niece told me that, I got the referral from my doctor and started the program in April 2023," said Poole.
Iredell's cancer rehab program is for people at any part of their cancer journey, whether they are newly diagnosed, currently undergoing treatment, or have finished their treatment. The main goal of the program is to increase quality of life while also increasing physical function for individuals diagnosed with cancer or cancer survivors.
Since April, Poole has attended the program on Tuesdays and Thursdays for one hour.
She received an individualized treatment plan that included exercise training and support for her medical, nutritional, and emotional needs.
"My doctor tells me, 'You want to get back where you were before cancer, and it's not going to happen right away. It will take a while.' But, in the meantime, this cancer program is helping me get there and regain my strength. Each day gets better, and this program has really helped me more than anything," said Poole.
After her diagnosis, and before enrolling in the cancer rehab program, Poole was unable to go on vacation with her family — something she was used to doing. She especially enjoyed going camping and hiking with her partner.
"My partner, he recently asked me if I felt like trying camping again. And I told him we could try it for one night. We actually ended up staying two nights. I couldn't do all the long walks I did before, but we did some shorter walks, and it was so wonderful to get back out there," said Poole.
Poole went from being in a wheelchair, to using a walker, to using a cane, to going on short hikes in just one year. She attributes a lot of her physical progress to the Iredell Cancer Rehab team.
"I'm so happy with the staff at the cancer rehab program. They are wonderful. They're right there with us the whole time, monitoring us and talking to us. They really impressed me," said Poole.
In addition to her physical accomplishments, Poole has also gained mutual support from others in the program.
"The fellowship and being with people who have been through the same thing you've been through is so great. They may not have the same cancer as you, and not everyone is at the same part of their cancer journey, but we are really able to support each other. We are a close-knit group," she said.
Going forward, Poole wants to continue in the program so she can get back to doing the things she loves.
"I have really pushed myself, and a lot of people don't. I hate to see others not pushing themselves to get better. But I've always been full of life. I can't wait to get back to where I was before and be active with my grandkids and go to all their games," she said.
"I do not know what I would have done without this program. Just being able to walk around in my yard is such a huge accomplishment. I always tell people about this program and recommend it to everybody," said Poole.
Learn More
Iredell Health System's Cancer Rehabilitation program is made possible in part thanks to the EnergyUnited Foundation, who awarded a $10,000 grant to the Iredell Health Foundation to provide necessary funding for the program. Whether you've recently been diagnosed with cancer or your treatment has ended and you're recovering, Iredell's Cancer Rehab program can help. You will need a referral from your doctor to participate in the program. To learn more, please call 704-878-4558.
If you would like to make donation to Iredell Health Foundation's Oncology Rehab Program Fund, supporting the cancer rehabilitation program, visit IredellHealthFoundation.org, or call 704-878-7669.
About Iredell Health Foundation
The Iredell Health Foundation is a 501(C)3 nonprofit organization responsible for philanthropy for Iredell Health System. It supports the system's programs and services through donor-centered fundraising. The Foundation focuses on raising community awareness of specific programs that need funding and provides individuals and organizations hoping to make a difference and leave a legacy the opportunity to support local healthcare needs of their choice. To learn more, or to make a donation, visit www.iredellhealthfoundation.org or call 704-878-7669.