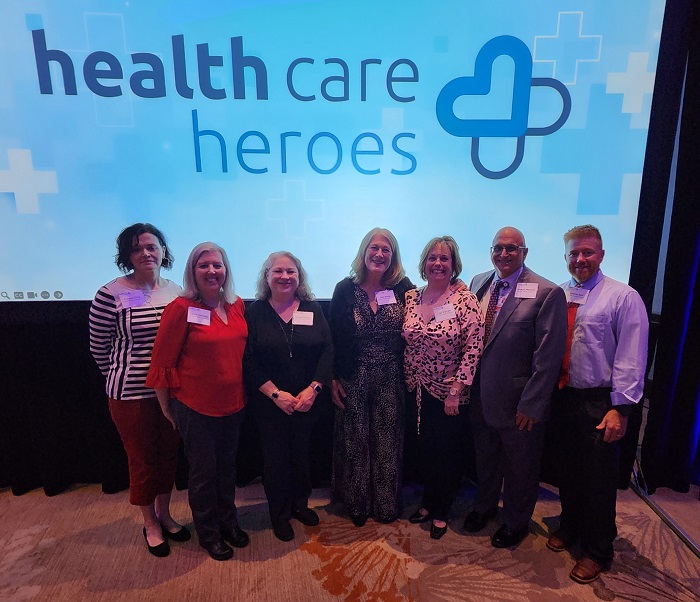 Special to Iredell Free News
Iredell Health System was recently recognized at the Charlotte Business Journal's annual Health Care Heroes Awards ceremony.
Through its Health Care Heroes program, the Charlotte Business Journal seeks to honor local individuals and organizations who are driving innovation for the health and betterment of others.
Nominations were submitted for this recognition, and at the ceremony on Wednesday night, the Charlotte Business Journal recognized 26 exceptional North Carolina health care professionals across nine categories.
Two remarkable Iredell Health System teammates, Oncology Navigator Judy Porter, and Director of Cardiopulmonary Rehabilitation Lisa Warren, were selected as finalists of two different categories.
Of the finalists, Warren was named the 2023 Health Care Hero in the "Nurse" category.
Lisa Warren, MHA, MSN, RN, Director of Cardiopulmonary Rehabilitation at Iredell Health System
Winner: Nurse Category
Details: Named the 2023 Nurse Health Care Hero, Warren was honored for her 41 years of commitment to her patients. When Warren began her career at Iredell Health System as a newly graduated nurse in 1982, she never would have imagined the impact she would make. Now, more than 41 years later, Warren can look back on her career knowing she's made a difference.
"When I was 17 my dad passed away. He had heart disease. I decided then I wanted to be a nurse," Lisa said.
She knew she wanted to go into the cardiac field, and that's exactly what she did. Her first position at Iredell was as a telemetry nurse. Nine months later, Warren transferred to ICU/CCU, where she worked for five years. Next up? Nursing supervision, where she played a critical role in assisting with ambulance transfers for both cardiac and trauma patients, became a mobile intensive care nurse, and became a certified trauma nurse – all while working as an EMT.
After ten years, Warren transferred to the cardiac catheterization lab and led the lab's first upgrade. A room for Transesophageal Echocardiogram was also added under her direction.
Six years later, Warren transferred to Cardiac Rehab, where she has remained ever since. Warren has been instrumental in expanding the program — now known as Cardiopulmonary Rehab — numerous times. In 2008, Warren helped the health system establish annual fit testing for local fire departments. In 2015, pulmonary rehab was added. In 2018, rehab for peripheral artery disease (PAD) was added, and in 2023, cancer rehab became part of the program offerings.
There is also a Fit for Life program that allows program graduates to continue to utilize the program's services. What started as strictly a cardiac rehab program with three classes has now expanded to 12 classes accommodating different needs, with 120 patients enrolled at any given time. And it's all because Warren recognized the need for those services locally and advocated bringing them to the community.
Warren's impact reaches beyond that as well — she leads the system's Community Health Needs Assessment, working directly with the local health department, where she served on the board for nine years, three of those as chairman. She led the data entry team for the system's COVID vaccine clinics, and she's an instrumental leader for the system's community outreach efforts.
Everything she does is done with a smile on her face and an enthusiasm for changing lives.
"I am very humbled and honored to receive the Health Care Heroes Award. I've never felt like a hero — just a girl who followed her dreams to become a nurse and had unending support and opportunities throughout the years to make a difference," said Warren.
Judy Porter, Oncology Navigator in the Care Transitions Department
Finalist: Community Outreach Category
Details: When someone is discharged from the hospital, they're often directed to follow-up with their healthcare providers for further care. But what about individuals whose social determinants of health – their economic stability, physical environment, and financial status – prevent them from doing so? How do they make sure they stay healthy and don't end up back in the hospital?
Thankfully, Judy Porter and the Iredell Care Transitions Department are there to help.
Porter has been employed with Iredell Health System for ten years – first as a Social Worker in the Case Management Department, then as a Care Navigator in the Care Transitions Department, and presently as Oncology Navigator in the Care Transitions Department.
Care Transitions is designed to provide follow-up care for designated populations of patients after hospital discharge, and ongoing care coordination for high-risk patients. Iredell Health System's Care Transitions department connects these patients with providers and community resources, helping them understand how to care for themselves at home and preventing them from being readmitted to the hospital.
Porter helped establish the Care Transitions Department as its first Navigator. She coordinated post-acute care for Medicare and Private Pay patients by performing home visits, telephonic follow-up, and arranging community assistance, physician appointments, and medication and transportation assistance. Many times, Porter's efforts have prevented patients from being readmitted to the hospital because they were able to access necessary resources to keep them healthy.
Presently, Porter serves as the Oncology Navigator. She helps patients diagnosed with cancer learn about the different resources available to them – including symptom management, counseling services, dietitian services, financial services, exercise therapy programs, care packages, and more. She recently established a Cancer Support Group and is planning to soon launch a Caregiver Support Group as well.
Social determinants of healthcare can play a huge role in the care an individual does or does not receive, and it is thanks to Porter's ongoing efforts that many in our local communities have what they need. She is truly the embodiment of our vision to "guide our neighbors to optimal health."
About Iredell Health System
Iredell Health System includes Iredell Memorial Hospital; Iredell Mooresville; two urgent care centers; Iredell Home Health; Iredell Wound Care & Hyperbaric Center; Community and Corporate Wellness; Occupational Medicine; the Iredell Physician Network and more. Iredell Memorial Hospital is the largest and only nonprofit hospital in Iredell County. The comprehensive healthcare facility has 247 beds; more than 1,800 employees; and has 260 physicians representing various specialties. Centers of excellence include Women's and Children's; Cardiovascular; Cancer; Surgical Services and Wellness & Prevention. The Health System's second campus, Iredell Mooresville, is home to the area's only 24-hour urgent care facility, as well as an ambulatory surgery center, imaging center, rehabilitation services, and physician practices. The mission of Iredell Health System is to inspire wellbeing. For a comprehensive list of services and programs, visit www.iredellhealth.org.