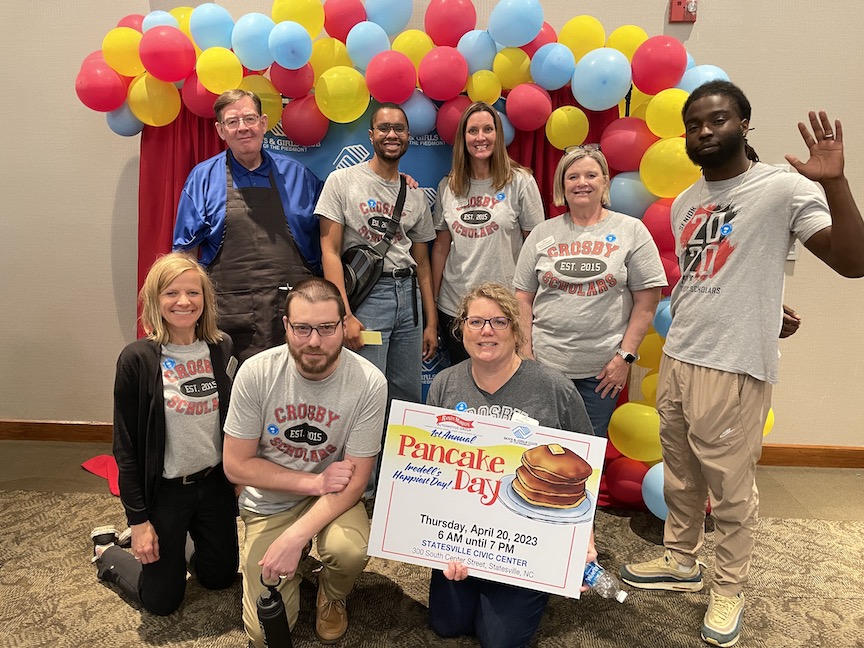 BY KARISSA MILLER
The smell of thousands of pancakes sizzling on the griddle filled the Statesville Civic Center on Thursday during the inaugural Boys & Girls Club of the Piedmont Pancake Day.
Billed as "Iredell's Happiest Day," the fundraiser featured local celebrity chefs, including Statesville Police Chief David Onley and Iredell Health System President & CEO John Green and and Mitchell Community College Culinary instructor "Chef Bob."
More than 1,550 meals were served, according to organizer and Boys & Girls Club Director of Development Brady Johnson. All proceeds from the event will benefit the Boys & Girls Club. The nonprofit hopes to raise more than $75,000 to fund a robust summer camp and other services for club members.
While the pancakes and sausage were a hit, the event had a unique feel and flavor.
"The community atmosphere we had today at this event was incredible. We had citizens from every walk of life in this room. We had CEOs of major businesses, ordinary citizens and children here — it was a microcosm of our community," Johnson said.
"It felt so good to see that sense of community in the room."
More than 350 volunteers donated their time and effort to the event, and 76 sponsors chipped in to make sure it was a success.
Boys & Girls Club Board member William Jones Jr. helped purchase the first griddle and then secured funding for the additional griddles by asking the local Rotary Clubs to support this cause.
"We will always be indebted to Mr. Jones and the Rotary Clubs. They will be a catalyst for our annual fundraiser for decades to come," Johnson said.
"Iredell's Happiest Day" kicked off at sunrise as five local pilots launched their hot air balloons and floated over town with guests in town from the Economic Development Partnership of North Carolina for the Tourism Resource Assistance Center (TRAC). The Statesville Convention & Visitors Bureau helped make that happen.
Photo Gallery