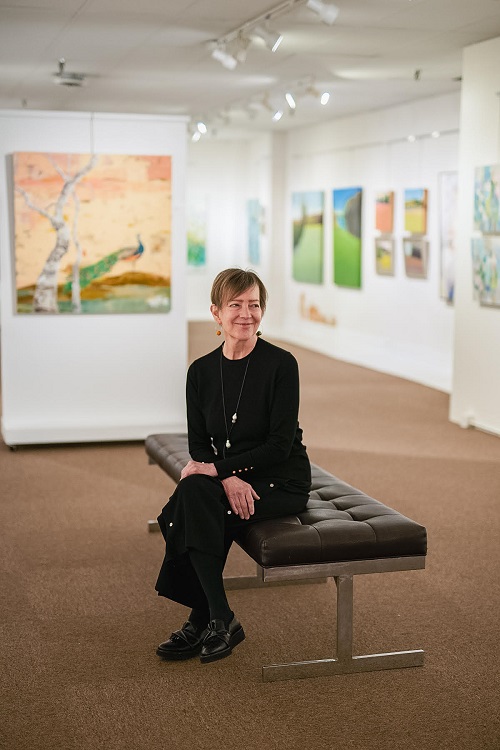 Editor's Note: This article was originally published in the March edition of "IFN Monthly." Copies are available at more than 80 locations across Iredell County.
BY KIM McKINNEY
The path that brought Lee Dellinger to Statesville includes a love story packed with adventure and heartache, an unexpected career change and an enduring appreciation of art.
The story begins in a gallery in Morehead City. The latest chapter, which is still being written, involves Dellinger opening her own gallery in Statesville and contributing to an increasingly vibrant scene in the downtown district.
Lee Dellinger Fine Art opened at 120 West Broad Street in the midst of a global pandemic, but that's not the most surprising part of the story. It's how Dellinger got here.
Dellinger is not an artist herself, and her previous ties to Statesville were tangential at best. Raised in Winston-Salem, she was living in Cary in the late 1990s and working in marketing for a company that placed scientists in biotech and pharmaceutical companies.
She began going to galleries and buying art for herself, slowly collecting pieces that moved her after frequent browsing trips.
During one such trip to Morehead City, Dellinger stopped into Carteret Contemporary Art and saw a piece by a Raleigh artist whose work she recognized. The gallery owner, Charles Jones, was away at the time, but his framer suggested Dellinger come back the next day and meet Charles and see other pieces of art by that artist that were not yet on display.
That return visit changed the course and direction of Dellinger's life. After she bought a piece of art that would not fit in her vehicle, Charles offered to deliver it to her in Cary.
That special delivery sparked a long-distance relationship that eventually led to the couple exchanging wedding vows. After learning Dellinger's job could not transfer to the Morehead City area, Charles suggested his new bride open her own gallery in Beaufort.
They each ran their own gallery, and for 21 years, they built a rich life full of travel and adventure that involved immersing themselves in different cultures. Charles took joy in planning the couple's regular trips to Europe, where they enjoyed living like locals. Even after Charles was diagnosed with cancer in 2015, he insisted they continue living their best life. Their last trip together, to Spain, was just a few weeks before Charles died on November 26, 2019.
Recently widowed, with no siblings or children, and with Christmas looming, Dellinger started thinking about Christmas – and the next chapter of her life.
One of her artist friends, Amy Sullivan, invited Dellinger to spend the holidays with her in Statesville. Charmed by what she saw on that trip, Dellinger soon began making regular trips to Statesville.
During those visits, Dellinger met many of Sullivan's friends. By that time, she had decided to leave the coast. Charles had been her biggest connection to that area, and the idea of dealing with hurricanes regularly held little appeal. She was considering returning to Winston-Salem.
Upon hearing that, one of Sullivan's friends said, "I don't understand why you just don't move to Statesville. You keep coming here, and we like you and you like us."
Dellinger had to agree. Before the end of that trip, she had hired a Realtor and started the process of finding a new home.
Dellinger wasn't ready to retire, and she began making plans to open a gallery in Statesville. She already knew many artists who lived in the Charlotte area, making it a convenient location. By the time she moved to Statesville in April of 2021 – a year into the pandemic, she already had gallery space rented.
Lee Dellinger Fine Art has become a destination for art lovers and artists. Sullivan has moved her studio into the room in the back of Dellinger's gallery. Mooresville resident Marlise Newman also works out of the studio space.
The gallery is serene and comfortable. Browsing is welcome and even encouraged by Dellinger. There are paintings and sculpture, available at a variety of price points, by artists from North Carolina and around the world.
Dellinger is always available to help those who come to browse, without being intrusive or pushy. She realizes that every person who walks in the door is not ready to buy something, and that most will browse until they find that special piece. She has always purchased her own art that way.
Gallery Info
Lee Dellinger Fine Art is located at 120 West Broad Street in Statesville. The gallery is open Tuesday through Friday from 10 a.m. to 5 p.m., Saturday from 10 a.m. to 3 p.m., and by appointment.