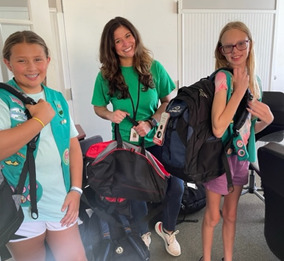 Special to Iredell Free News
The members of Girl Scout Troop 13187 in Mooresville recently earned their Bronze Award.
Sydney, Olivia, and Stephanie decided to support foster kids who often don't have a lot to call their own. The partnered with Alexander Youth Network to donate 71 backpacks and duffle bags filled with personal hygiene and other items.
"We wanted to give them something of their own because many times they get moved into the foster program from school/home and with only what they brought with them or have very little," troop leader Melissa Randolph explained.
The troop created a poster and collected donations by reaching out to local businesses. Each Girl Scout made something special, including hair scrunchies, bracelets, whirly gigs, rainbow looms and inspirational cards. The scouts also went shopping for items that were not donated.
"We lived the Girl Scout law by being friendly, helpful, considerate, and caring to others. We discovered that helping people makes the world a better place," Randolph shared. "When we completed this project, we realized it is fun to help others. We were able to make a difference in their lives and ours by doing something for them."