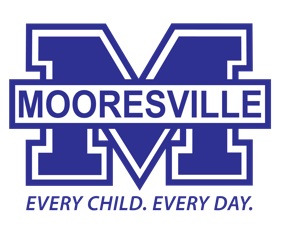 BY DEBBIE PAGE
The Mooresville Graded School District Board of Education voted unanimously Tuesday to lower the school tax rate, approved teacher and instructional personnel salary supplements, and approved a bus driver referral bonus to address the driver shortage.
Each year, the board evaluates and approves the supplemental tax rate for the school district. The current tax rate of 18.5 cents per $100 valuation, in place since 2012, was lowered to 15.5 cents per $100 valuation for the 2023-2024 school year to remain revenue neutral after the county's revaluation process significantly increased property values.
The board also approved the maximum $866 supplement for eligible instructional personnel, using the $428,603 allotted by the state to MGSD for this purpose. The supplement will be paid in June to eligible employees actively employed through the school year.
In an effort to recruit and retain additional bus drivers, the board also approved a referral bonus structure. If a current MGSD employee successfully recruits a bus driver, both the MGSD employee and the new bus driver will receive a one-time bonus of $1,000.
The bonus will be paid to both once the bus driver meets the following criteria:
● Documentation of referral by an MGSD employee (verified by HR) as part of the onboarding process;
● Successful completion of bus driver certification course and maintaining a Commercial Driver's License with a Passenger and School Bus endorsement;
● Satisfactory employment for at least six month; and
● Assignment to a regular AM and/or PM route;
Any new bus driver hired between May 10, 2023, and June 30, 2024, is eligible for this bonus if the criteria above is met. School level and district level administrators are not eligible for the referral bonus since recruitment is part of their job description.
OTHER ACTIONS
The board heard proposed policy amendments, recommended the N.C. School Board Association, among which are changes regarding AI use in the integrity policy, rights of pregnant students and staff, a 10 percent minority contract goal, and naming facilities. The board will vote on these changes during its June meeting.
The board also approved Mooresville High School's request for a field trip to Moncks Corner, S.C., to visit the Navy Recreation Area for the NJROTC Area Six Sail Academy on June 18-23. Five students will be in attendance with three adult staff members serving as chaperones. No cost is associated with this trip.
RECOGNITIONS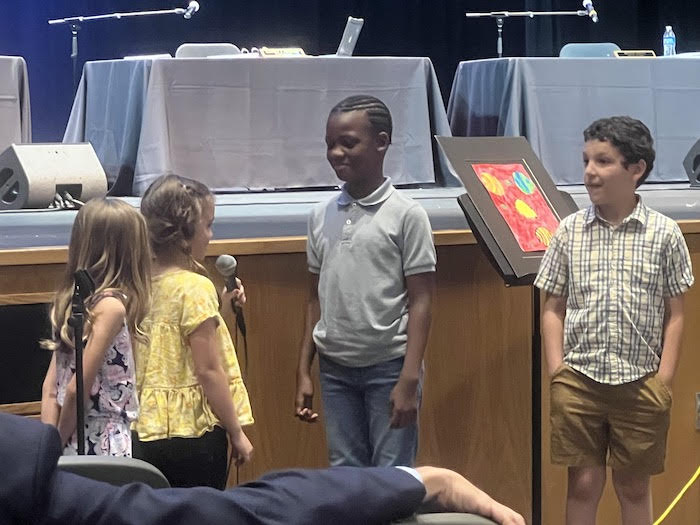 RRES Dual Immersion Program
Rocky River Elementary School's Dual Immersion Program presented an informational demonstration and video to board members. Four kindergarten and four second-graders conducted conversations in Spanish, which they then translated into English for the audience.
The video captured daily classroom interactions and lessons. These students are taught 50 percent in English and 50 percent in Spanish during the school day to enhance their literacy in both languages.
The program started in kindergarten and first grade and has now expanded through second grade as the students moved up over the past two years.
In addition to building language skills, Principal Chuck Larusso said the dual-immersion program also works on developing cognitive skills, abstract thinking, math and logic skills, higher order thinking, and problem-solving in these young learners.
LaRusso also praised the enhanced cultural awareness that they gain as well as their ability to think globally.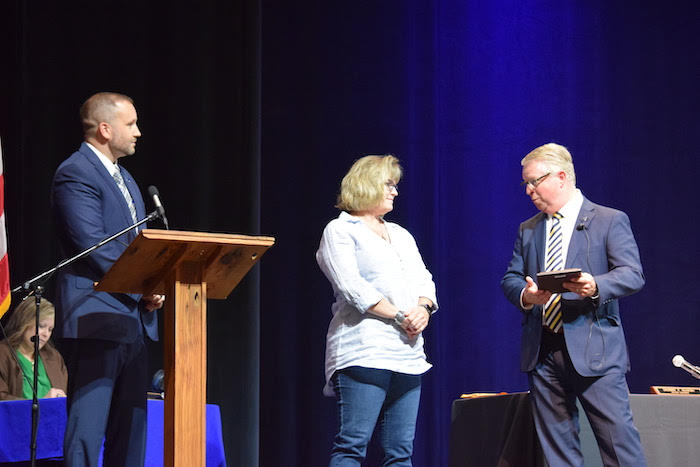 ABCD Award
Maintenance Department office professional Michelle Beaver was presented the Above and Beyond the Call of Duty Award by Superintendent Jason Gardner and MGSD Board Chair Greg Whitfield after being nominated by David Martin, director of Maintenance.
In his nomination, Martin stated that "Beaver has done nothing less than an exceptional job since she transitioned to the MGSD Maintenance Department two years ago. She is a constant professional in all of her administrative duties and goes above and beyond to support the maintenance team and MGSD in all that she tries to accomplish."
"Her can-do attitude is what exemplifies her willingness to serve in any capacity. Whether it be in an office setting, on a daily courier run or working beside any one of the Maintenance Technicians, she will provide support, no matter the task."
"On several occasions, when Michelle had dealings with staff, contractors, or vendors, I received compliments about how Michelle only wanted to put their needs first. When an employee places all stakeholders first, it is very evident that the employee is not only very loyal but very dedicated as well. Michelle Beaver goes Above and Beyond the Call of Duty daily!"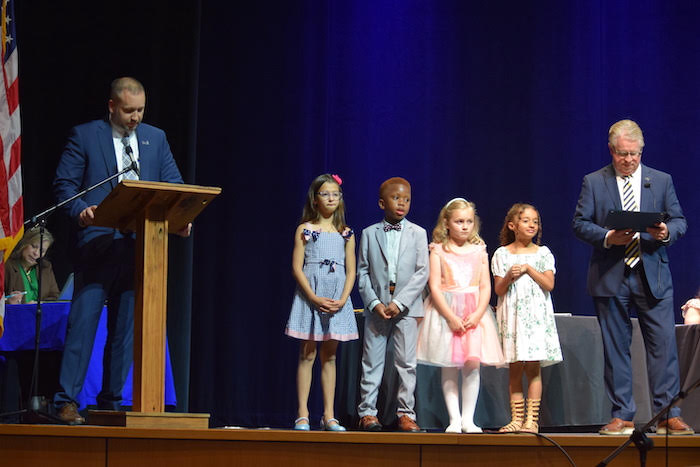 Students of the Month
Rocky River Elementary first-grade students Mariana Shehata, Thaddeus McLendon, Lily Leek, and Lillian Watkins, nominated by Mrs. Sepulveda and Mrs. Kistler, were chosen as Students of the Month, shown above with Superintendent Jason Gardner and Board Chairman Greg Whitfield.
In their nomination of these students, Sepulveda and Kistler said, "Two years ago, Mooresville Graded Schools began offering a dual language immersion program for our elementary students. In this 50/50 model, students rotate between a Spanish language classroom and an English language classroom."
"Students enrolled in this program are provided with high-quality instruction on our North Carolina standards in both English and Spanish, while learning to speak, read, and write in both Spanish and English."
"Rocky River is so fortunate to provide a dual immersion program for many of our kindergarten, first, and second grade students."
The students led Pledge of Allegiance in both Spanish and English.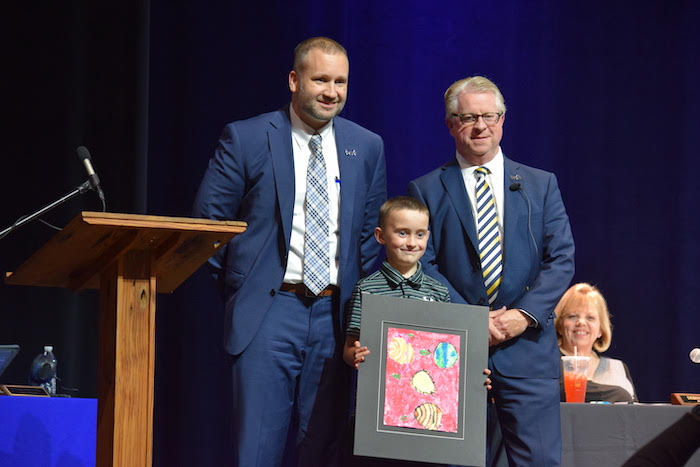 Artist of the Month
Rocky River Elementary third-grader Bobby Allen, nominated by art teacher Mrs. Stephanie Sossamon, was honored as Artist of the Month by Superintendent Jason Gardner and Board Chairman Greg Whitfield.
Sossaman said that "Bobby is such a hard worker in Art class! For every project, he surprises me with his understanding of the concepts and his ability to put them to use. He is excited about his work and loves to show me his progress along the way. His classmates also enjoy seeing his work because it's so impressive!"
"For this project, Bobby used black glue and glow in the dark paints to create a galaxy all his own. He chose to use red glitter paint for the background, which really makes the planets stand out. He also included small details in the artwork that you have to look closely to see, or you might miss them!"
"This is a signature of Bobby's artwork. He is so creative and adds little unexpected details. I'm really proud of how far Bobby has come in his years at Rocky River. I know he'll do great things in the future with his insight, attention to detail and innovative ideas!"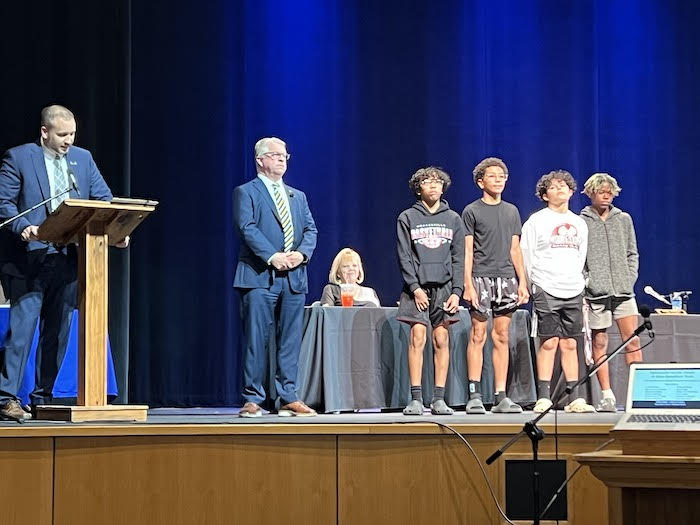 MMS JV Boys Basketball Team
The Mooresville Middle School JV Boys Basketball Team was recognized as the 2023 Undefeated Conference & Tournament Champions.
Head Coach Jordan Foushee, who could not be at the meeting because of a game conflict, said in written comments that "the Mooresville Middle School JV boys Basketball team excelled both on and off the court. They worked extremely hard winning every regular season game and going undefeated."
"Going into the tournament as the top seed, the boys defeated Southeast Middle School and West Rowan Middle, setting up a tournament final against Erwin Middle School. Both regular season games were competitive."
"After a close first half with our boys up by 2 points, the team pulled away going up 9 points after the third quarter. The team held the lead the entire fourth quarter, completing a perfect regular season and tournament and finishing 17-0."
Foushee was assisted by Coach Michael Watts this season.
Team members are Josiah Baines, Samuel "Sam" Creech, Adam Cummings, Landon Farthing, Demeterus "DJ" Little, Zachary McCotter, Nicolas Medley, Jalen Paige, Robert "RJ" Simmons, Drew Teeter, Demetrice Williams, and Coby Wise Smith.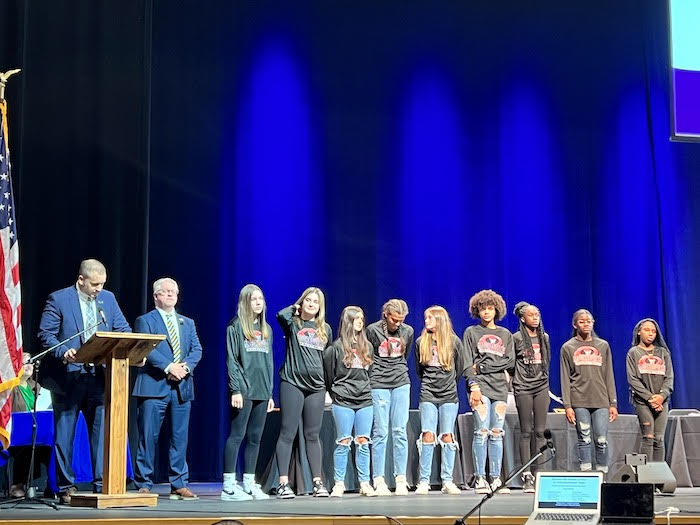 MMS JV Girls Basketball Team
Mooresville Middle School's JV Girls Basketball Team was the 2023 Undefeated Regular Season Champion, led by head coach Justine Durham and assistant coach Michael Fulton.
In her comments, Durham said, "The MMS JV girls' basketball team learned many lessons this year as we overcame numerous obstacles this season. Despite many challenges, the girls excelled both on and off the court."
"The girls won every regular season game going undefeated, with a 14-0 record, and entered the tournament as the number one seed. Going into the tournament, the team beat both Southeast and Knox Middle Schools, setting up an exciting championship game versus West Rowan Middle School."
"In a close back and forth game at West Rowan Middle School, MMS lost by one point. The athletes grew immensely in their skills over the course of the season, and the coaches look forward to seeing what the girls can do next year!"
Players include Morgan Brawley, Juliet Chavez, Cassidy Martin, Olivia Moore, La'Raya Nance, Nahla Parker, Brooklyn Pieczynski, Lamya Barnett Samuel, Avery Sanders, and Paisley Wilhovsky.