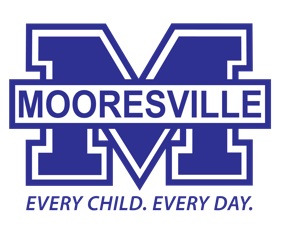 BY DEBBIE PAGE
Mooresville Graded School District Board of Education members are urging residents to contact Reps. Jeff McNeely (a bill co-sponsor) and Grey Mills, and Sen. Vickie Sawyer to voice their disapproval of House Bill 219.
The MGSD Board approved a resolution opposing the bill, which could cost the district an estimated $1.5 million in revenue each year.
Board member Roger Hyatt unequivocally stated that the bill "is not a good piece of legislation." Board chair Greg Whitfield said the bill would create "unequal local funding."
According to the N.C. School Board Association, the bill pushed by charter school advocates "would force school districts to share their program-specific funding with charter schools while allowing the charters to keep every cent of their own program-specific money."
"H219 would destroy the balance in public school funding by providing greater support to charter students at the expense of those enrolled in school districts," according to the NCSBA.
The NCSBA contends the current system guarantees funding fairness for all public-school students since "district and charter schools receive an equal per-pupil share of local and state tax dollars that follow the student to the district or charter school they attend."
Currently, federal grant monies for specific programs stay with the district or charter school to which they were granted. Federal reimbursements for programs such as technology and meal services stay with the district providing these services.
Additional funding (including private gifts, fundraising profits, tuition for pre-K or extracurricular services, rental fees for use of school facilities) now stays with the district or charter school that receives it.
If approved, HB 219 would allow charter schools access to these local school funds and district savings for future needs, although they do not have to follow more stringent operating and building rules nor offer all the services public schools provide.
Additionally, the money does not flow both ways. If a charter gets a large grant or gift, it does not have to share those funds with the local district.
The MGSD resolution notes that currently "local funding given to local school districts and placed in the district's Local Current Expense Fund (designated by the State as Fund 2) is shared with charter schools on an equal per pupil basis, including county appropriations, fines and forfeitures, and special school tax dollars flowing to a charter school located in the taxing district."
"The current law recognizes that local school districts receive certain funds that should not be apportioned or "shared" with charter schools because 1) The charter school does not provide the program or service for which the funds are received, 2) The funds are simply a reimbursement to the local school district for unrestricted monies already spent, including revenues previously shared with charter schools, and/or 3) The monies are legally restricted and cannot be shared."
Funds not shared with charter schools include federal reimbursements, indirect costs, tuition, fees for actual costs, sales tax revenues distributed using the ad valorem method, sales tax refunds, gifts and grants restricted as to use, trust funds, federal appropriations made directly to local school administrative units, and funds received for prekindergarten programs.
The appropriation or use of fund balance or interest income by a local school administrative unit is also now not construed as a local current expense appropriation.
The resolution declares that House Bill 219, Part VII, would delete this list of protected funds with the exception of trust funds, federal grants restricted as to use, and special programs.
By deleting the list of protected funds, the MGSD Board asserts the bill would create "unequal rather than equal local funding for K-12 education", including "double-dipping" in the district's fund balance, in federal reimbursements, Pre-K Classroom Funds, and tuition and fees for actual costs (such as public use of its facilities, or operating a summer, before, or after school program).
Charter schools are also reimbursed 100 percent of state and local sales tax amounts they pay and do not share these funds with local school districts. Local school districts only receive a reimbursement of local sales tax amounts. "Sharing" such funds a second time would be again "double-dipping" and harm local school district students.
The board noted that if if HB 219 passes, "the total financial impact to the Mooresville Graded School District Schools in lost K-12 operating funds based on FY 2022-23 will be substantial" and "expand significantly over time and lead to egregious results based on future increases in charter school enrollments of both in-person and virtual school students."
The board noted that HB 219 also "contains other provisions that will cause uncertainty and encourage future litigation in a currently, well-settled area of the law, such as the current law prohibiting supplemental school tax dollars from leaving the tax district approved by voters."
Local Lawmakers
♦ Rep. Jeff McNeely – 919-733-5661; or jeffrey.McNeely@ncleg.gov
♦ Rep. Grey Mills – 919-733-5741; or grey.Mills@ncleg.gov
♦ Sen. Vickie Sawyer – 919-715-3038; or vickie.Sawyer@ncleg.gov
BOARD ACTIONS
Finance Director Angela Davis presented several budget amendments to add in revenue sources recently received by the district, including grants and Emergency Connectivity funds, which the board approved 5-0.
The board also unanimously approved Davis's budget requests to purchase 450 iPads at a cost of $141,230.35 as second-graders switch to iPads next year, the purchase of Promethean interactive boards ($93,959.75) to replace interactive boards installed 16 years ago with the initial district laptop initiative, and the purchase of 30 zSpace virtual reality technology stations ($124,494.42), with 15 shared between the middle schools and 15 at the high school.
The board also unanimously approved a 10 day field trip to Italy and Switzerland for 40 high school students over the spring break of 2025 led by MHS teacher Kelsey Agar and NJROTC Captain Charlie Gibson. The cost is $3,499 per student, payable in installments of at $142 per month to make it more affordable. The chaperone ratio will be one to every six students.
SALARY SUPPLEMENTS UP FOR MAY VOTE
Davis told the board that through the Appropriations Act of 2021, the N.C. General Assembly created a recurring appropriation for LEAs and charter schools to provide salary supplements to teachers and instructional support personnel in their units.
Mooresville Graded School District was allotted $428,603, with a maximum per teacher supplement of $866. In May, she will recommend payment of a one-time salary supplement for qualifying teachers and instructional support personnel in the amount of $866 per employee.
If approved by the board, this payment will be made in June 2023 to those individuals who are actively employed through the end of the school year.
HEALTHY, HAPPY COMMUNITY DAY ON APRIL 22
Communications Director Tanae McLean announced the first annual first annual Happy, Healthy Community Day will be on Saturday, April 22, from 10 a.m. to 1 p.m. on the athletic fields between Mooresville Middle and Intermediate Schools (233 Kistler Farm Road). In case of rain, the event will be moved to Mooresville Middle School.
Healthcare resources and information, including exercise demonstrations, interactive health activities, health screenings, bike safety and helmets, mental and emotional well-being information, heart health, diabetes management, and cancer awareness, family nutrition, substance use awareness and prevention, and women's health info will be offered.
In addition to community partners, MGSD will have tables from different departments, and the leadership will be grilling and serving all-beef hotdogs.
The event is being sponsored Iredell Health System, Kintegra Health, Lake Norman Regional Medical Center, and the YMCA.
RECOGNITIONS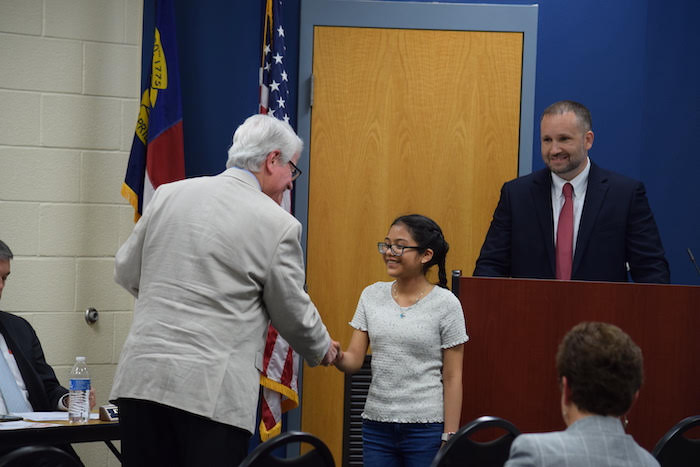 East Mooresville Intermediate School sixth-grader Natasha Javier Moreno was nominated as Student of the Month by teacher Jill Conley, who said, "Natasha is one of the hardest working students we have ever seen, who has a never give up attitude. She is kind and helpful to everyone she meets."
"She is always positive, and it has been great to watch her confidence grow this year. Natasha's work ethic goes above and beyond in all that she does."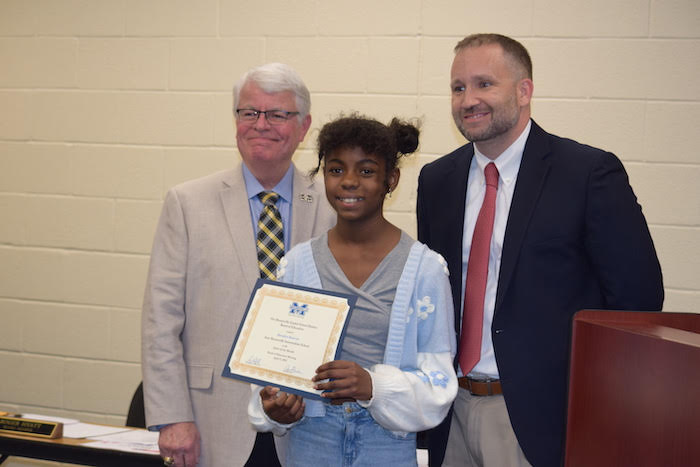 East Mooresville Intermediate School sixth-grader Brooklyn Baucom was nominated by art teacher Michelle Corbett as Artist of the Month.
Baucom said: "I have had the pleasure of being Brooklyn's art teacher at EMIS for three years now. She is a very conscientious young lady, with an incredible work ethic, and an amazing sense of style & creativity."
"I have enjoyed watching her artistic style grow from an energetic fourth grader to a very introspective sixth-grader. She amazes her classmates as well as me with her ability to tackle a new art assignment in ways we'd never imagined."
"Not only is Brooklyn an incredible artist, but a kind thoughtful friend. I am honored to be her teacher and look forward to hearing and seeing great things throughout her academic career & beyond. Thank you, Brooklyn, for being an outstanding young lady of integrity."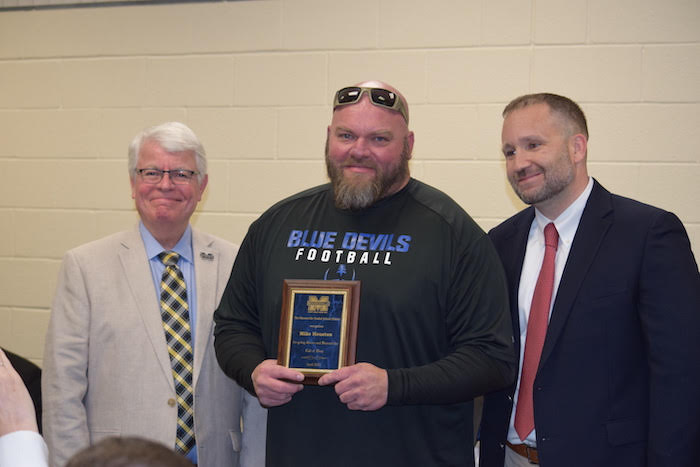 The MGSD April Above and Beyond the Call of Duty award went to Mooresville High School teacher assistant and coach Mike Houston, nominated by the MHS Administrative Team.
Houston "is an advocate for students who knows each student on an individual level. He provides them with appropriate support so that students can thrive in class. Mr. Houston is a positive voice and a calming presence for students, and Blue Devil, MHS Staff."
"Mooresville High School is grateful for the work that Coach Houston does every day, and we recognize him as a valuable part of our Blue Devil Family. Mike Houston, thank you for being ALL IN, as we grow together this school year."
INSTRUCTIONAL HIGHLIGHT – EAST MOORESVILLE INTERMEDIATE SCHOOL
EMIS Principal Tracy-Pratt Dixon and Assistant Principals Robert Orrill and Deborah Birchett presented their PBIS Puzzle (The Puzzle of Positive Behavior) plan to the board, which they said had dramatically decreased discipline referrals and aggressive behaviors this year.
The EMIS program has the theme of "Be The One" who is respectful, kind, and responsible and focuses on rewarding positive behavior through prize drawings several days a week, daily announcement shoutouts, school and bus Students of the Month, and positive administrative phone calls to parents.
Activities and discussion groups also target specific behavior needs.
Some examples are groups that teach sportsmanship, game skills, rules and coping strategies for handling disappointments to avoid arguments or shows of temper. Those with continuing behavior issues at recess complete sportsmanship lessons, including scenarios of how to handle different situations.
The school's sensory room offers scheduled or drop-in time for students who need a short period to calm themselves and de-escalate.
The administration uses reflection forms with students who are referred for discipline issues to help them learn from their mistakes and develop appropriate responses. They also offer restorative circles (unconnected with the discipline consequence) to help students heal relationships damaged by fights or disagreements.
Others efforts include social-emotional learning groups for specific student needs, such as friendship, social skills, empathy, and communication, and a behavior solution team develops proactive rather than reactive classroom strategies to reduce and prevent behavior issues with students at-risk of more intensive administrative level interventions.