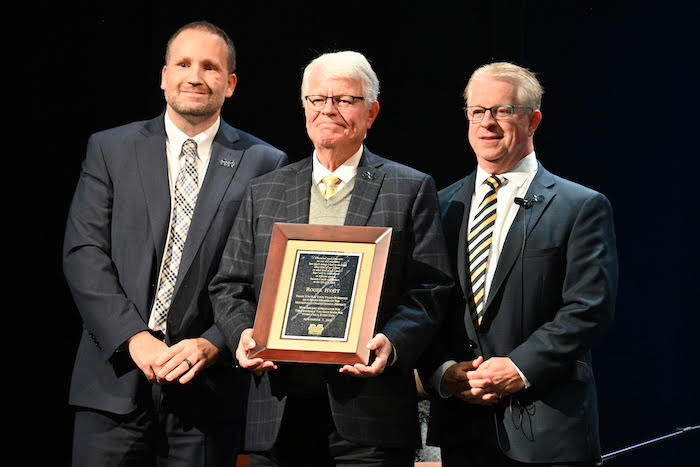 BY DEBBIE PAGE
Mooresville Graded School District Board of Education members, Iredell County Board of Commissioners Chair Melissa Neader, and Superintendent Jason Gardner led the praise for retiring school board member Roger Hyatt, who has served in the system as a teacher, principal, district level administrator, and school board member since 1983.
After 16 years on the board, including serving as chair during the tumultuous pandemic years, Hyatt chose not to run again. He is looking forward to more time with his family and for getaways to their mountain cabin.
After the audience gave Hyatt an enthusiastic standing ovation, Gardner said that "a lot of things have changed in this town and in this school system since 1983, but one thing that hasn't is Mr. Hyatt's dedication to students, staff, and community of Mooresville Graded."
"We thank Mr. Hyatt for his years of service to Mooresville Graded. He has truly made an impact on the school district that will be felt for generations to come," the superintendent said.
Whitfield presented Hyatt with two Appalachian State bag chairs in honor of his college alma mater and a Mooresville High School football jersey with his name and years of board service on the back, and Gardner presented a plaque honoring Hyatt's service.
Neader praised Hyatt "for giving so much to so many," noting that he has experienced education from many angles throughout his career.
"He had vision to see where Mooresville was going," she said.
Neader also praised his affinity for knowledge, clarity of communication, and his generosity with his time with everyone in the community.
Board member Debbie Marsh praised Hyatt for the impact he's had.
"Many people end up with a handful of people who remember them," she said. "Educators have thousands of people who remember them for the rest of their lives."
Board member Rakeem Brawley thanked Hyatt, his elementary and high school principal, for all of the support and advice he gave him as a young man and now as a colleague.
Whitfield thanked Hyatt for his wisdom, leadership, guidance, mentorship, and friendship over the years.
"Your experienced leadership and steadfast guidance as chair was never more on display than while navigating the pandemic, one of the most difficult and certainly unprecedented times for education and our world," he said. "Your guidance, wisdom, and leadership has helped us grow together and stronger as a board to serve the students and educators of our district."
"Your consistent, kind, professional demeanor, always on display with class, with just the right bit of humor is a fine example for all of us to follow."
"You are truly a good and faithful servant to all," Whitfield concluded.
In his remarks, Hyatt noted that "success in life is not a singular activity. If one has any modicum of success, it's because they've associated themselves with good people, either by happenstance or by deliberate action."
As he leaves the board, Hyatt expressed great confidence in the leadership and staff of MGSD.
"We've got good people who are making good choices that are in the best interest of the boys and girls," he said.
Hyatt also thanked his family, friends, and colleagues who have supported him through good times as well as challenges that resulted in opportunities for growth.
"I care very deeply for all of you. You'll never know how much I appreciate your friendship, your support, your love, your care."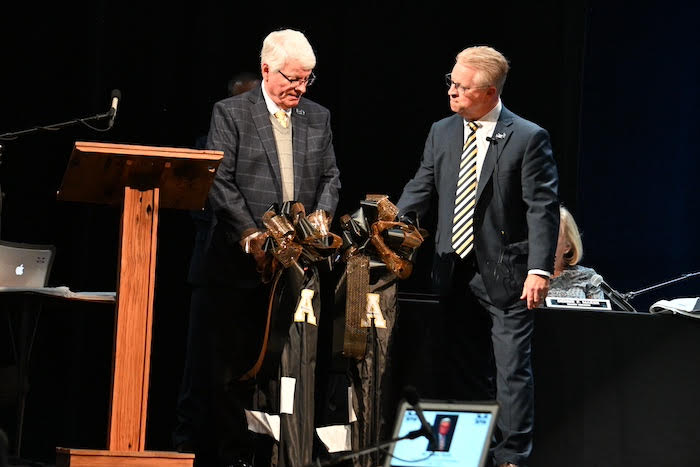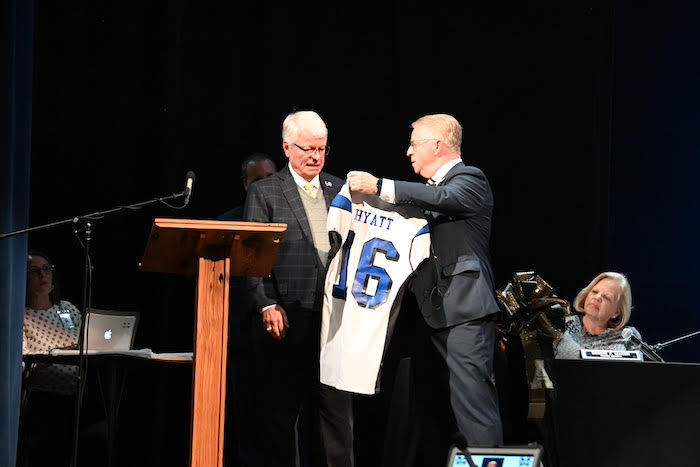 BOARD BUSINESS
The board unanimously approved the district's final 2023-2024 budget, following passage of the N.C. General Assembly budget in October, after operating on a temporary budget since July. This budget includes salary increases for classified employees, totaling $2,019, 800, after new salary study recommendations.
Chief Finance Officer Angie Davis said that with state giving teachers a step increase and raises ranging from 2 to 7.7 percent, with other employees getting 4 percent, as well as MGSD supplements and incentives, she believes the district has "a competitive edge" over other districts.
The board also unanimously passed Selma Burke Middle School project budget transfers to comply with the county's request to maintain its project ordinance requirements. These transfers included a $50,000 increase in architectural professional services and an increase in general construction funds of $2,425,929.
The increases were offset by a $525,959 reduction in contingency funds and a $1,950,000 decrease in furniture and technology line items.
The total budget for the new middle school was $49,944,260, with $46,719,586 spent so far and a balance of $3,224,673.68.
Davis also said next year's school calendar is in process, with the committee submitting a draft plan to stakeholders for feedback. The goal is to present a calendar proposal to the board in December.
Davis also announced a Steam and Treats events on November 30 from 5 to 7 p.m. (location TBA). The district also has an early release day on Tuesday, November 21, for the annual Christmas parade.
The board additionally approved the Mooresville Middle School Improvement Plan after a first reading in October. The school leadership will present a mid-year update to the board in February to assess the plan's success and make any adjustments.
The board also heard a first reading an amendment to the district's Random Suspicionless Drug Testing Program to allow a saliva swab test as an alternative to the more invasive urine testing.
STUDENT OF THE MONTH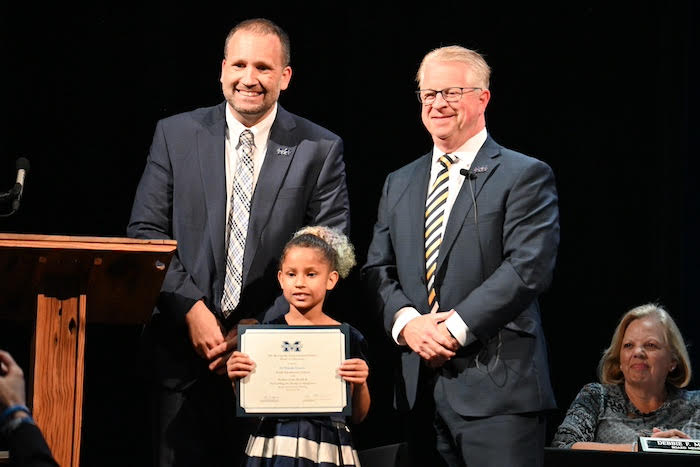 South Elementary second-grader Ta'Monda Feaster was honored as the MGSD Student of the Month by teacher Brittany Heineman and assistant Ashley Omspach.
Ta'Monda "is a joy to have in our South community and spreads kindness and positivity to all she meets. Her contagious, upbeat attitude exemplifies South's motto for being safe, respectful, and responsible."
"Through the school day, Ta'Monda is considerate and dependable when interacting with her peers and teachers. Ta'Monda has made great strides in academics, and is a determined learner who does not give up when faced with challenges.
Ta'Monda was described as an "excellent example as a South Star."
As part of the honor, Ta'Monda led the board and audience in the Pledge of Allegiance and received a certificate from MGSD Board Chair Greg Whitfield.
ARTIST OF THE MONTH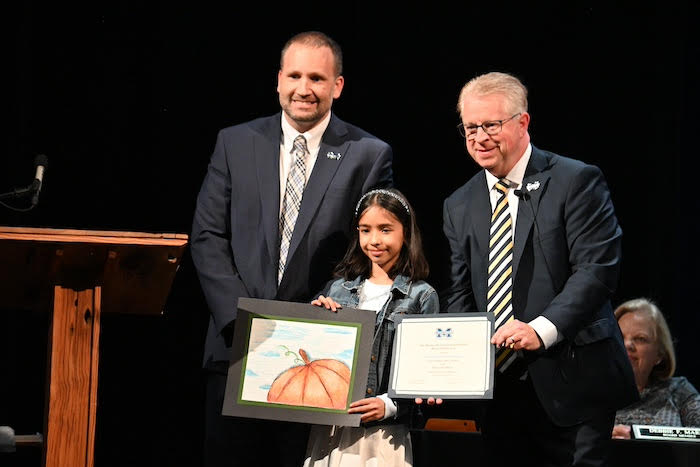 South Elementary second-grader Annabella Hernandez Navarro was named MGSD Artist of the Month, showing her pastel drawing of a pumpkin in the patch as an example of her work.
Her art teacher, Penny Tucker, and homeroom teacher, Aracelis Perez, nominated Annabella for the honor, for which she received a certificate from Whitfield.
"Annabella is an exceptional artist. She is quiet and attentive in class. She enjoys drawing and has become diverse in several mediums. Her artwork today is an oil pastel. We look forward to seeing where her visual creations take her next."
ABCD RECOGNITION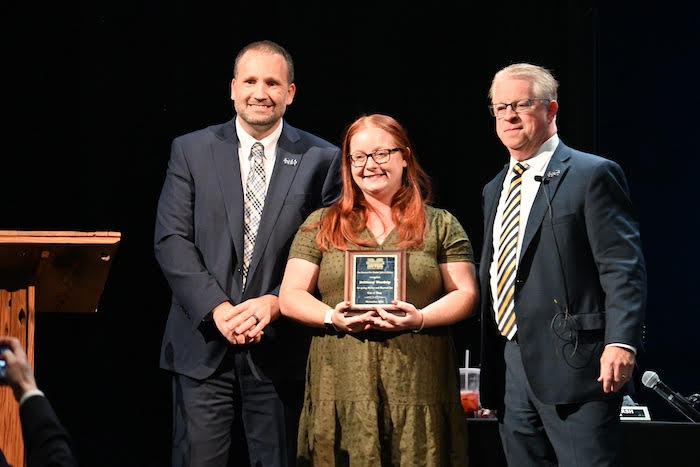 South Elementary Principal Cheryl Dortch nominated instructional assistant Brittany Wardrip for the "Above and Beyond the Call of Duty" recognition because she demonstrates all five of the district's core values of authentic relationships, empowerment, equity, integrity, and safety in her daily interactions with staff and students.
Dortch said that "Ms. Wardrip is all in when it comes to anything related to children and South Elementary. She is a true team player and the first to volunteer whenever there is something that needs to be done. She single-handedly exemplifies all the components of the MGSD strategic plan on a daily basis."
"One way she maximizes this opportunity and achievement is through the planning and development of her weekly science and innovation club. She collaborated with colleagues and turned one of the rooms in our annex into a science lab. The enthusiasm, excitement, and learning that she brings to the club is planting seeds, promoting dreaming, exploring, and innovating."
Dortch said Ms. Wardrip's positivity is felt throughout South Elementary "as she takes steps to create a safe, happy, and healthy school environment. She led the initiative, in conjunction with the PBIS and the behavior support team, to model and reinforce positive cafeteria behaviors."
"She spent hours planning, meeting with leadership, and creating a scoreboard to help students model and reflect on their own behaviors."
"She also volunteered her Saturday to work with Lowe's volunteers to create a playground area that would physically and mentally engage students in promote healthy living."
"She is constantly taking steps to recruit grow and retain staff. While being an active and supportive MGSD parent and an "all in" teacher assistant, she is currently working on her teaching degree."
"When face with challenging students, her reactive response is one of empathy, compassion, consistency, and safety. She is a true gift to MGSD," concluded Dortch.
SBMS UNDEFEATED FOOTBALL CHAMPS
The Selma Burke Middle School football team was also recognized by Gardner as being undefeated conference football champions this past season.
In their inaugural season, the Selma Burke Bears were divisional and conference champs. Though the Tri-County Conference was competitive this year, the Bears came out unscathed with a perfect 8-0 record.
Gardner said when the Bears faced adversity, such as the packed house at the SBMS versus MMS game, both teams left it all on the field, showing what grit and perseverance looks like.
With this outstanding play, Gardner said the future of Mooresville High School football looks bright. The Bears finished the season by winning their playoff game against South East Middle School 34–6.
The team was coached by Caleb Kistler, assisted by Sam Allen, Chris Beaver, John Bustle, Chevy Bryant, and Chris Church. Julie McKeon and Keri White were athletic first responders for the team.
Team members included Cobe Wise-Smith, D.J. Little, Jakayden McCombs, Javel Lewis, Kaheem Parker, Doc Caldwell, Christopher Church, Nick Medley, Aiden Gonzalez, Zymir Williams, Jaliel Propst, Zakarius Robinson, Jaxson Lamorder-Dieckmann, Logan Place, Carson Prentice, Brian McDuffie, Justice Hammonds, Lamari Wardlow, Marvin Simpson, Jalen Paige, Finnegan Reilly, Jamarion Morrison, Brian Margueiz-Guillen, David Leiner, Brayden Horkey, Kaiden Okam, Tavis Yoder, Zachary Nowell, Julien De la cruz, Caden Jennings, Jai'Keise Robinson, Slade Cartee, Ahyan Hammond, William Drury, Adolfi Flores, Drake Caldwell, D'Ron Brice, and Ironye Vanderburg.
SCHOOL HIGHLIGHT
South Elementary Instructional Specialist Hayley Johnson, Assistant Principal Jill Zsuppán, and instructional assistant Brittany Wardrip presented the school's renewed core behavior support system to the board.
The goal is to reduce the percentage of students with an office referral from 15 percent last year to 10 percent this school year, with all staff teaching and reinforcing positive social skills, self-respect, relationships, and responsibility for the consequences of students' decisions and actions.
To implement the program, the team developed a universal behavior tracker for students to monitor their progress towards meeting the goal of attending the monthly Positive Behavior Inventions and Supports (PBIS) reward celebrations.
Students earn a monthly reward party if they follow behavior expectations 80 percent of the time, based on the number of positive Class Dojo points they receive.
Though Class Dojo percentages are helpful for parent communication about their child's behavior, the percentages are not concrete enough for theses young students (K-second grade) to make a meaningful connection between their behaviors and reward parties.
In response, the School Improvement Team developed an easy to understand behavior tracking system for students to better help them take accountability for their daily behavior.
Students complete a chart daily with their teacher that assists them with making the connection between Class Dojo percentages, their daily behavior, and the PBIS Reward Party. Grade level team accountability is also tracked during professional learning community meetings on a weekly scoreboard.
Each month, a positive behavior tracking chart serves as a student's entrance ticket to the reward party. Students who do not meet behavior goals participate in a re-teaching session on a targeted social-emotional skill to help get them back on track.
For students who earn 100 percent on their trackers, a special Shining Star Cart comes around to celebrate their achievement and to motivate other students to rise to that level.
After a noise level issue developed in the cafe, the team also created a token system to reinforce desired behaviors. Each student gets a token upon entering the cafe, which they keep if they exhibit expected behaviors at lunch. The teacher collects the tokens at the end of the lunch period as a quick behavior check-in.
Class token totals are recorded on a scoreboard in the cafe, with grade levels working collaboratively toward a reward when 1,000 tokens are collected. The grade levels got their first token reward this past week with a "spooky cafe" themed celebration for Halloween.
NEXT MEETING
The next MGSD Board meeting will be on Tuesday, December 12, at 6 p.m. at the Mooresville High School Performing Arts Center.