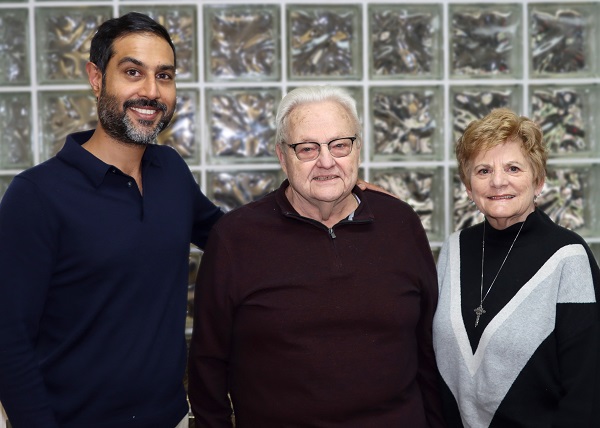 Dr. Naveed Rajper brings cutting-edge medicine to Piedmont HealthCare cardiology
BY MIKE FUHRMAN
Jerry Heiss was on the fast track to becoming an amputee last fall.
A retired English teacher who lives in the Lake Norman area, Jerry had been experiencing numbness in his lower legs and feet for about a year and a half. Then a series of ulcers developed on his feet and refused to heal. After gangrene set in, doctors had to remove three of his toes.
There were discussions about amputating his right leg below the knee. Around that time, podiatrist Kenneth Bloom asked Jerry to see Dr. Naveed Rajper, a Piedmont HealthCare interventional cardiologist who practices in Statesville and Mooresville.
"I was afraid he was going to lose a foot or limb," said Marie, his wife of nearly 50 years. "Our life would have changed completely. We would have had to sell our home and move."
Dr. Bloom's referral ultimately helped save Jerry's legs, greatly improved the 82-year-old's quality of life, and quite likely added years to his life.
Two days after Dr. Rajper performed a 60-minute outpatient procedure to break up arterial blockages in Jerry's leg in December, his wounds started healing and he was able to walk a mile.
While Jerry and Marie Heiss were astounded by that outcome, Rajper has grown accustomed to such happy endings.
"Little miracles happen here every day, and sometimes big ones," he said during a recent interview in his Mooresville office.
'Big City medicine'
Rajper joined PHC Cardiology in August of 2021, bringing his training and knowledge of the latest research and advances in vascular procedures to central North Carolina.
His post-graduate training includes a cardiology fellowship and chief interventional fellowship at the Icahn School of Medicine at Mount Sinai Beth Israel, a highly rated research and teaching hospital in New York City. He holds national board certifications in Cardiovascular Disease, Interventional Cardiology, Internal Medicine and Echocardiography.
All of that training and experience is paying dividends for Rajper's patients.
"Piedmont HealthCare is so lucky to have Dr. Rajper as a part of our organization," CEO Jeff Smith said. "We're bringing 'big city' medicine" to Iredell County.
During regular appointments with his patients, Rajper stresses the importance of preventive medicine and risk reduction for cardiovascular disease. He unabashedly calls the cardiovascular rehab center his church.
For patients like Jerry Heiss, peripheral arterial disease is a serious health issue, often resulting in numbness, pain and discomfort. It can be caused by diabetes. Untreated, it can be a precursor to stroke or a heart attack and lead to serious, life-threatening health complications.
Statistically, patients of color, low-income patients, and patients who live in rural areas who are diagnosed with peripheral arterial disease are more likely to lose a limb to amputation, Rajper said.
That doesn't have to be the case.
With modern medicine and non-invasive surgical procedures, Rajper has been able to save limbs and change lives. The challenge, he said, is educating the public – and in some cases physicians – that these treatments are available so he can do more.
"The secret sauce is not so secret," he said. "It's just hard work."
'This wasn't possible just a few years ago'
After diagnosing Heiss with peripheral arterial disease, Rajper showed his patient images of the blockage and explained the treatment, which he scheduled for the following week.
At age 82 and suffering from peripheral arterial disease and heart disease, Jerry was not a good candidate for major surgery, like a bypass procedure in which arteries from other parts of his body would be transplanted to his lower legs to deliver blood.
Fortunately, the 60-minute procedure Dr. Rajper performed on his right leg on December 5 – and a second on his left leg in January –was minimally invasive. Through a small hole in Heiss' foot, the cardiologist inserted a small balloon that pushed sound waves through the clogged arteries and broke up the calcification — along with delivering medicine that will keep the arteries open and the blood flowing.
Jerry was awake for the entire procedure.
"This wasn't possible just a few years ago," Rajper explained. "We wrapped the leg, and he went home in an hour."
During his adult life, Jerry has battled cancer twice and endured a broken back that sidelined him for months. During his latest health challenge, his quality of life was greatly diminished.
But now things are looking up for the entire Heiss family.
"The dog's happy," Marie said. "He's taking him for walks again."
"It's like old times," Jerry added.
EDITOR'S NOTE: This article was originally published in the April edition of "IFN Monthly."