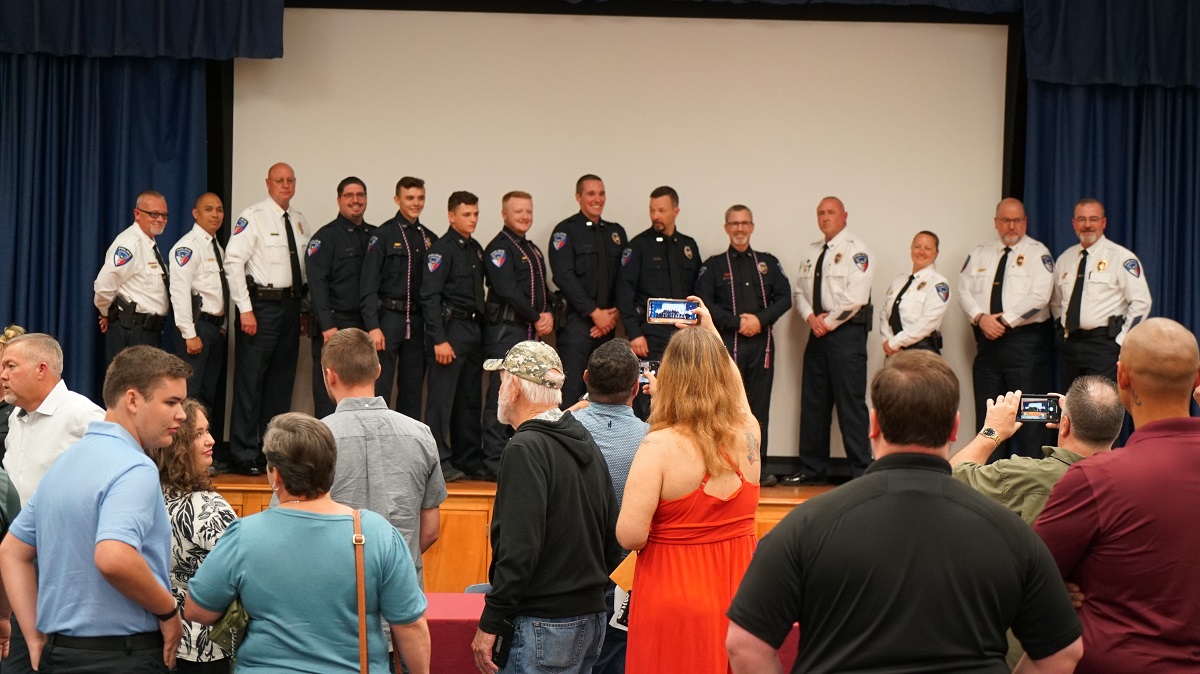 Special to Iredell Free News
Mitchell Community College celebrated 21 graduates of its Basic Law Enforcement Training (BLET) program on Friday, May 19. Students completing the Basic Law Enforcement Training are prepared with the general attributes, knowledge, and skills to become an entry-level law enforcement officer.
The 2023 BLET graduates are:
Fall Alt Class 2022
Jesse Cavender
Justin Cochran
Nicholaas DeVita
Stephen Gordon
Canaan LeVan
Chely Mull
Allison Stahl
Spring Day Class 2023
Joshua Ammons
Jeremy Bliss
John Dooley
Benjamin Duke
David Geiken
Daniel Gitro
Michael Gittings
Mikayle Hord
Justin Lightfoot
Christopher McBride
Surelys Morales
Joshua Raper
Joshua Tilique
Ethan Wyatt
Awards
BLET program coordinator Todd Carver presented the following class awards:
♦ Highest-grade point average: Stephen Gordon (Alt) and Joshua Ammons (Day);
♦ Firearm awards: Stephen Gordon (Alt) and David Geiken (Day); and
♦ Highest score on state exam: Justin Cochran (Alt) and John Dooley (Day)
Carver acknowledged the sacrifices the students' families made while the students completed the course.
"Thank you for letting us borrow your student for these past few weeks," he said. "Your student has chosen a notable occupation."
Many law enforcement representatives attended the BLET graduation ceremony, including Statesville Police Chief David Onley and Iredell County Sheriff Darren Campbell.
Gordon Knight, who formerly oversaw basic law enforcement training during his 20-plus years of employment at the College, was the keynote speaker. He reminded students that in their daily work, they must never lose their servitude for others. Knight also spoke to the families of BLET graduates, explaining that there will be difficult times ahead with long work hours and commitment to the job, but the work is worth the time spent:
When your graduating BLET student "must work long hours on the job – don't blame them. They chose this occupation. They chose this lifestyle," Knight said. "And we thank them for it."
Photo Gallery