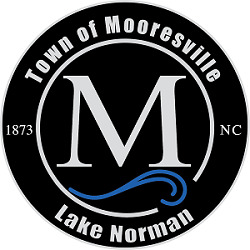 FROM STAFF REPORTS
Mooresville town commissioners on Monday approved a developer's request to rezone a 13.43-acre site near the intersection of West Plaza Drive and Talbert Drive, clearing the way for a mixed-use development.
The developer is planning a four-story, 266-unit multi-family housing project with one commercial building.
Joseph John North Carolina Realty LLC agreed to 13 conditions, including recommended traffic mitigation and a $336,000 contribution to the town's affordable housing efforts.
Attorney Andrew Wingo, who represents the developer, told commissioners the project would have the "look and type of feel" of Birkdale Village and provide a nice transition from Highway 150 to the downtown district.
Town staff and the planning board recommended approval of the conditional rezoning request.
Commissioners voted unanimously to approve the request.
Outgoing commissioners, mayor honored for their service to town
Mayor Miles Atkins thanked outgoing commissioners Bobby Compton and Thurman Houston for their service to the town.
Houston served on the town board for 17 years, and Compton served for 11 years.
Compton, who spent his entire career as a town firefighter before being elected to the board, encouraged the board and new mayor to do the right thing.
Leaving the board will be difficult, he conceded, hinting that he might make another run for office in two years.
"I still have plenty of energy and a desire to serve," he said.
Houston said it had been "an honor and privilege" to serve the town. He said he hoped he was leaving the town better than when he arrived.
"I love Mooresville," he said. "It's my home."
Houston and Compton then praised Atkins for his services to the town during his four years on the board and 12 years as mayor.
During Atkins' tenure as mayor, town projects totaling $174 million were completed, Compton said, and another $17.7 million in projects are in the works.
"Any success we're had has been a result of the town board and the town staff," Atkins said. "I've been fortunate to serve in this capacity."
Mayor-elect Chris Carney and incoming commissioners Will Aven, who defeated Houston, and Eddie Karriker, who won the at-large seat held by Compton, will be sworn in next month.
Three new MPD officers sworn in
Mayor Miles Atkins swore in new MPD officers Timeshia Smallwood, Stephen Brashear and Daniel Lambert at the beginning of Monday's meeting.
OTHER BUSINESS
In other business, commissioners:
♦ Approved a staff recommendation to contract with Black & Veatch International Co. for $606,482 for design, permitting and regulatory approvals associated with construction of a new 1.5 million-gallon elevated water tank in the northeast section of town. The tank would be operational in the winter of 2025.
♦ Approved a request to appoint Morgen McCarty and Kendell Roberts to the Community Relations Committee.
♦ Approved a resolution from Engineering to accept the following streets in the Heritage at Neel Ranch community and release associated performance bonds: Dawn Run Loop (1,307 feet), Caversham Drive (63 feet), W. Neel Ranch Road (1,577 feet), E. Neel Ranch Road (969 feet) and Glenfield Drive (662 feet).
♦ Approved an ordinance to reduce the posted speed limit to 25 mph on the following streets in the Heritage at Neel Ranch community: Dawn Run Loop, Caversham Drive, W. Neel Ranch Road, E. Neel Ranch Road, Glenfield Drive.
♦ Approved a resolution from Risk Management to contract with Precision Safe Sidewalks in the amount not to exceed $155,000. This project will focus on making ADA improvements by removing tripping hazards on sidewalks in the town limits. Precision Safe Sidewalks will evaluate and make repairs to hazards that create trip and fall liabilities.
♦ Delayed until April 1 a public hearing related to a conditional rezoning, annexation and utility extension for a proposed development on 52.2 acres located at 443 Alcove Road. The project calls for 660 dwelling units, a minimum 10,000 square feet of commercial space and a dog park, clubhouse, swimming pool, and walking trails.