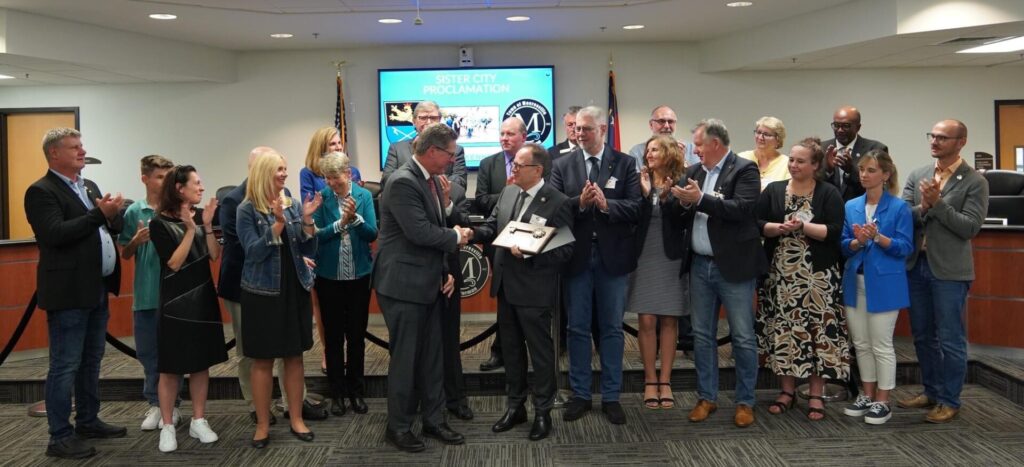 FROM STAFF REPORTS
Mooresville officials recently honored a delegation from the town's Sister City, Hockenheim, Germany.
During the October 2 town board meeting, Mooresville Mayor Miles Atkins and Hockenheim Mayor Thomas Jakob-Lichtenberg both spoke about the Sister City program and the relationship between the two cities.
"Mooresville has shared a connection with Hockenheim since the inception of our Sister Cities agreement in 2002," Atkins said. "While our towns were originally brought together over a mutual love of the racing industry, our relationship has grown into so much more. Through letters, emails, calls, and visits, Hockenheim and Mooresville have shared our arts and culture, given a glimpse into our education systems, created business connections, and cultivated community development, as our towns are both richer in experience for learning more about one another."
Mooresville Commissioner Gary West read a proclamation, and the Hockenheim delegation was presented with a key to the town.
The Hockenheim delegation presented Mooresville officials with a flag from Hockenheim.
The visit coincided with Mooresville's 150th anniversary. In 2019, a delegation from Mooresville traveled to Germany to celebrate the 1,250th anniversary of Hockenheim's founding.