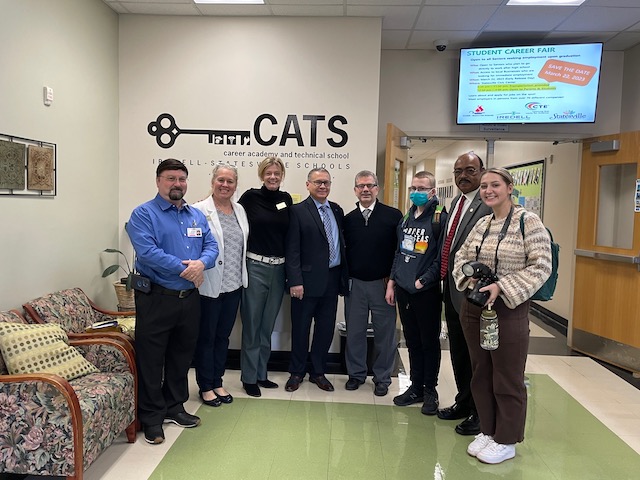 BY KARISSA MILLER
Iredell-Statesville Schools officials and board members welcomed Kristie Van Auken, special advisor to the superintendent for workforce development, to the Career Academy and Technical School in Troutman on Tuesday.
Van Auken met to talk with students and teachers, observed the school's Career Technical Education (CTE) program in action and experienced firsthand all that the school has to offer students.
"I'm here representing Cathy Truitt. She's a very workforce-oriented state superintendent. So we're working to connect all children to a career journey," she explained.
"We believe in careers for all, not necessarily college for all. We believe in post-secondary, but it's not the only pathway. We want students to know that they have a lot of opportunities and can find a lot of different careers with good wages in a variety of pathways. This school is a great example of that," she added.
Van Auken toured the Mars station room, manicuring class, nursing fundamentals, film and production, fire, EC classroom, masonry, automotive and many others.
CATS Principal Larry Rogers showed her the car that Randy Marion donated to the program and other garage tools that have been donated by the community. She couldn't believe the tremendous support the automotive program receives each year from the local car dealerships and the automotive industry.
Auken called the program "next level" and noted that the automotive storefront to the computer check-in stations were really unique and innovative to CATS.
Heather Mullins, Southwest Region director with DPI also participated in Tuesday's tour. She said that CTE Month is observed each February, which raises awareness about the role CTE has in readying students for college and career success.
It's also a time when the state celebrates the achievements and accomplishments of their CTE pathways in their 12 school districts.
I-SS Superintendent Jeff James said it was time well spent.
"This lets the Department of Public Instruction come out and see some of the good things that are going on statewide. It's easy to talk about in the General Assembly. You never know where your tax dollars go unless you come and visit. We have a state-of-the-art program with so much variety."
I-SS CTE leaders and directors that were a part of the event included:
• I-SS CTE Director Tim Woody
• I-SS Executive Director of Secondary Education Kelly Cooper,
• and Career Development Coordinator for Middle School Juli Tipton.
Rogers thanked everyone for being a part of the event. He pointed out the mirrors at CATS that have the question "Do I look professional?" Rogers explained that it's important for students to dress the part and expressed his pride in the way that students represented the school.
Following the tour at CATS, the visitors went to Lakeshore Middle School to learn about the Virtual Reality headsets that the CTE program is using to introduce students to a variety of careers.
Photos