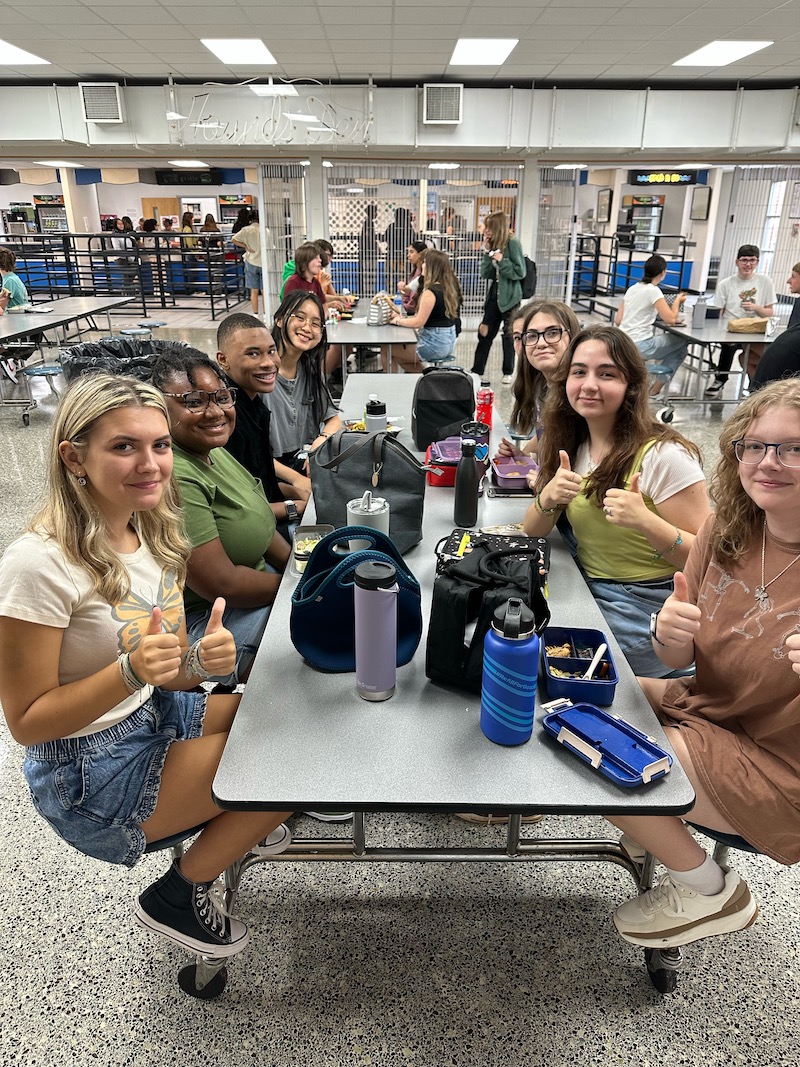 BY KARISSA MILLER
Monday marked the first day of class for Iredell-Statesville Schools' early college high school students.
Students returned with smiles on their faces, and principals reported smooth sailing as the 2023-2024 school year got underway.
"You can feel the excitement of returning students and new students ready to get started," CCTL Principal Teri Hutchens said.
More than 800 students are enrolled in three three early college programs:
♦ 246 students at Collaborative College Technology and Leadership (CCTL);
♦ 258 students at Crossroads Arts and Science Early College; and
♦ 300 students at Agriculture and Science Early College (ASEC)
Todd Russo as the new principal at ASEC, but he's not new to the north Iredell community. He served as the principal of Harmony Elementary School before being selected to succeed Billy Wells, who retired, at ASEC.
"We had a smooth start today. We did some deployment of laptops for kids who didn't pick them up," Russo said. "We met with our 10th, 11th and graduate students to discuss the expectations for the year."
The school's mascot is an eagle. Russo said it will also be used as a slogan of sorts for this school year. "We want students to know 'We don't just fly, we soar,' " he added.
SOAR stands for Success, Optimistic, Accountable and Responsible, the principal explained.
Russo said that he's getting a feel for the school and then wants to develop a long-term vision for the school. One focus area this school year is careers and what's next after ASEC.
"We want our students to be prepared after they leave ASEC and make sure they have the tools in their next steps," he said.
One misconception is that ASEC is part of North Iredell High School because it's on the school's campus. However, it's a separate choice program for students.
"We are excited to be a part of program that allows students to walk away with an associate degree in five years in arts or science. Students can take any courses or certificates that Mitchell offers — it's not just agriculture," Russo said.
Meanwhile, Crossroads Principal Alicia Eller said that she was excited to be fully staffed on the first day of school after hiring two new employees in July.
"We had a fabulous first day at Crossroads. It was great seeing our returning students and meeting our new students," she said.
Eller said the school's mission and focus is continuing to help students complete their high school diploma and earn a two-year associate degree and Mitchell credentials by their graduation date.
About the I-SS early college program
The early college high school program is a joint venture between Iredell-Statesville Schools and Mitchell Community College. It s available to all students in Iredell County, and at no cost.
While there are many high achieving students who attend the early college, school officials say that the targeted demographic is students who will be the first in their family to attend college, students from low-income families, and students that face other barriers.
Students take both college courses and high school classes simultaneously. They are able to receive guidance and assistance for a variety of issues outside of academics to ensure their
success. Student-athletes can continue to play sports for their "home" school.
Photos