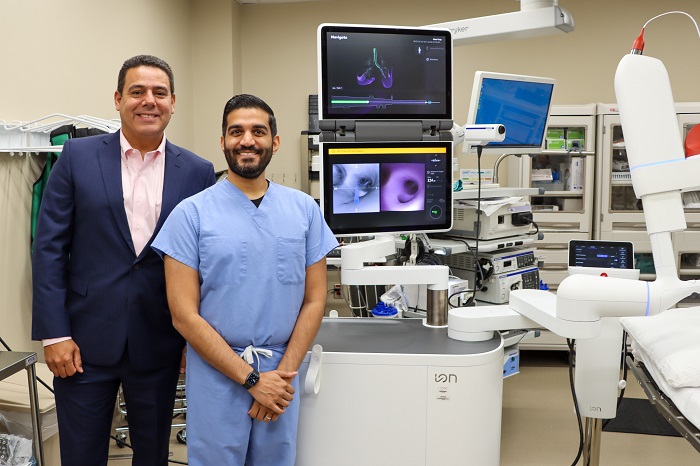 Special to Iredell Free News
Piedmont HealthCare and Iredell Health System are preparing to utilize the Ion Endoluminal System, a robotic-assisted technology that provides significant aid in the early detection of lung cancer. This cutting-edge system marks a significant leap forward in respiratory care in the community.
This new piece of equipment, located within Iredell Memorial Hospital, will be used by Dr. Enrique Ordaz and Dr. Vishal Patel from Piedmont HealthCare Pulmonary and Sleep Medicine.
"Studies show that an estimated 1.5 million people each year in the U.S. may have a lung nodule identified. While some of those are benign, others are, unfortunately, cancerous. This new technology will allow physicians to biopsy nodules they couldn't reach before and provide patients with a more accurate diagnosis, more quickly," said John Green, president & CEO of Iredell Health System. "We are pleased to be able to bring this technology to Iredell Memorial Hospital. We are always looking for ways to expand our services so patients don't have to travel to get the care they need and deserve. This robot is one of the many ways we are continuing to further our mission to inspire wellbeing for all."
The Ion Endoluminal System is a state-of-the-art medical device that helps doctors perform bronchoscopic procedures more easily. Utilizing a very thin, flexible tube called a catheter, Dr. Ordaz and Dr. Patel can access deep inside the lungs, where it was traditionally difficult to go, take samples of concerning nodules, and diagnose and treat respiratory conditions with unprecedented accuracy.
"Our patients are at the heart of everything we do, and the introduction of Ion is a game-changer for the respiratory care we provide in this community," Ordaz explained. "Using the Ion, we can now provide early detection and precise treatment of lung cancer without the need for external referrals. This means empowering our patients with the best possible care, closer to home."
The Ion Endoluminal System represents a significant collaboration between Piedmont HealthCare and Iredell Health System, exemplifying their shared commitment to delivering the highest level of care for the community.
LEARN MORE
For more information regarding Dr. Ordaz and Dr. Patel and their services, visit or contact Piedmont HealthCare Pulmonary and Sleep Medicine at www.PiedmontHealthCare.com or call 704-838-8240. For information on the facility hosting the Ion Endoluminal System visit https://www.iredellhealth.org. For details on the specifics regarding the Ion Endoluminal System visit www.intuitive.com/ion.