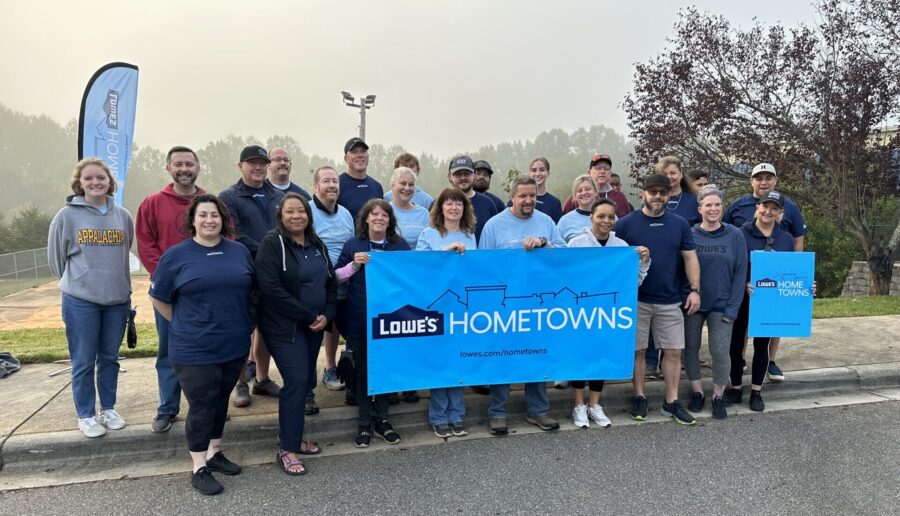 Special to Iredell Free News
The Boys & Girls Club of the Piedmont was recently selected as one of a hundred recipients from across the country for the 2023 Lowe's Hometown Community Impact Projects.
The Lowe's gift is being used to purchase and install a new playground on the Cochran Street campus. In support of the project, Lowe's associates from the store located on Turnersburg Highway in Statesville held a Red Vest Day at the Club Saturday, September 30.
Approximately 28 Lowe's associates spend the day at the club in South Statesville. The volunteers planted trees, spread topsoil and sowed grass in a large area where a drainage issue had recently been repaired. The volunteers also power washed the outdoors basketballs courts which had been partially covered by red mud because of the drainage issue.
Clarrisa Young, executive director of the club, was on hand to welcome and thank the volunteers.
"Projects like this would be impossible for us without the help of volunteers like you," Ray Englebert, board chairman for the Club, said., "We are grateful to Lowe's and their associates for this investment in our community. Our children are excited about the new playground that will be installed in the coming weeks. This beautification project is the icing on the cake for us. Thank you, Lowe's, for modeling outstanding corporate citizenship with your support of our children."
Apryl McCoun, manager of the Statesville Lowe's store, said her team truly enjoys projects like the one at the Boys & Girl Club.
"It gives us an opportunity to support the community we serve and provides us with a great team building experience for our associates," McCoun said. "I very proud and grateful for all our volunteers and the amount of work we were able to provide for the Boys & Girls Club."
The Red Vest Day event helped the club offset more than $13,000 in material and labor costs, according to Brady Johnson, director of operations at the Club.
The new playground will be installed the third week of October. A ribbon cutting and dedication ceremony is being planned for early November.
Photos