Local educator has dedicated her career to improving outcomes for students
BY MIKE FUHRMAN
A brief conversation with then-Iredell-Statesville School Superintendent Terry Holliday about 20 years ago changed the arc of Amy Rhyne's professional life.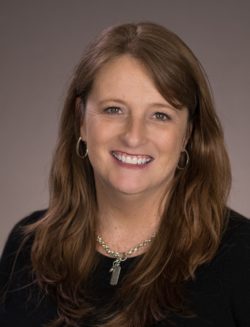 In the early stages of career as an educator, Rhyne was teaching at N.B. Mills Elementary School when Holliday stopped by her classroom to observe her work with students at the Title I school in Statesville.
Afterward, the superintendent was so impressed that he asked if she had ever considered coaching other teachers. That comment, along with the encouragement of veteran I-SS educators Susan Allred, Barb Thorson and others, inspired Rhyne to continue her education, leading to a series of accolades and career advancement.
Her work as an instructional facilitator, assistant principal and principal in I-SS resulted in recognition as the district's Principal of the Year in 2016 and the Southwest Region Principal of the Year in 2017. That work led to being hired as director of academic support for Stanly County Schools, which was a precursor to her current position with the N.C. Department of Public Instruction.
Today, as the director of the DPI Office of Early Learning, Rhyne is helping spearhead a complete overhaul of literacy education in all 115 North Carolina school districts. Leading a staff of 145, known by some DPI insiders as "Amy's Army," Rhyne is charged with ensuring that the move from balanced literacy strategies to Language Essentials for Teachers of Reading and Spelling (LETRS) is as seamless as possible, and that all districts implement 160 hours of mandatory teacher training and have the resources necessary for student success.
"It's an exciting time in literacy. We're seeing all of the arrows align," said Rhyne, a Statesville native who earned undergraduate degrees from Mitchell Community College and Appalachian State University before receiving her master's degree in school administration from Gardner-Webb University and her Ed.S. from Appalachian State. "I'm excited to help implement this and hopefully see an impact with our kiddos."
The first cohort of schools will complete the two-year transition and associated professional development this summer. Deployment of LETRS in all public school districts is scheduled to be finished in 2024. The state is also funding training for N.C. Pre-K programs in partnership with the N.C. Department of Health & Human Services.
The early results are promising. According to results from an assessment at the beginning of the 2022-2023 school year, students in early elementary grades in North Carolina public schools continue to show gains in literacy skills. The percentage of students in first through third grade performing at or above the benchmark score at the beginning of the year was higher this school year than in 2021-2022, reflecting gains students achieved during the previous grade level and year, according to DPI.
State Superintendent Catherine Truitt said the statewide initiative is important work.
"Our state has embarked on a journey to transform the way we teach literacy and improve reading outcomes for students," Truitt said. "To do this, however, requires a shift in mindset as well as practice, and Amy Rhyne, alongside the Office of Early Learning, has been at the forefront of this monumentally important task.
"We would not be changing the literacy landscape in North Carolina without the incredible dedication of our educators and administrators, and without the guidance of Amy and the OEL," Truitt added.
'A calling'
Rhyne said her life's work has always been more than a job. She was raised in a single-parent household and, as a young child, she discovered that school was a safe haven where she built important relationships with her teachers.
Those relationships sparked an interest in working as an elementary school teacher, a path she began in 1994. Her work at N.B. Mills, where nearly 100 percent of students come from low-income homes, was "absolutely a calling," she said.
Rhyne said she loved being a classroom teacher and without the inspiration of Holliday, Allred and others, she might have stayed in that role until retirement. Her mentors discussed "expanding her walls" and stressed that as a lead teacher/instructional facilitator and school administrator she could impact the lives of more children.
As principal at Third Creek Elementary and East Iredell Elementary, Rhyne fully implemented the "Leader in Me" program, which uses Steven Covey's strategies to teach children leadership and life skills. At East Iredell Elementary, she also shepherded the growth of the school's dual-language immersion program.
Rhyne does not make career moves lightly, and she does not make major life decisions without seeking the guidance of a higher authority. She quotes a passage from Priscilla Shirer's book, "Discerning the Voice of God," which serves as her personal guidepost: "He knows what is best for you, and He only requires that you obey in order to experience it. Easy? No. Simple? Yes."
That devotion led Rhyne to accept her current position at DPI in November of 2019. She was at first reluctant to do so because the youngest of her children, Nicole, was a senior in high school and Rhyne did not want to miss out on the experiences she enjoyed with her older children, Marley and Jordan, and her "bonus" son Zack. As it turned out, once the COVID-19 pandemic began, Rhyne was able to work remotely and got to spend more time with her husband John and children than if she had continued commuting to Stanly County.
"God took care of every bit of it," Rhyne said, looking back on that decision more than three years ago.
'How is that best for kids?'
North Carolina education leaders got behind the shift to LETRS largely based on data showing improved literacy skills in other states that had done so. Test results in Mississippi played a large role, along with Superintendent Truitt's insistence that every child deserves highly qualified teachers, in convincing state lawmakers to back the plan financially.
When Rhyne was hired to lead the Office of Early Learning, she had a small team. Fast forward to 2023 and "Amy's Army" is now approaching 150 people thanks to the N.C. General Assembly's support of LETRS and commitment to provide state funding for 115 early literacy specialist positions, eight LETRS facilitators and 16 consultants who will work with districts across the state to ensure all teachers receive training and support throughout the transition and beyond.
Improving literacy among young learners is critical to their success in later grades. Students who can't read on grade level cannot master subject matter material as they progress in school. National research published by the Annie E. Casey Foundation illustrates a direct correlation between reading proficiency in third grade and "success in high school and beyond."
That means there is plenty of work to be done in North Carolina, where less than half of students in kindergarten through third grade were considered on grade level in reading at the start of the 2021-2022 and 2022-2023 school years.
But Superintendent Truitt and other education leaders are optimistic that those numbers can be improved dramatically.
Among North Carolina students in first grade, for example, where the largest gain of the four grades was measured over 2021-2022 results – the percentage of students meeting the benchmark climbed from 38 percent to 48 percent in 2022-2023. Among first-graders in other jurisdictions nationally who took the same assessment, the improvement was only 3 points — from 45 percent in 2021-2022 to 48 percent in 2022-2023.
This work, Rhyne said, is about much more than improving test scores. It's about improving the lives of all North Carolinians, and it's about equity.
"I've never forgotten who I'm advocating for," Rhyne said. "I'm always going to come back to, 'How is that best for kids?' If they can't learn to read, what's their future?"
EDITOR'S NOTE: This article was originally published in "IFN Monthly."