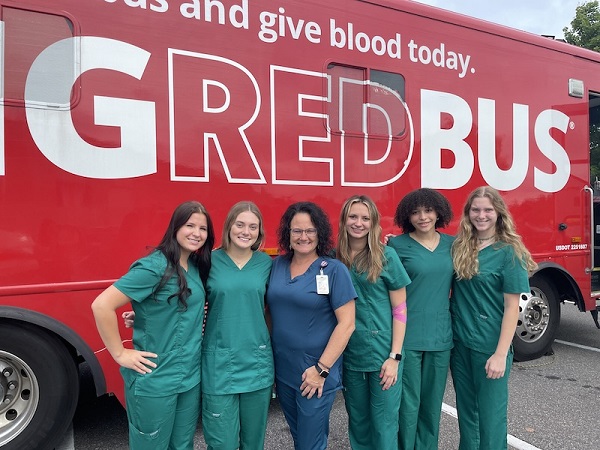 BY KARISSA MILLER
Instructor Jamie Head's Nursing Fundamentals Class helped save dozens of lives last week.
The Career Academy and Technical School students hosted a blood drive on the campus in Troutman.
CATS students and staff stepped into the big red Oneblood bus throughout the day, rolled up their sleeves and donated.
In addition to helping make sure there is plenty of blood available for patients who need it, Head's goal was to make sure her students understand the importance of community service and selfless giving.
"One unit of blood (one donation) can save three lives," she said.
There was an urgent call for blood donations last week as Hurricane Idalia battered the Southeast. While all blood types are needed, there is an increased need for O-Negative and O-Positive blood.
To find a donor center or Big Red Bus blood drive near you, visit https://donorportal.oneblood.org/donate-now.
Oneblood is a not-for-profit 501c3 community asset responsible for providing safe, available and affordable blood to more than 250 hospital partners and their patients throughout Florida, North Carolina, South Carolina, Georgia and Alabama.
About the Nursing Fundamentals Class
In the Nursing Fundamentals Class, students learn the basic skills required to care for patients in a variety of health care settings.
Through classroom instruction, lab work, and clinical rotations, students prepare to pass the North Carolina CNA Exam.
"We've already learned so many skills. It's fun because we get to practice on each other," student Grace Suddreth said.
LEARN MORE
Any student interested in learning more about the Nursing Program at CATS should contact the school for a visit at 704-978-2791.