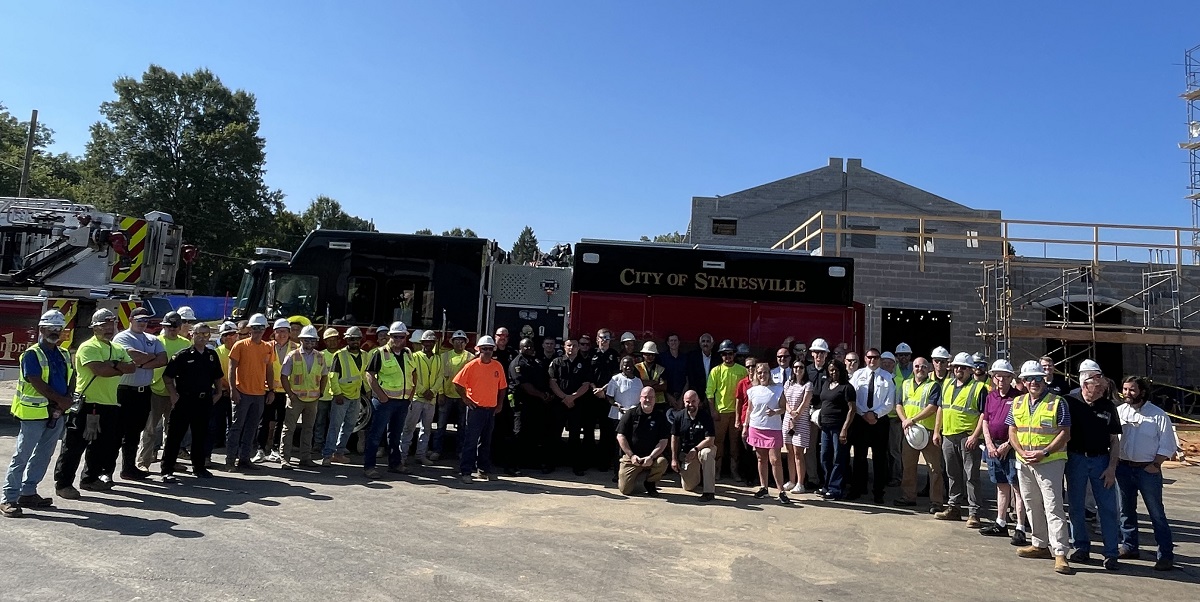 BY MIKE FUHRMAN
Statesville officials gathered at the site of the future William T. "Woody" Woodard Fire Station on Friday morning to mark significant progress in the construction of the $14.8 million facility.
Mayor Costi Kutteh, City Council members and administrators joined Statesville Fire Department personnel and representatives of the general contractor at the construction site for a beam signing ceremony. Participants signed their name on a large red support beam that will be visible inside the new 26,000-square-foot station.
Fire Chief Glenn Kurfees called the event "an exciting and historic milestone" for the SFD and the City of Statesville.
"This moment isn't just about the structure rising before us," Kurfees explained. "It's about the spirit of unity, dedication, and progress that defines us as a department and city.
"As firefighters, we understand the significance of a strong foundation. And while concrete and steel form this station's physical base, the unwavering support of our community, civic leaders and our firefighters truly fortifies this new home."
Mayor Kutteh expressed his appreciation to the council for supporting the site for the project. The land, located near the intersection of Wilson W. Lee Boulevard and Charlotte Avenue, was acquired from the Statesville Housing Authority.
"We did not reach this decision lightly," he said. "I hope you all believe it was the best decision for all the citizens of Statesville."
Fire Station 1, which the new station will replace, was built in 1952 – the same year the mayor was born – and has been in poor condition for many years.
"I have fared better than the fire station over the last 71 years," Kutteh told the small crowd.
Mike Carlisto, executive vice president for Edifice, said the general contractor was proud to be working on the project.
"This building is going to be a hundred-year building," he said. "It's not just a building – it's a home."
The mayor was thrilled to hear that. "I'm going to formally accept that hundred-year warranty," he joked.
Following remarks by Mayor Kutteh, Chief Kurfees and Carlisto, the beam signing commenced.
Councilman C.O. Johnson, who is a retired Statesville firefighter, was the first to sign. Dorothy Woodard, whose husband Woody died in 2013, was among the participants in the ceremony.
Construction is tentatively scheduled to be completed in the spring of 2024.
The council agreed to borrow $2 million for the new fire station. Some $7.1 million in ARPA funds were designated for the project and $5 million in the city's fund balance was earmarked to help cover the rest.
Photos