Special to Iredell Free News
Iredell County Sheriff's Office personnel spent about eight hours looking for a state prisoner on Tuesday before officials called off the search.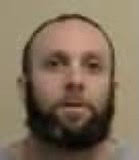 The Sheriff's Office received information early Tuesday morning indicating that Matthew Neil Brown, 37, who reportedly escaped from Caldwell Correctional Center in Lenoir on Monday, may have been in the Belle Meade Avenue area of western Iredell County. Brown was serving time for possession of stolen goods.
When deputies arrived in the area, they saw a person matching his description, according to an ICSO news release. A perimeter was established by deputies in the area, and a canine track was performed. Drones were also deployed in the search.
After spending eight hours conducting an extensive search in the area of Bristol Road off U.S. Highway 70 West, ICSO deputies and criminal investigators, along with members of the N.C. Department of Adult Corrections, ended the search.
Brown is described as a white male who is 5-foot-6-inches tall with black hair and a beard. The ICSO asks that anyone who sees Brown to call 911 immediately.