FROM STAFF REPORTS
A western Iredell County resident faces numerous felony charges in connection with a pair of suspicious fires following an investigation by the Iredell County Sheriff's Office.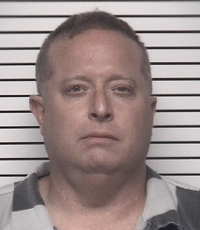 Sheriff Darren Campbell announced the arrest of Barry Thomas Moose Jr., 44, of Old Miller Road, Statesville, in a news release Friday.
ICSO deputies responded to a suspicious vehicle fire in the area of Goble Road in western Iredell County on Sunday, May 7, Campbell said.
When deputies arrived, fire department personnel were on the scene with an abandoned vehicle, which had been completely burned and was parked on the side of the road.
The case was assigned to detectives for further investigation due to the suspicious nature of the fire, Campbell said.
In the early morning hours of May 17, deputies were called to assist the West Iredell Fire Department with a suspicious house fire on Old Miller Road. When the deputies arrived, they found a vacant house burned and completely destroyed, according to the news release.
Detectives and Crime Scene Investigators responded to the scene, along with the Iredell County Fire Marshal's Office. The house was unoccupied, and no one had been injured, Campbell said.
After interviewing witnesses and collecting evidence in both cases, criminal investigators identified Moose as a suspect in both fires, according to the news release.
Moose took a vehicle from a family member without permission after setting the vehicle on fire on May 7, Campbell said.
Detectives obtained felony arrest warrants for Moose, who was later located and taken into custody on May 17.
Moose was transported to the Iredell County Detention Center, where he was charged with Felony Burning of a Building, Felony Burning Personal Property, and Misdemeanor Unauthorized Use of a Motor Vehicle. He was issued a $57,500 secured bond on the charges by Magistrate S. Watkins.
After this arrest, detectives located evidence that connected Moose to the house fire, which occurred on property owned by the Fraternal Order of Police Lodge Number 10. Detectives obtained additional charges on Moose including Felony Burning of Personal Property and Misdemeanor Second Degree Trespass.
Magistrate Russell issued a $5,000 secured bond, increasing Moose's total bond to $62,500.