FROM STAFF REPORTS
A Salisbury man faces felony drug charges after being stopped by an Iredell County Sheriff's Office deputy for a registration violation.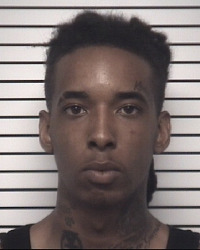 Sheriff Darren Campbell announced the arrest of Dekarius Michael Hoosier, 24, of Dunns Mountain Road, Salisbury, in a news release Friday.
Deputy G. Wiedenmann, who is assigned to the ICSO Aggressive Criminal Enforcement (ACE) Team, conducted a traffic stop on a vehicle on Taylorsville Highway at Butterfield Circle on Tuesday, May 23.
During a search of the vehicle, Deputy Wiedenmann located three plastic bags of marijuana and digital scales, according to the news release.
Hoosier, who was driving the vehicle, was arrested and charged with Felony Possession with Intent to Sell or Deliver Schedule VI Controlled Substance, Felony Maintaining a Vehicle to Sell Controlled Substance, and two misdemeanor drug offenses.
He was transported to the Iredell County Detention Center, where Magistrate R. Imes issued a $5,000 secured bond on the charges.