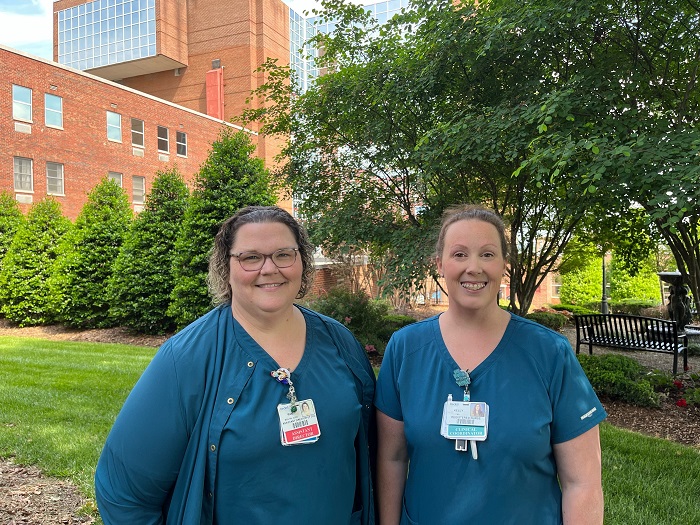 Special to Iredell Free News
A few years ago, you may have pictured a hero as someone with a cape and tights. However, since the pandemic, you may now imagine a hero as someone in scrubs.
The COVID-19 pandemic has familiarized people around the world with frontline healthcare workers, especially those in critical care units (CCU) who spent every single day caring for COVID19 patients.
And though the pandemic has significantly slowed, the lifesaving efforts of critical care professionals remain the same. This month is National Critical Care Awareness and Recognition Month, the perfect time to once again shine the spotlight on these frontline healthcare heroes.
Those who work in critical care units, also called intensive care units (ICU), spend their time caring for patients with life-threatening conditions, injuries, and illnesses. They work with patients who are at their most vulnerable and serve as their advocates while supporting and informing their family members and loved ones.
Iredell Memorial Hospital's CCU provides constant observation by nurses, and emergency equipment is available at the bedside so complications can be dealt with immediately. The unit currently has 16 rooms but is expanding to 27 rooms, along with all new state-of-the-art equipment and beds, by the end of 2024.
To celebrate this month and the essential role of CCU professionals, Pam Moore, assistant director of Iredell Memorial Hospital's Critical Care Unit, and Kelly Gregory, clinical coordinator of CCU, answered a few questions about their life as a critical care healthcare professional, including their experience with COVID-19 and what makes Iredell special to them.
Moore started her career at Iredell Health System right after graduation and has been a nurse for 21 years, working in critical care for 11 of those. Gregory has just recently found her passion for nursing and has worked in Iredell's CCU for three years after working five years in a different position at Iredell Memorial.
Have you always wanted to be a nurse?
Moore: I've always wanted to be a nurse. My mom said I would take my stuffed animals and baby dolls, put them on my bed, and take care of them like they were sick. Most kids you see doing that are playing doctor — but for me, I would say, "I'm not the doctor. I'm the nurse."
Gregory: I am a later-in-life nurse, so nursing was not my first profession. I worked in pharmacy as a medication reconciliation technician. I did pharmacy for almost 15 years, which is a really good basis for being a nurse. I just felt like I was being led, more specifically, to critical care nursing just because of how in-depth it is and how you never stop learning. I graduated right at the onset of COVID in May of 2020. I came to critical care right out of school as a new grad in all the chaos that was COVID.
What drew you to Critical Care?
Moore: For me, I personally enjoy the challenge. It sounds crazy, but I like to care for the sickest patient there is because it is a challenge. That's what I thrive on. It keeps me thinking and makes me learn more. The challenge and the whole learning process of that is what really drew me to critical care.
Gregory: It's similar for me. I think you have to be up for the challenge because it is always a challenge. There's never a day that I come to work and I don't learn something new. It's constant learning here, and we have physicians that want to teach. You get to see a little bit of everything. It's not so specific, like some of your higher tertiary care centers. That's really what drew me to critical care. I just really thrive when I get to gain more knowledge.
What other healthcare professionals do you collaborate with on a daily basis?
Moore: CCU collaborates with everybody. As the nurse, you are the ring leader. You make sure that respiratory, radiology, the laboratory, and really everybody knows what they need to know. We collaborate a lot with the physicians because of the severity of our patients. We talk with all the doctors, the specialty doctors, the intensivists, and really with anybody who touches the patient we work with.
Gregory: We often work with speech therapists after patients are extubated from being on the ventilator. We work with dietary to get our patients the right diet ordered. We have a case manager on the unit. We also work with professionals from physical therapy, radiology, nuclear medicine, and heart station, among many others. Every day, typically around 9:30 a.m., we do grand rounds with the charge nurse, dietician, case manager, pharmacist, and rounding intensivist for the week. We go nurse-by-nurse and discuss each patient — the ins and outs of their care, what they need, medication changes, and labs for the day. This way, we get time with the doctor to figure out a game plan for the day. And that happens every day, seven days a week. Everybody contributes so that the patient can get the best, multidisciplinary, personalized care.
Can you tell us what working through the pandemic was like? What helped you stay strong in the midst of hard times?
Moore: For me, it took me back to the bedside. I either did charge (overseeing a department of nurses) or I was in a patient assignment, so I was right there with them in the trenches. Our director, Kathy, and I would work 12-hour shifts almost every day for a long time. It makes me almost tearful when I talk about it because it was really hard. You felt so helpless and defeated. As a nurse, you think you have to "fix" your patient, and you have to make it better. But then, over and over and over, we couldn't make it better. But, in those few times that we did make it better and they did leave, it was just a celebration, and we would hold onto that. That's what kept us going. I think COVID strengthened our team. We've really gotten close with one another and know what each other has gone through.
Gregory: I don't think there's anything you could say that would paint an accurate picture of what it really was. But Pam (Moore) mentioned that defeated feeling. You go into nursing because you want to help people, and I personally felt like I wasn't helping anyone because of the version of what helping people was in my mind. To me, helping a patient was making sure that they got up and walked out of the hospital healthy and whole again. I didn't think I was cut out to be a CCU nurse for the first six to eight months. I did not think I was going to make it because I was not prepared for what COVID was. But then I had a mindset change. I had to remember that there are many ways to help a patient, and sometimes making them whole and letting them walk out of here is not the only way you can help that patient. You may help them emotionally or spiritually, or you may help their family member. You have other ways to help. I think once I started to grasp ahold of those other ways that I could help, even though we were dealing with this massive pandemic that affected the whole world, is what really got me through and allowed me to continue to do this job.
What's your favorite thing about your job?
Moore: In the assistant director role I'm in now, my favorite thing is helping my nurses get what they need. That may be the education, the support, or whatever else it is that they need. I also really enjoy the teaching aspect of it. I like to work with new nurses and teach them and see the light bulbs go off in their heads when they understand something. When I'm actually at the bedside, my favorite thing is the patient care. The whole reason I went into this profession is for the patients. I like to take care of patients at their most vulnerable time and support their families. Knowing that I made a difference in their life means a lot to me.
Gregory: I agree, and I think hearing that validation from a patient or from their family that you left a lasting and positive impression is fulfilling. That validation and knowing I made a real difference in their lives is probably one of my favorite parts about the actual job that we do. But as far as Iredell Health System goes, my favorite part is the people I work with. We're all very close, and we're all very much a team. We go to each other's kids' events and other activities like that, so that really makes a difference that you have good interpersonal relationships. So the people I work with is one of my favorite parts. We are a family.
What makes Iredell Health System special to you?
Moore: For me, I grew up here, and it is home. This community is what I know. I love Iredell, and I can't see myself anywhere else. I love the doctors I work with and really everything about it. Working in a community hospital for the community I live in is special to me.
Gregory: I was actually born at Iredell Memorial. Iredell is home, and it's my community. For example, if I don't personally know a patient in the room, they might know my mom or my grandparents. Just that feeling of "we're all in this together" is an awesome feeling that you wouldn't get from other hospitals. And it really is because we're such a community-based hospital.
What makes Iredell Memorial Hospital's Critical Care Unit a caring place to send your loved one?
Moore: I know the people that work here, and I know that I can say, without a doubt, that every nurse that works here is doing it for the right reason. They care about people, they care about the outcomes of that person, and they care about that person as a person. They do not just care because it's their job and they're getting paid to do it — they actually care about that patient as a person and want to make an impact in that person's life. I would always send my loved one here because I know the people that work here, and I know their heart.
Gregory: I would agree with that. During COVID, I would have my daughter at home make cards for some of my personal patients, and I would put them up in their rooms. At that time, these patients were very isolated typically the entire time they were in the hospital. So just the people that work here and their heart is what makes it different. Just that sense of team and compassion you get here is second to none. And we hope we don't have to see you as a patient, but we'll be here to take care of you if we do.
About Iredell Health System
Iredell Health System includes Iredell Memorial Hospital; Iredell Mooresville; Iredell Home Health; Iredell Wound Care & Hyperbaric Center; Community and Corporate Wellness; Occupational Medicine; the Iredell Physician Network and more. Iredell Memorial Hospital is the largest and only nonprofit hospital in Iredell County. The comprehensive healthcare facility has 247 beds; more than 1,800 employees; and has 260 physicians representing various specialties. Centers of excellence include Women's and Children's; Cardiovascular; Cancer; Surgical Services and Wellness & Prevention. The Health System's newest campus, Iredell Mooresville, is home to the area's only 24-hour urgent care facility, as well as an ambulatory surgery center, imaging center, rehabilitation services, and physician practices. The mission of Iredell Health System is to inspire wellbeing. For a comprehensive list of services and programs, visit www.iredellhealth.org.