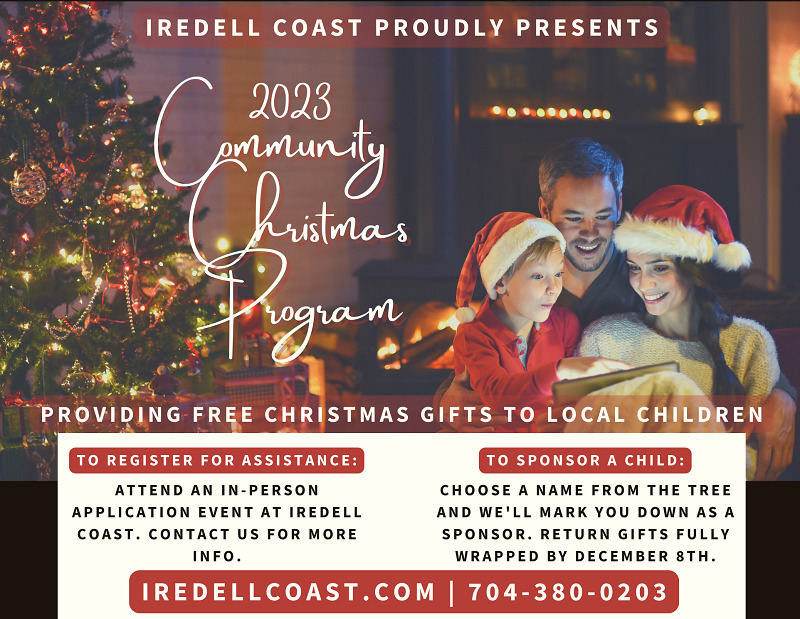 Special to Iredell Free News
For the third year in a row, Iredell COAST will sponsor its annual Community Christmas Program.
Iredell COAST Community Christmas provides local children with a free dinner and gift giveaway. Community members may choose children to help sponsor.
The nonprofit will host an application signup event on Saturday, September 30, from 10 a.m. to 1 p.m. Families who are interested in applying for free Christmas gifts this year should plan to attend this signup at 833 N. Center Street in Statesville.
Iredell Coast provide applications for assistance and verifying information during this event.
To qualify for assistance through this program, you must receive one of the following: SNAP, WIC, TANF, Section 8, or Medicaid. Families may also qualify if their household income is less than 110 percent of the federal poverty guidelines. Proof of qualification is required at the application event.
At this time, online applications will not be accepted. If you wish to apply, please plan to attend this event in person.
Another event will be scheduled for November if there are still spots available. Spots fill up quickly and are available on a first come, first serve basis.
Those wishing to sponsor children can begin choosing names off the Iredell COAST Christmas Tree beginning October 3.