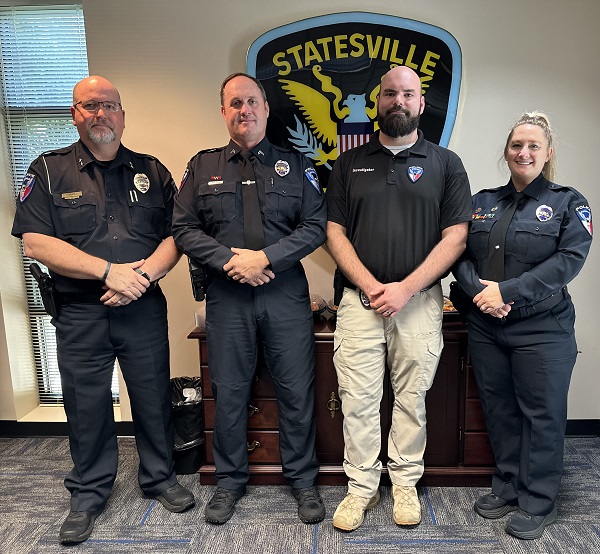 Special to Iredell Free News
Police Chief David Onley is proud to announce the successful completion of the recent corporal assessment process for the Statesville Police Department.
Of the eight officers who were assessed, three officers — Cpl. Chan Austin, Cpl. Attrie Killian and Cpl. Casey Hoover — have earned well-deserved promotions, Onley said.
Austin has been with the SPD for 24 years. He began his career in the Patrol Division before transitioning to the Community Services Division, where he undertook the role of crime prevention officer. In recognition of his commitment and professionalism, he was promoted to master police officer in 2021. Austin's commitment to community service remains unwavering as he continues his service within the Community Services Division.
Killian has 14 years of experience with the SPD. Throughout her tenure, she has made contributions to the department in the Patrol Division, Criminal Investigations Division and most recently as a school resource officer. Killian's outstanding performance led to her promotion to master police officer in 2021. She will now return to the Criminal Investigations Division, where her expertise will continue to benefit the community.
Hoover, who has seven years of service with the SPD, also began in the Patrol Division. He is currently in the Criminal Investigations Division and serves as a member of the Special Response Team. Hoover's excellent service earned him the rank of master police officer earlier this year. He will continue to serve the community within the Criminal Investigations Division.
These promotions reflect the Statesville Police Department's commitment to recognizing and rewarding the hard work, dedication, and excellence of our officers.
Chief Onley commended Cpl. Austin, Cpl. Killian, and Cpl. Hoover for their unwavering commitment to public safety and their continued contributions to the community. These promotions signify not only personal achievements but also the department's confidence in their leadership abilities.