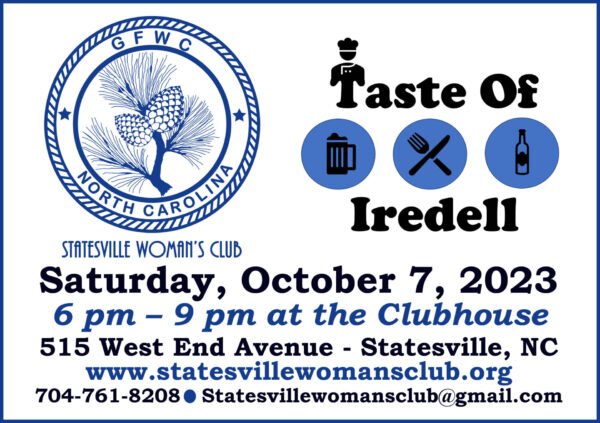 Special to Iredell Free News
The Statesville Woman's Club (SWC) will host Taste of Iredell on Saturday, October 7, from 6 to 9 p.m. at the Historic Clubhouse located at 515 West End Avenue in Statesville.
This theme of the event is "Bridging the Gap of Homelessness" with event proceeds being split between The Bridge Academy of the Statesville YMCA and the SWC Historic Clubhouse Capital campaign.
The Bridge Academy helps Iredell County local homeless families with a free After School Academy, Summer Day Camp, sports programs, Safety Around Water drowning prevention, anti-hunger initiatives and more.
The SWC campaign is a long overdue endeavor to raise money for critical clubhouse repairs such as new roof, new HVAC system and plumbing updates. Once accomplished, a handicap ramp for the clubhouse is being negotiated. Finally, aesthetic updates will position the clubhouse as a spacious, affordable and beautiful venue for hosting events in historic downtown Statesville. The original Historic Clubhouse was built in 1927; the present one was rebuilt in 1928 after a fire and is listed on the National Register of Historic Places. The GFWC of NC Statesville Woman's Club is a 501(c)3 organization.
The tickets for this indoor/outdoor event will be a limited to 150. We ask that patrons park in the adjacent lot at Mitchell Community College on West End Avenue. The admission ticket of $50 includes sample size portions of appetizers, main dishes, desserts and brews from over a dozen local restaurants and caterers, with one complimentary alcoholic beverage. Tea, water, additional coffee stations and a cash bar will be available.
The event will also feature South Iredell High School Honors Strings, directed by Leslie Overcash.
Food and beverage sponsors include 220 Café; Andrea's Ice Cream & Sweet Shop; BoxCar Grille & Catering; Fresh Chef Kitchen; Gatherings Catering and Event Center; JD's Market & Deli; Kristy Smyre; Mi Pueblo Mexican Grill; Red Buffalo Brewery; Sharpe's Café on Crawford; Southern Distilling Company; The Greenbriar Grill; The Vanilla Bean; The Wing Pickup; Wine Maestro; Rio 150 Mexican Restaurant; and Your Coffee Place.
Cooler Giveaway
A cooler with Top Shelf Spirits Giveaway Drawing will also take place. Tickets for the Top Shelf Spirits Giveaway Drawing are $5 each, $20 for five or $35 for 10. (You must be 21 or older to purchase tickets). There is no need to be present to win. The drawing will be held at the Taste of Iredell event on Saturday, October 7. Proceeds from the Giveaway Drawing will also be split between The Bridge Academy of the Statesville YMCA and the SWC Historic Clubhouse Capital Campaign. Tickets may be purchased from club members or by visiting the club website at www.statesvillewomansclub.org. During the Downtown Statesville Fall Art Crawl on Friday, September 15, club members will sell tickets at 104 West Broad Street.
Sponsors
♦ Silver Sponsors: Denso Manufacturing North Carolina, Inc.; Iredell Health System; and Lake Norman Realty.
♦ Bronze Sponsors: Alarm South; Black Automotive Group; Blue Harbor Bank; Bunch-Johnson Funeral Homes; Carolina Rehab; Doosan Bobcat; Duke Energy; and Sherwin-Williams.
♦ Patron Sponsors: Jon Packman Dentistry; Statesville Brick Company; Walker Insurance; Shred South; and Sheryl Bare.
LAMAR Advertising provided assistance with digital billboards.
LEARN MORE
For information about renting the Statesville Woman's Club's Clubhouse for your meeting or event, email the club at Statesvillewomansclub@gmail.com or call 704-761-8208. The club website is www.statesvillewomansclub.org. For details on joining the Statesville Woman's Club, contact Membership Team member Joanna Gaither at 704-873-2684.