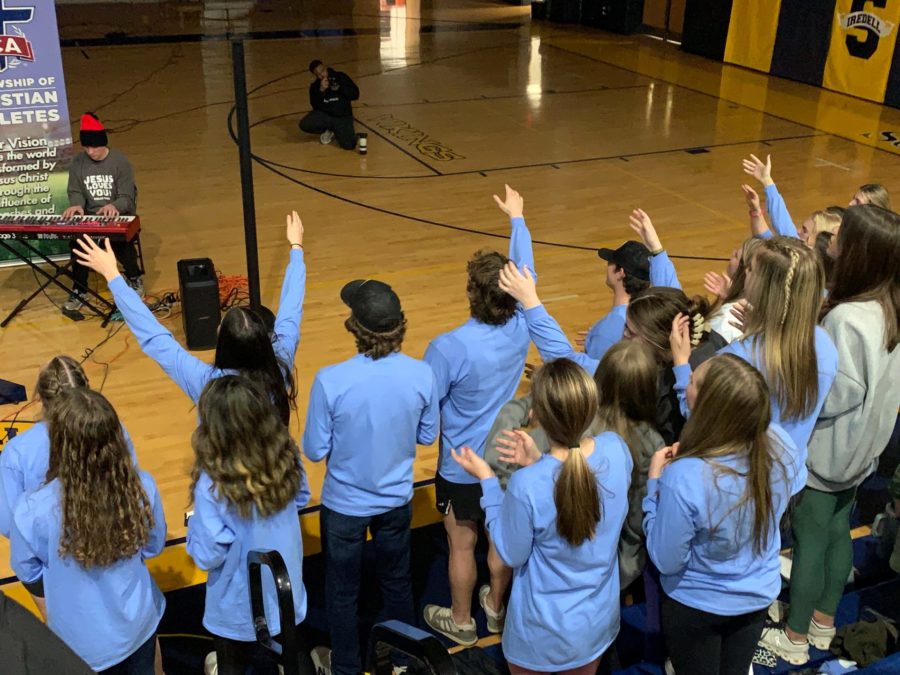 BY BRANDY TEMPLETON
South Iredell High School's gym was packed on Wednesday evening with students and others eager to hear messages of hope and encouragement.
The fourth annual "Courts For Christ" event, which was hosted by the Fellowship of Christian Athletes, attracted students from South Iredell, West Iredell, North Iredell and Statesville High as well as Statesville Christian, Alexander Central, Bandys High, and North Middle.
The highlight of the night was hearing from Christian student speakers.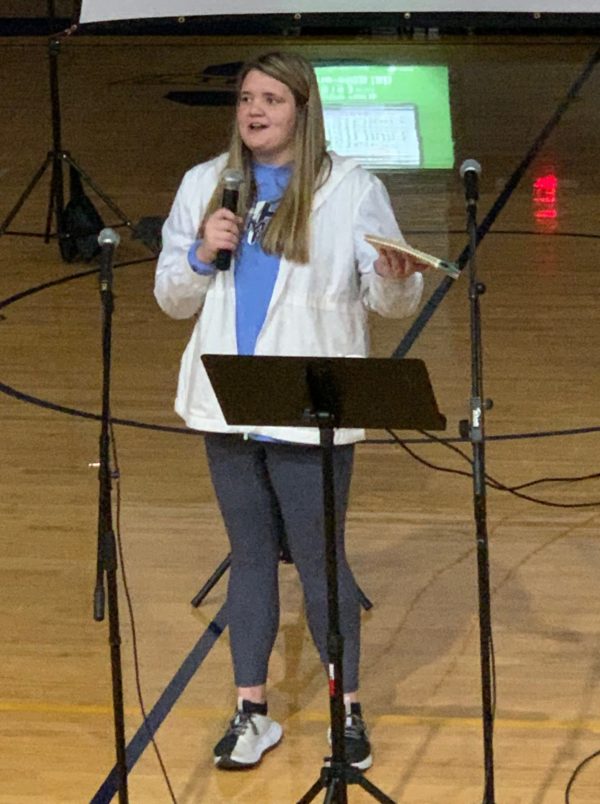 Zachery Dillard, a senior at South Iredell High, shared that he gave his life to the Lord on August 14, 2016.
"I began my walk with faith," Dillard said.
After attending FCA Camp, he decided to become a preacher after high school.
"I preached my first sermon in July," Dillard shared.
Now he's preaching at New Life Community Baptist Church, sharing the wonderful things Christ has blessed him with.
After a fire in his home around this past Thanksgiving, and then a totaled car, Dillard said he knew Christ was using him to witness to others.
"It's been a struggle, but God brought me through the fire," he said. Quoting Isaiah 43:2, Dillard said God will bring others through their "fires" too.
Kinley Pennell, a sophomore from North Iredell High, said she struggles with anxiety.
"We're all growing up faster than we're ready for," Pennell said. "We've had to open bank accounts, manage our money, start choosing colleges, and get jobs."
She said that worrying about all those adult things have stressed her out, and she's spent less time reading her Bible and doing devotions.
"God says we'll always have troubles, but he's got it all planned out for us to get through these things," Pennell said. "Every single part of your life was planned before you were born, and God knows the solution."
West Iredell senior Lily Jordan told the crowd that her purpose is to live for Christ and not the world.
Erica Cook, a sophomore at South Iredell, shared the same sentiments and scripture from 1 Corinthians 10:13.
She spoke of being tempted to cuss and party, but revealed God has given her way another path.
"I ask myself 'What would Jesus do?'" Cook said. "Would He listen to this music or watch this TV show? You can't be a Christian and love the things of the world."
West Iredell junior Tyler Ribbeck, said since he's found his identity in Christ, his life has been much better.
"God saved me, and everything got better," he said.
Philip Riddle, from North Iredell, learned to give God all the glory for his achievements and praise Him in the bad times.
"I took credit for the things He was doing and I started having lows," he said. "Sports performance is temporary, we need to define ourselves in Christ."
South Iredell FCA Advisor Marcus Chamber also shared his testimony about losing three students.
"Take the opportunity to share Jesus, because you never know," he said.
South Iredell's FCA chapter has grown from 30 students to over 300.
For the finale, crash survivor Abby Bunton and her pastor father, Josh, shared their testimony.
On October 29, 2022, Abby was in a horrendous car accident. She said her heart stopped for over an hour and a half.
"I shouldn't be here right now," she said.
The teen spent 12 days in the ICU and was on life support for a week. Both of her legs were broken, and she had a brain bleed and other issues. Doctors gave a grim prognosis to her parents, Josh and Elizabeth. Even if Abby recovered, the doctors predicted Abby would be a shell of her former self.
Prayer and praise music proved the doctors and specialists wrong.
"I know God heard your prayers because I'm standing here," Abby said.
According to her neurologist, Abby does not have any permanent brain damage. She is now walking and driving again.
"Keep your faith, and He'll come through," she told the audience.
Her father concluded by saying Abby's scars are reminder of the accident and the power of the Lord.
"God makes you new and can make your scars beautiful," he said, comparing his daughter's accident to broken dishes. Abby has been put back together, and her story will be used for the good of God.
After offering prayer for those who were hurting, Josh told a student that she mattered to Christ.
"Even if you were the only one here, He would have orchestrated all this just for you," he said.
Photos