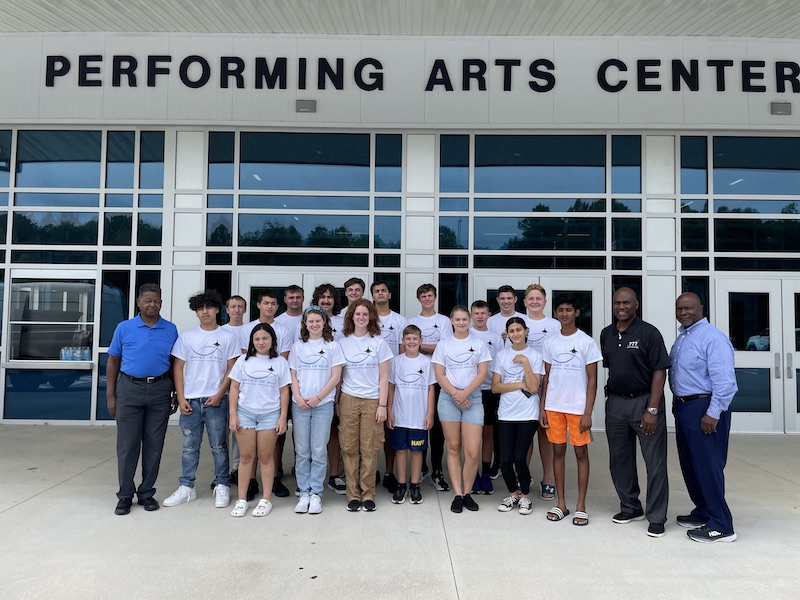 BY KARISSA MILLER
Iredell-Statesville Schools students attending Shades of Blue Aviation camp at South Iredell High School learned about resilience from war hero and pilot Tony Marshall this week.
"I spent 22 years in the Air Force and flew combat. I'm a POW and I flew 17 years for United," Marshall said.
He shared some of his story about getting through difficult experiences with students, but his true "passion is helping kids get on a path of successful careers."
Marshall, who lives in California and flew in for the week to teach as a Shades of Blue Aviation instructor, said he was hooked on aviation after seeing his first flyover.
"Flying is fun. It's a sense of freedom that you get when you are up in the air. It's amazing. There's also the skill and the professionalism that's rewarding," he explained.
Shades of Blue is an educational organization that is focused on fostering careers in Aviation and Aerospace for students. The nonprofit provides mentoring, counseling and arranging employment referrals for students who want to pursue science, technology, engineering and mathematics (STEM) careers.
The camp will span three months and expose students to career opportunities in aviation, camp coordinator Michael Fisher said. Once school starts, students will attend sessions every Saturday for the next three months. After completing the camp, students will be prepared to take the written FAA test for their private pilot certificate.
"We want them to know that the sky is the limit," Fisher said. "There are all different kinds of opportunities. There are opportunities for them within the aviation community."
"Whether it's processing, administration or becoming a pilot, it is setting these kids up for success who want to pursue a career in the aviation community," he added.
Instructor Xavier Palmer, a retired pilot for United Airlines and Air Force veteran, said he enjoys sharing his knowledge with the next generation. As a high schooler he started an aviation club that paid for his first two hours in flight school.
Palmer, who lives in California, said that his dream as a child was to become an astronaut. He chose to serve in the military to become a pilot.
"I want them to be excited like I was. One day it could be them," he said.
Helping students obtain scholarships and teaching them about aviation is rewarding, Palmer added.
"It's a really sharp bunch of kids. I have been impressed with them," he said.
Airline industry faces workforce crisis
Bruce Atlas, retired chief operating officer at the Ontario International Airport in California, was a key instructor and mentor for the camp.
Over the next 12 to 15 years, the industry faces a shortage of:
• Around 804,000 pilots,
• More than 914,000 flight attendants
• And 769,000 aircraft mechanics and technicians.
"It's important that we create a pipeline for these positions and expose kids to aviation. The earlier we can expose kids, the better we can be in bridging the gap," Atlas said.
Obtaining the necessary flight hours to become a pilot is expensive. Atlas hopes to award scholarships to help students with this expense.
The Charlotte Douglas International Airport has thousands of jobs in many career different fields.
Shades of Blue Aviation works to identify students as young as elementary school to help fill those positions once they finish their education.
South Iredell High student Chelsea Peck, 16, is a rising senior, learned about a scholarship opportunity that would help her pay for school so that she can become a pilot. She has applied for $180,000 in scholarship dollars to help her dreams come true.
"I want to go into the military and become a pilot. My dad did F16 avionics when he was still in the military. Planes always seemed fun. So, why not fly it?" Peck said.
The camp, she said, has been an amazing opportunity.
"I've learned exactly what is required to become a pilot. I've had fun learning about coding, flight simulation and how to use controls for that," she said.
Ashley Lopez, 16, who moved to the area from Honduras and doesn't speak or understand English yet, used her phone to translate what was being said during classroom lectures at the camp.
She also made new friends and her friend Ava helped her overcome language barriers. Her favorite part was the flight simulator and learning how to use the controls.
"Since I was little, I have been interested in being a pilot," Lopez said.
Giving Back
Bruce and Dana Atlas started Marcus' Heart Foundation to honor their son Marcus, who lost his life in combat while serving in the U.S. Army in Afghanistan. The foundation raises money for students who need scholarships and provides other invaluable resources to students. Learn more at http://www.marcussheartfoundation.org/
Photos