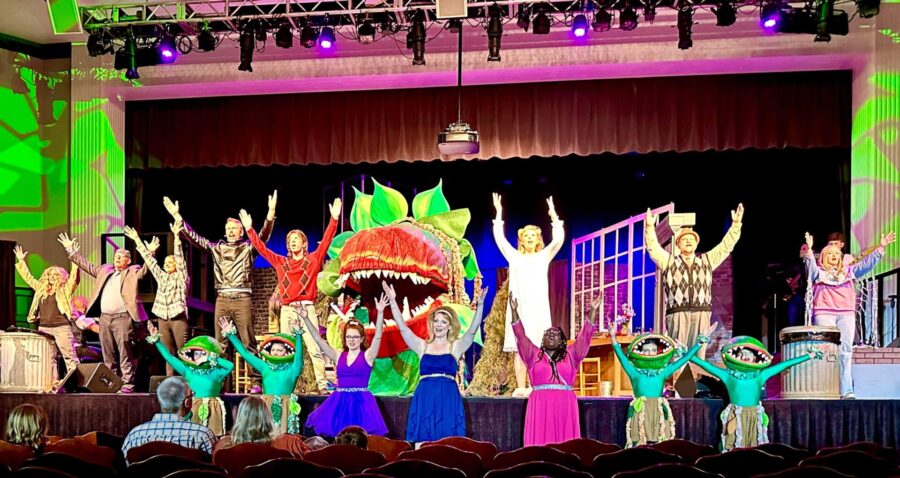 BY COOPER HALL
"Little Shop of Horrors," presented by Center Stage Alliance, is the perfect way to spend an afternoon or evening this fall. Directed by Mykel Inscore Myers and Josh Myers, the local production is a riveting musical with a colorful set and enthusiastic actors who keep the audience excited and engaged.
The leading characters, Seymour and Audrey, captivated the audience during Sunday afternoon's performance. Seymour, played by Corey Johnson, had the audience laughing at his every word, and Audrey, played by Lorie Goins, created sympathy and hope in the audience.
The audience at Mac Gray Auditorium laughed, clapped and screamed loudly throughout the performance. The excitement reached a pinnacle during the song "Dentist!" Orin, played by Justin Wooten, turned an evil character into a hilarious one during his rendition of the song. Another highlight of the show was the trio of Chiffon, Crystal, and Ronette (played by Kari Johnson, Alli Wooten, and Patty Hepler). They could be seen or heard in nearly every scene, providing beautiful vocals and comical acting throughout the show.
The full rock band, and the presence of actors in the audience created an environment that transported the audience into the world of Little Shop of Horrors. From the floral shop to a street block to a dentist's office, the sets were fantastic and the giant singing plant grew throughout the show.
From the opening scene until the powerful finale sung by the full cast to the delight of the audience, "Little Shop of Horrors" is a hit!
Tickets
Additional performances are scheduled for November 2, 3, 4 at 7:30 p.m. and November 5 at 3:30 p.m. All shows are at Mac Gray Auditorium at Statesville High School. Tickets are available online or in person for $20, with possible discounts online. To purchase tickets online, visit https://centerstagealliance.org/.
About Center Stage Alliance
Center Stage Alliance is an organization committed to creating and uniting a community of people passionate about the arts.
Photos