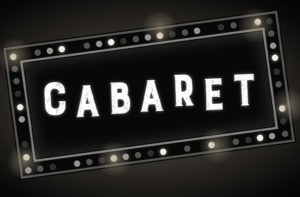 Special to Iredell Free News
Theatre Statesville will present "Cabaret" from February 16-25 at Twisted Oak American Bar & Grill.
This production is directed by Sharon Davies Sigler and Caity Gordon. Annie Beach is the music director, and Sonya Briggs is the choreographer.
Based on the play by John Van Druten and stories by Christopher Isherwood, "Cabaret" is set in a Berlin nightclub. As the 1920's draw to a close, a garish Master of Ceremonies welcomes the audience and assures them they will forget all their troubles at the Cabaret. With the emcee's bawdy songs as wry commentary, Cabaret explores the dark, heady, and tumultuous life of Berlin's natives and expatriates as Germany slowly yields to the emerging Third Reich.
Cliff, a young American writer newly arrived in Berlin, is immediately taken with English singer Sally Bowles. Meanwhile, Fräulein Schneider, proprietor of Cliff and Sally's boarding house, tentatively begins a romance with Herr Schultz, a mild-mannered fruit seller who happens to be Jewish. Musical numbers include "Willkommen," "Cabaret," "Don't Tell Mama," "Maybe This Time," and "Two Ladies."
Parental guidance is recommended. This show contains sexual references, adult content, alcohol and drug use, some language, and mild violence.
Twisted Oak American Bar & Grill is located at 121 N Center St # 104, in Statesville.
Show Times
♦ Evening Shows: February 16, 17, 18; 23, 24, and 25 at 7:30 p.m.
♦ Saturday Matinees: February 18 and 25 at 2 p.m.
Tickets
Tickets are available on TheatreStatesville.com and at the door.
LEARN MORE
Theatre Statesville is a volunteer-based nonprofit organization that exists to offer quality live theatre, provide lifelong learning opportunities, and foster creative expression throughout the community. For a schedule of upcoming events, visit TheatreStatesville.com.