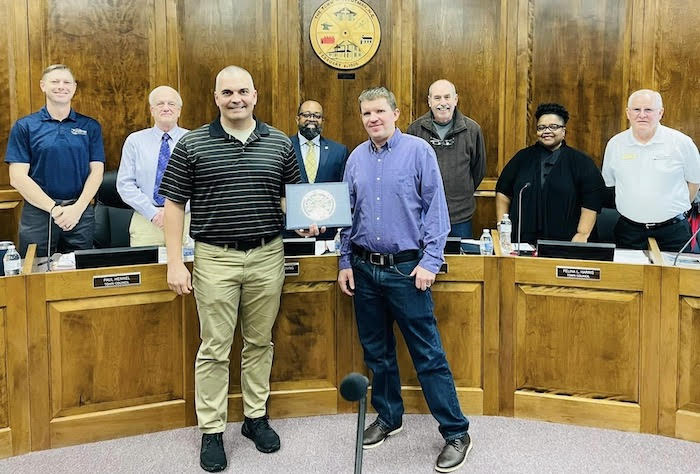 BY DEBBIE PAGE
Alan Thompson of Thompson, Price, Scott, Adams and Company presented the Troutman Town Council with an unmodified audit report, the highest level possible, during Thursday's meeting.
Thompson praised Finance Director Justin Mundy and the staff for their cooperation in gathering information needed for the audit
The town's available general fund balance ($4,279,220) stands at 77 percent of the annual budget, well above the state required 8 percent, and signifcantly higher than the 46 percent ($1,468,300) in 2018.
Revenues for fiscal year 2021-2022 totaled $5,899,189, with expenditures of $6,017,376 because of several capital projects completed during this period.
The water and sewer fund has $23,309,295 in fixed assets, $2,419,096 in cash, and a fund balance of $16,095,918.
Troutman's total property valuation totaled $672,446,510. At its tax rate of 52 cents per $100 of assessed value, the town levied $3,498,090 in property taxes and collected 98.48 percent ($3,471,661).
Thompson said the town's numbers look good, and he praised Mundy for his quality work. The firm helped clean up a few issues found in prior years as it completed the audit.
ROTARY CLUB RECOGNITION
Town Manager Ron Wyatt said the Rotary Club of Troutman has been a faithful partner with the town from the inception of ESC Park, completing the Fit Trail installation, creating the Nature Trail, and assisting with many projects and town events over the past decade.
The club recently donated $20,000 to purchase two baseball field scoreboards, which the town has received.
Duke Energy is currently installing park electrical access for the scoreboards, irrigation, and future concession/bathroom area. Parks and Recreation Director Emily Watson is now seeking a scoreboard installer with a goal to complete installation by mid-March.
Mayor Teross Young presented Rotary President Jeff Smith and long-time Rotarian Mike Todd with a certificate of appreciation to the club for "investing your support and resources to the Town of Troutman ESC Park."
Smith said the club appreciated the opportunity to work with the town and looked forward to opportunities to partner on new projects in the future.
ABC STORE REPORT
Troutman ABC Store Manger Evelyn Walls presented the council with the store's quarterly report, with sales of $930,774, an increase of 3.4 percent over the same period last year.
Net profits for the quarter are $88,268, up 5 percent over last year ($81,516).
Second quarter disbursements are $13,175.50 to the Town of Troutman, and $3,293.88 each to the Friends of the J. Hoyt Hayes Memorial Troutman Library, ESC Park, Troutman Parks and Recreation.
Troutman South Iredell High School, CATS, and Troutman Elementary and Middle Schools will also receive $823.47 each.
Troutman Police Department will also receive $5,015, and the Drug-Alcohol Coalition of Iredell (DACI) will receive $7,021 to provide alcohol education.
The store's budgeted revenue for 2022-2023 is $2,800,000. Sales for the first two quarters of this fiscal year ($1,684,511) are already at 60 percent of projections.
The store has $589,368 in working capital, the maximum allowed by the state, so the store has started a special capital reserve fund for the second store to continue saving for this project, which currently stands at $19,013.
The store boasts sales of $12,811,920 since opening in December of 2016 and has distributed a total of $289,000 to the town and its four designated entities, $65,584 to DACI, and $46,846 to the Troutman Police Department.
Walls said plans for the second store, located near the Highway 21/southern Flower House Loop intersection, are awaiting the resolution of several administrative matters to proceed. Wyatt said one issue, the ETJ release for the area, is expected to be resolved soon.
POLICE REPORT
Police Chief Josh Watson reported an increase in thefts of appliance, tools, and building materials from homes under construction in Troutman. The department has increased patrols and is using cameras to catch perpetrators, and several have been recently arrested.
In December, the department responded to 378 calls, filed 52 investigative reports, investigated 31 motor vehicle crashes, and wrote 153 traffic violations. They also conducted 460 neighborhood patrols to more closely connect with residents.
Watson reported that Iredell-Statesville Schools contacted the department to report an increase in vehicles passing stopped school buses, which endangers children. Officers are closely watching bus routes for violations and will have zero tolerance for those passing stopped school buses.
This violation is expensive, reminded Watson. If convicted, a person will receive five driving points on their driver's license and be subject to fines up to $500. Court costs are an additional $190.
OTHER BUSINESS
The council voted unanimously to:
♦ Delay the annexation and rezoning request for the approximately 425-acre Shinn Farms development on Weathers Creek and Houston Roads until February.
♦ Annex 2.0 acres owned by Mountain State Investments (138 Houston Road) and zone the parcel light industrial. A building is already under construction under county permits, but Town Planner Lynne Hair assured council the structure and parcel would meet all Troutman standards and must pass Design Review Board inspection.
♦ Approve budget amendments, all from already budgeted funds or new revenues in the general or utility funds, including Settlement with Digital Ally $14,500 (Utility); Increase in revenue from new development $180,000 (Utility); Increase in auto insurance expenditures $15,000); Lobbying expenditures for FY23 $60,000; Purchase of new public works trucks $68,000 (Utility) Purchase of new equipment – capital outlay (sprayer/spreader/excavator) $105,265 (Utility); Purchase of new Town Hall server and equipment $30,272 (cyber security); Increase in revenue for Parks & Recreation Department-Donations Received $30,000 (baseball field donation); Parks & Recreation house renovation design plans $18,390 (recently purchased house at ESC Park entrance); security and door access at Town Hall $64,910; and pproval of Contract/Agreement Between the Town of Troutman and DebtBook (financial software) $8,000 annually.
♦ Approve an additional budget amendment for planning house renovations of $100,837 from fund balance.
♦ Approve the Town of Troutman Parks & Recreation 2023 Event Schedule.
♦ Reappoint Wesley Edmiston and Kim Cavin to three year terms on the ABC Board.
♦ Reappoint Mark Michel to the Design Review Board for a three-year term.