BY DEBBIE PAGE
The Town of Troutman on Thursday recognized Mary Starks, a community leader who moved back to town in 2006 after a career with the New York City Housing Authority, as the 2023 Town of Troutman Citizen of the Year.
Upon her return, Starks immediately jumped back into Troutman's community activities, rejoining Zion Wesley AME Zion Church, where she has served as chair and secretary of the Trustees as well as director of Christian Education at the district level. She was also nominated as the Lay Council Woman of the Year.
Additionally, Starks is active in the local NAACP and the Troutman Friends of the Library. A 1961 graduate of Livingstone College, she also served as alumni president and was inducted into the college's Hall of Fame.
Starks is a regular attendee of town meetings and shares the information with fellow seniors who otherwise might be uninformed on town decisions. She also serves her peers by driving them to appointments and running their errands.
In her nomination of Starks, Councilwoman Felina Harris said, "Ms. Starks' history of dedication to communities, her professionalism, active involvement in the town, love and concern for the good of Troutman residents, and her earnest efforts all make her a great candidate for Troutman Citizen of the Year."
In her acceptance, Starks said she was humbled by this honor from her hometown and thanked the council and staff and her many supporters who came to cheer her.
Organization of the Year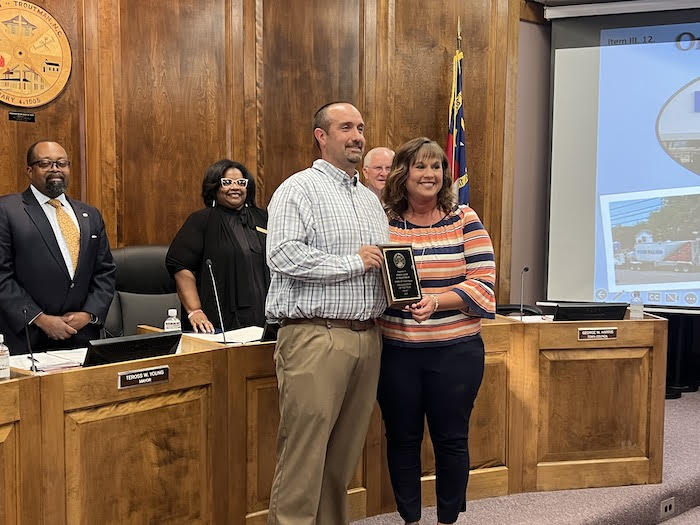 The Troutman Town Council recognized the Troutman Food Lion as the 2023 Organization of the Year. Store Manger Eric Bell and Kathryn Sowers accepted the award acknowledging the contributions of the Food Lion store staff throughout the community.
Shane Harris nominated Food Lion "because of their commitment to bettering the town and the people who live in it with their time and donations."
Some of their contributions include participation in the Backpack Program at Troutman Elementary and Troutman Middle schools, providing discounted pregame meals for South Iredell High football, providing water and granola bars for 350 kids at a career booth, and donating breakfast items on the first day of school to several school faculties.
The store also donated hot dogs, buns, chips, and fixings for the Troutman Night Out, volunteered time and food to Statesville Christian School, Fifth Street Ministries, and First Church of the Nazarene. The store also hosted an EC class from Statesville Christian to help students with life skills and budgets.
The store also donated food, drinks, and snacks to the Friendz of Kids golf tournament, Purple Heart Homes, the town's Trails and Treats, Independence Day and Christmas parades, and Troutman Fire and Rescue.
In addition, the store donated $250 in gift cards to a family devastated by a house fire and adopts a family each holiday season.
"These are just some of the ways Food Lion gives back to the community and how they want to help and see the the town of Troutman succeed and grow," concluded Harris.
In accepting the honor, Bell said, "It's our privilege to serve this community. We are blessed to work for a company that allows us to do that. Anybody can sell groceries — our company actually allows us to give back to a community that we really want to be a part of. We appreciate all you guys."
Employee of the Month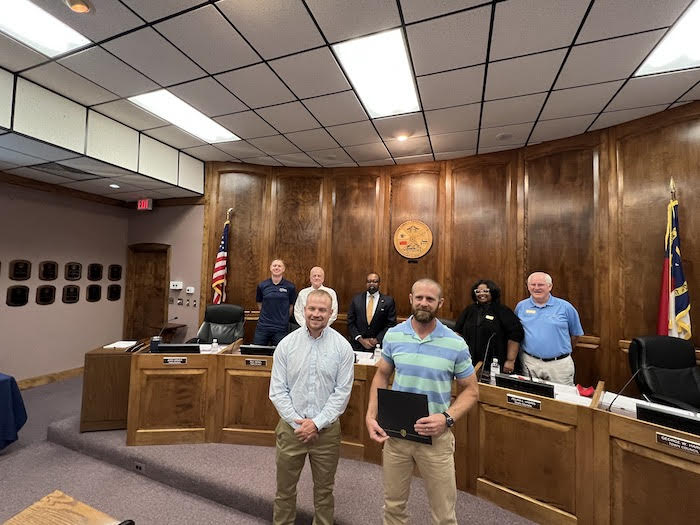 Austin Waugh of the Public Works Department was recognized as the Town of Troutman Employee of the Month for April. Waugh joined the department in 2008 and last year stepped into the role of field supervisor of the water and sewer division with the responsibility of maintaining the entire water and sewer system and meeting all regulatory requirements.
Public Works Director Adam Lippard commended Waugh on his hard work and constantly improving leadership abilities as he quickly assimilated into his new role. Though the pair often "trash talk," Lippard joked, they operate with a great deal of mutual understanding and respect.
Zion Wesley AME Zion Church 145th Church Anniversary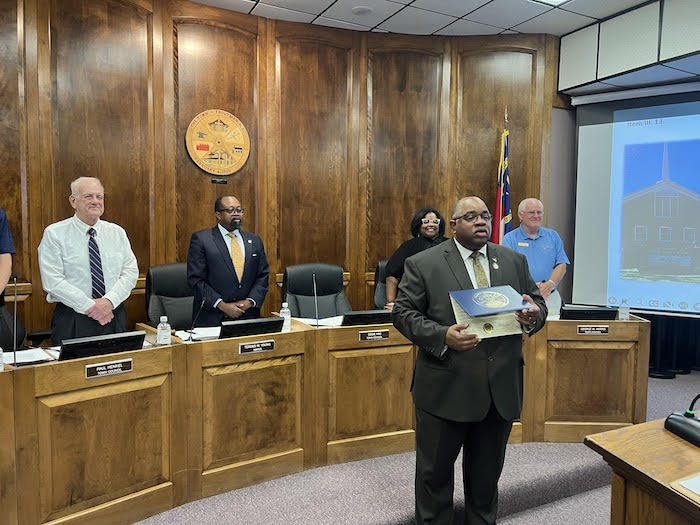 Rev. David T. Smalls accepted a recognition from Mayor Teross Young on behalf of the Zion Wesley AME Zion Church on the occasion of the organization's 145th anniversary on Sunday, May 28.
Young commended the church leadership and members for serving the church so that it thrived and grew to serve the spiritual needs of the community through its outreach efforts over the decades.
"We believe the church is a community within a community," said Rev. Smalls. "If the church cannot help enhance the community for not only the members but to make the community a better place to live, then what would we be as a church?"
Rev. Smalls expressed his appreciation to the town and his church members, whom he has pastored for the past five years. "We plan to help the community grow and thrive the best way that we can," he said.
Mental Health Awareness Month
At the request of the South Iredell High School Students Against Violence Everywhere/Promise Club, Mayor Young proclaimed May as Mental Health Awareness Month in Troutman in recognition of the 50 million Americans struggling with mental illness.
Young noted that mental illness can strike anyone, affecting thinking, concentration, feelings, mood, and eating habits and causing excessive worry or fear, relationship deterioration, poor functioning, and avoidance of friends or previously enjoyed social activities.
Trauma, abuse, biological factors, and family history can all contribute to the development of mental illness. One-half of those with mental illnesses begin showing signs as early as age 14. Three-quarters begin before age 24.
Depression, which can adversely affect school and work performance as well as relationships, is the leading cause of disability worldwide, with youth depression rates rising from nearly 13 percent to just over 25 percent from pre-pandemic to 2021.
Unfortunately, most Americans lack access to mental health care, with nearly 55 percent of mentally ill adults in the U.S. not receiving needed help in the past year. Furthermore, one-quarter of adults with mental health issues also struggle with some sort of substance abuse.
After reading the proclamation, Mayor Young said, "This is a serious issue, not just in Troutman but around the country. Our children are struggling with this, and I would ask everyone to please support our community and support yourselves as well."
Advanced Law Enforcement Certificate Presentation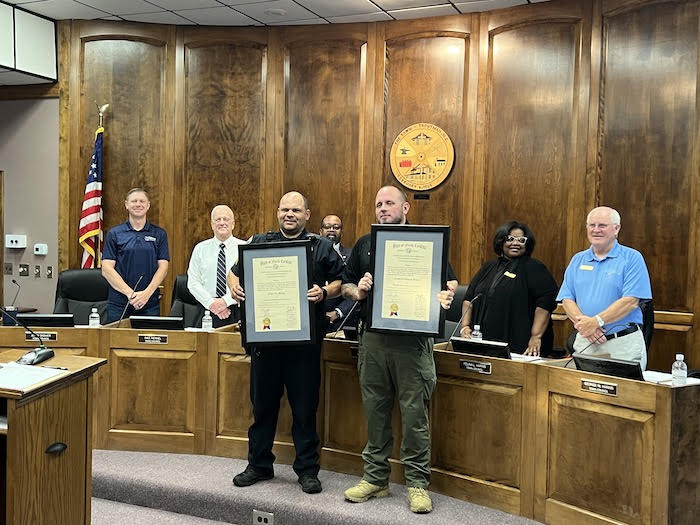 Patrol Sergeant Jamie Benge and Sergeant Cameron Jones, department investigator, received framed certificates recognizing their completion of the Advanced Law Enforcement Certification, which is awarded to recognize their time in service and extensive training, according to Troutman Police Chief Josh Watson.
Each of these officers have completed over 900 hours of specialized training, in addition to the mandated annual training. Watson equated the certification to receiving a master's degree in other fields.
Benge has been with department since 2012, joining as a patrol officer and serving as a training officer and canine handler before becoming patrol sergeant and supervisor. Jones came to the department 2021 after previously working with the Mocksville Police Department and the Iredell County Sheriff's Office.
"I'm very, very proud of these gentlemen, not just because they received their certificates but because of the hard work they put in every day," said Chief Watson.
Westmoreland Road Bridge Widening
Town Planner Lynne Hair told the council that the N.C. Department of Transportation has finally approved the widening of the bridge on Westmoreland Road. Work is slated to start at the end of the month and scheduled for completion 30 days after construction starts.
Passport Services
Town Manager Ron Wyatt announced that the town is now offering passport services to the community. A limited number of appointments are available until the office, which is temporarily operating at the Planning House next to Town Hall, moves to its permanent location, hopefully by the end of July.
Other Actions
Council also unanimously approved:
♦ An amended annexation agreement between the Town of Troutman and the Town of Mooresville after a public hearing to add properties near the southern entrance of Flower House Loop to Troutman. The amended agreement will next go to the Mooresville Town Board for consideration.
♦ An annexation request by Cynthia Phyler of .57 acres on Orchard Lane.
♦ An ordinance to amend Town of Troutman Code of Ordinances to address overgrown vegetation.
♦ The building elevation for a commercial building at 138 Houston Road as recommended by the Design Review Board.
♦ The building elevations for a Food Lion multi-tenant shopping center recommended by the Design Review Board.
♦ An amendment to Town of Troutman Personnel Policy (Policy #54) forbidding an employee taking any type of paid leave during a disciplinary unpaid work suspension period.
♦ Re-codifying the Town of Troutman Code of Ordinances.
♦ A Parks and Recreation Concession Stand Policy (Policy #63) governing its operation by a third party.