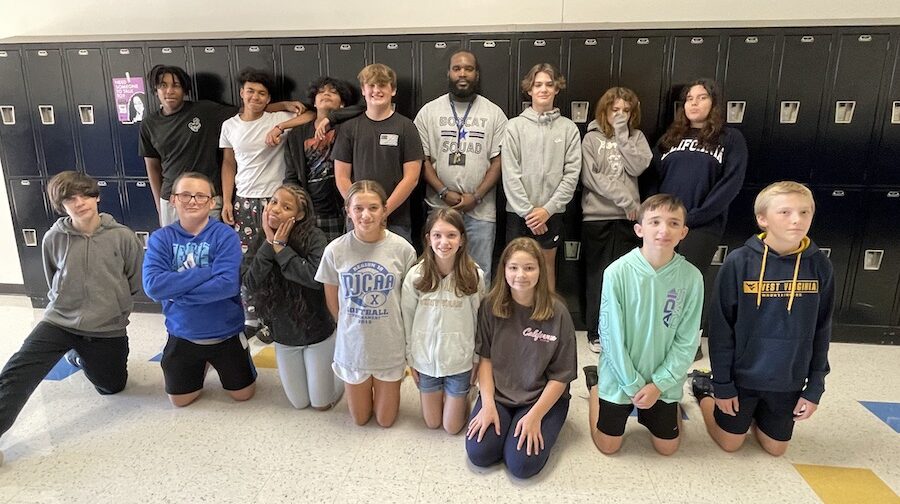 BY KARISSA MILLER
Curious faces gathered closely around a sink to watch an ultraviolet light known as Glo Germ light up on their hands.
Troutman Middle School seventh-graders Khloe Little and Emily Muscarella explained that the device demonstrates good handwashing and hygiene techniques.
"You wash your hands and then can tell how well you washed them because of all that is left behind," Khloe explained.
"You can see the germs on your fingernails and cuticles," Emily added.
This activity was part of a nursing station module lab in teacher Kensley Dalton's classroom.
This new Health Science Career Labs class, which is part of the Career Technical Education offerings, introduces middle school students to careers related to medicine, nursing, and other health science programs, ranging from biomedical engineering to veterinary medicine.
On Friday afternoon, student Carter Datre played the role of an injured patient, filled in for an absent student, and wrapped his elbow as part of a sports medicine activity.
"I can't learn by reading. I learn by hands-on and actual doing," he said. "I like sports medicine because you get to help people and I like sports."
Carter plays basketball, baseball and football. He said that he's been surprised to learn that there are so many bones in the ankle and the different types of injuries that you must know about.
Dalton said that sports medicine is a big hit among his male students because they like the idea of feeling connected to sports.
Eleven different module stations plus a mental health station are featured in the program. It includes career fields such as pharmacology, emergency medical technician, dentistry nursing, sports medicine and more. Students work in pairs and complete a 10-day rotation.
Paxton Patterson, an education company, provided training to teachers like Dalton and helped him set up the classroom, which includes authentic medical equipment, simulation activities and other tools. Students are learning to draw blood, test antibiotics, make and apply casts, wound care, look at X-rays and much more.
Juli Tipton, I-SS Career Development Coordinator for middle schools, observed students as they carried out their lessons. She said that Dalton acts as the facilitator, but student pairs are all working on different activities throughout the classroom.
"They are responsible for their learning. They are prompted on how to work through the module on their iPads and they can't go forward until some learning has taken place. There are some stop points where they have to complete some hands-on activities. It's structured and self-paced," Tipton explained.
Dalton said that this hands-on approach to learning, combined with collaborative learning and engagement, makes learning more memorable.
Tipton agreed and said that it expands the learning experience beyond the classroom and helps students develop important skills.
"It's real-world soft skills. For example, at work no one is standing over you to make sure you do your job. They are learning to work independently and learning about responsibility. So, if a group falls behind, it's a teachable moment for Mr. Dalton," Tipton said.
Dalton said that similar to the real world, every student has different strengths and weaknesses. He said that he likes to pair students who normally might not work together so that they can push each other to be better.
According to Tipton, the earlier a student can discover possible careers, the more time they will have to explore if those careers might be a good fit for their abilities before entering the workforce. They hope to use this program to help align students to programs at Career Academy and Technical School such as the Certified Nursing Assistant program and other programs.
Both Khloe Little and Emily Muscarella admit that they are interested in completely different career fields, chiropractor and professional dancer, respectively. However, they agree that the program has taught them skills that they will use in life, including teamwork.
"It's a really fun class and we get to do really fun experiments," Khloe said.
"It shows you a bunch of careers that you might be interested in and get to learn more about. Plus, Mr. Dalton is a really nice teacher," Emily added.
Photos