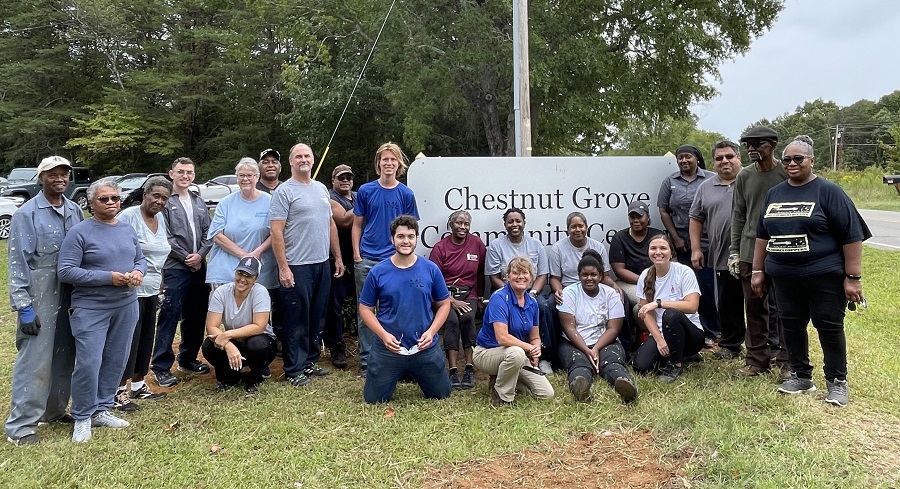 Special to Iredell Free News
Chestnut Grove Community Center recently held a community workday which brought together many volunteers who worked to paint, clean, and landscape the grounds. The day began with donuts and coffee and the participants were treated to lunch that consisted of hamburgers, hot dogs and pulled pork with all the trimmings.
Dorothy Woodard, volunteer coordinator, expressed her gratitude for all the volunteers who came out to help.
"The steadfast commitment and unwavering support have been nothing short of instrumental in transforming this workday into an extraordinary success," Woodard said. "Through the dedication and benevolence of our donors, we were able to make many improvements to the appearance and functionality of the facility."
An open house is planned for late November to showcase the facility. Community members and donors will be invited to drop in and enjoy refreshments.
The Community Center is grateful for all who have helped in many ways, including Iredell Community Foundation, Lowe's, Walmart, The Covington Foundation, Goodyear, David & Elizabeth Green, Statesville Rotary Club, Sherwin-Williams, Joey Eldrige, G. L. Wilson Building Company, Josh Mooe, Mike & Amy Fuhrman, Joe & Suzanne Wegmiller, Mitchell Community College, Betty Houston, Evie Myers & the Popcorn Sale, Larry Hickman, Joey Eldrige, Kevin Hope, Southeastern Concrete, community donors and many, many volunteers.
About Chestnut Grove Community Center
Chestnut Grove Community Center is a nonprofit organization. It was conceived by residents who wanted to maintain, for community use and historic preservation, the physical structure that once housed Chestnut Grove Elementary School. That school, which served students in grades one through eight, was one of the segregated facilities in Iredell County used to educate Black students. It is now one of the primary social, cultural, and gathering places in the community and is funded and operated by volunteers. The mission is to improve the quality of life for families by providing services that promote prosperity, physical health, and by offering cultural events which preserve the African American heritage.